Visiting Bermuda gives you access to an island full of wonders, from our unique pink sand beaches to some of the world's most cherished historical landmarks. With so much to see and do, a tour of what Bermuda has to offer is very likely high on your list of things to do while you're here.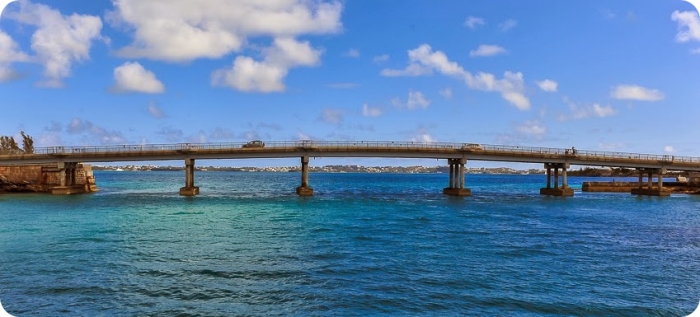 There are a variety of services available to guide you to see the very best of Bermuda; from Segway tours to guided trips around the island, with no shortage of friendly local businesses ready to assist you.
Self Guided Tours
Being only 21 square miles in size, Bermuda is a tiny island that presents the unique opportunity to be able to see everything that we have to offer exploring the landscape via self guided tours as well as land and water tours. You can travel on foot, use our reliable bus service, rent a personal scooter, hop on a public ferry, or even get from place to place via taxi cab; by using one or all of these modes of transportation, you can easily leave no corner of Bermuda unexplored.
Taxi Tours
While they are often unofficial, taxi tours are a favourite way for visitors to get to know our island upon arriving. Nearly all of Bermuda's taxi drivers are themselves Bermudians, making each of them the perfect host as you take in what the island has to offer, getting deep insight into our history and our current offerings along the way.
Bermuda Segway Tours
Experience the Segway, Bermuda's latest mode of transportation, on a high tech tour of the west end of the island. With cutting edge technology, this revolutionary machine is environmentally friendly, self-balancing, and fun and easy to ride.
The adventure begins with your safety in mind and includes a thorough training session. Before you know it, you will be gliding effortlessly through the Royal Naval Dockyard, enjoying unbeatable ocean views, and exploring historical sites along the way.
This tour allows you ample opportunity for photos. This tour is a unique way to see and experience Bermuda.
Official Website: Bermuda Segway Tours
Winsome Tours
Operated by Ralph and Julie Richardson, Winsome Tours offers a unique, exclusive and personalized tour experience that will take you to beautiful vistas and historical sites around Bermuda.
This tour will show you the entire length of the island in five hours, while allowing you to add more time if you wish to visit attractions such as the Aquarium or Crystal Caves. The highlight of the tour is the Town of St. George's, Bermuda's UNESCO World Heritage Site.
Official Website: Winsome Tours
Island Tour Centre
With over 20 years of local experience, a great variety of tours from Bermuda's top tour operators, easy online reservations and conveniently located tour booking facilities, the Island Tour Centre offers a variety of customized tour options in order to give you exactly the aspect of our island that you're most eager to experience.
Official Website: Island Tour Centre
Paradise Tours
Giving you access to a side of Bermuda not commonly experienced by visitors, Paradise Tours, run by Bermudian Anthony "Tony" Young, aims to expose you to the island's nuances, providing tips and tricks on where to go and what to see as you navigate the landscape.
Their tours can take you to cultural events, eating establishments generally not visited by visitors, popular beaches, cave swimming, Bermuda's historical sites, and much more, with friendly conversation included free of charge.
Official Website: Paradise Tours
Olde Towne Railway
Bermuda's Olde Towne Railway gives you the opportunity to see the sights that the beautiful town of St. George's has to offer, with skilled drivers and friendly staff accompanying you on your ride in order to tell the island's stories first hand.
Official Website: Olde Towne Railway
Hidden Gems of Bermuda
The mission of Hidden Gems of Bermuda is to provide visitors with an experience of a lifetime exploring some of Bermuda's best kept secrets. Travel to exquisite locations offering a sense of excitement for individuals with an adventurous spirit and passion for the great outdoors with their all-inclusive eco-tours.
Official Website: Hidden Gems of Bermuda
GAR Tours
Offering access to a number of locations around the island, GAR Tours can provide you with personalized tours of some of Bermuda's most exquisite locales, making it easy to take in the island with a personal guide while still maintaining the quiet feeling of doing it on your own.
Official Website: GAR Tours
CedarTours Walking Tours
CedarTours is a company which offers Bermuda walking tours with an added bit of authenticity that you'll not find anywhere else; the tour ambassador on every trip is not only a certified tour guide for the town of St. George's, but a local St. Georgian as well, ensuring that you receive accurate historical information as well as that pertaining to current life for Bermudians.
Official Website: CedarTours Walking Tours
Ricky's Island Tours & Minibus Service
Ricky's Island Tours & Minibus Service provides informative tours of the island, giving their guests the opportunity to see the entire island; their signature tour, The Total Island Experience Tour [T.I.E. Tour], is very popular. In addition, they offer transportation services to anyone visiting the island, whether by sea or air, via a network of taxis and minibuses intended to meet visitors' individual needs.
Official Website: Ricky's Island Tours & Minibus Service
Kings Square, St. George's Guided Tour [Free!]
Take a guided walking tour of the Town of St. George's, followed by a personal greeting from the Mayor on Wednesdays at 10.30am and 1.30pm and on Saturdays at 10.30am between November and March, all at no charge. For additional details, please contact the St. George's Visitor Information Centre, located at the Globe Hotel, at 441-297-1423.
Horse Drawn Carriage Rides
While not exactly the quickest mode of transportation, you can step back in time and enjoy a relaxing carriage ride around different Bermuda locales, giving you a firsthand feel for the island and its history.
Generally speaking, from April until October, you can find available horse drawn carriages on Front Street in the City of Hamilton, in the Royal Naval Dockyard as well as St. Georges.
Horseback Trail Rides
While not exactly a tour in the traditional sense, a trail ride along Bermuda's scenic south shore beaches will give you a uniquely Bermudian experience that you simply can't replicate anywhere else, making it a worthwhile way to explore this treasured part of the island.
Official Website: Spicelands Equestrian Centre
Official Website: Marquis Ranch
Official Website: Bermuda Horse Trail Ride
Cruise Ship Excursions
If you are visiting us via a cruise, the cruise operators will generally have a variety of options for you to book in order to see more of Bermuda from off the coast. Norwegian Cruise Lines [NCL], for example, offers several Bermuda water excursion options.
Official Website: NCL Excursion Options
Dropping Anchor
Dropping Anchor is a Bermudian-owned company that aims to make the visitor's experience not only pleasurable, but also authentic. With a local touch, Dropping Anchor is able to provide a "live the local life" experience to all visitors booking through Dropping-Anchor.com.
They have an online reservation system that is easy to use. It provides guests the ability to visit one website with multiple tours and book a real Bermudian experience.
Official Website: Dropping Anchor
Business Email: info@dropping-anchor.com
Comments
comments