With its long history and diverse culture, Bermuda has many hidden gems and unexpected attractions to offer to our visitors. If you're looking for a way to experience the island that is truly one-of-a-kind, look no further than our many unique locales and miscellaneous attractions that simply can't be fit into any one category.
Gibbs Hill Lighthouse, Southampton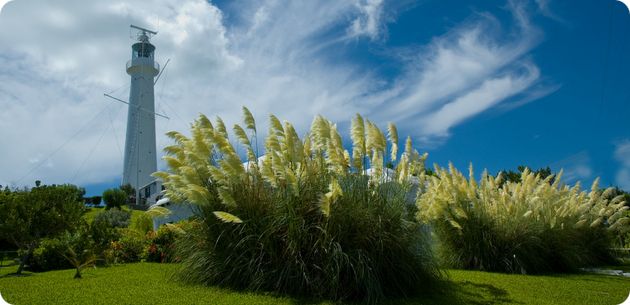 Gibb's Hill Lighthouse was built in 1844, and began operation on May 1, 1846. The hill on which the lighthouse stands is 245 feet high, while the structure itself measures 117 feet from base to light, giving visitors a beautiful vantage point from which to observe not only the lighthouse, but the surrounding land, as well.
The Lighthouse's beam of light runs 362 feet above sea level, allowing ships up to 40 miles away to see it. To climb to the top of the lighthouse, one must take eight flights, or a total of 185 steps; quite a walk, but worth every step once you look out from over the island.
Lighthouse Road
St Anne's Rd
Southampton Parish
Tel: 441-238-8069
Fax: 441-238-5703
Email: info@bermudalighthouse.com
Official Website
St. David's Lighthouse, St. David's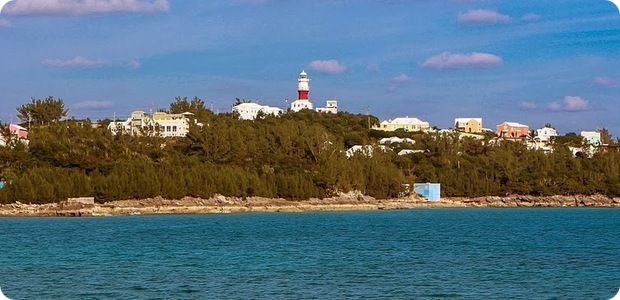 Built in 1879 in order to ensure that approaching ships didn't come too close too the many hidden reefs in the waters, St. David's Lighthouse provides spectacular views of the east end. After climbing 85 steps to its peak, the vantage point provided by this lighthouse will allow you to take in the Atlantic Ocean and the town of St. George's.
The lighthouse is open to visitors year-round, and admission is always free, giving you every reason to visit the east end of the island in order to take in the sights.
Lighthouse Road, Mount Hill
St David's
St George's Parish
Unfinished Church, St. George's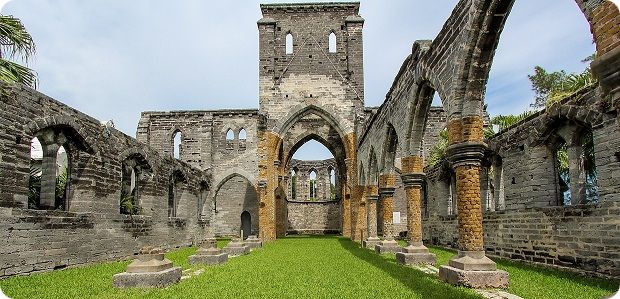 One of the most curious sights that the town of St. George's has to offer is its famous Unfinished Church.
Construction of this structure got underway in 1874, but a variety of unforeseen circumstances left the church to never be completed.
More than 50 years later, a strong hurricane destroyed much of what had been completed during the initial construction phase, leaving behind a treasure that no one could have predicted.
The unfinished church is now a protected historic monument as part of the St. George's UNESCO site.
Duke of Kent Street,
St. George's GE 05
Click here
to check out a 360° photosphere taken of the Unfinished Church
The Bermuda Perfumery, St. George's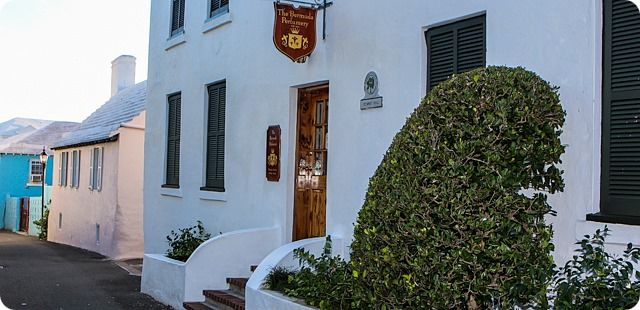 Founded in 1928 in a small wooden building in Bailey's Bay, the Bermuda Perfumery moved to the heart of historic St George's, and the same traditions and methods of perfume making continue to this day
The perfumes are an artistic reflection of Bermuda where each fragrance represents the Island's natural beauty: from the pure scent of the wind and fresh salt spray of the ocean, to its luscious botanicals such as Bermuda cedarwood, spring freesias, and juicy loquats.
The New York Times, Elle Magazine, and InStyle have all written glowing reviews about the Bermuda perfumery, and they have featured prominently on television including The View, CBS This Morning, and The Bachelorette.
They welcome visitors, and are open from Monday to Saturday 9.00am to 5.00pm, and closed on Sundays and holidays. Admission is always free and, for those who may want the scent of Bermuda without making the journey, you can order their perfumes online.
Stewart Hall
5 Queen Street
St. George's GE 05
Telephone: 441-293-0627
Fax: 441-293-8810
Email: info@bermuda-perfumery.com
Official Website
St. Peter's Church, St. George's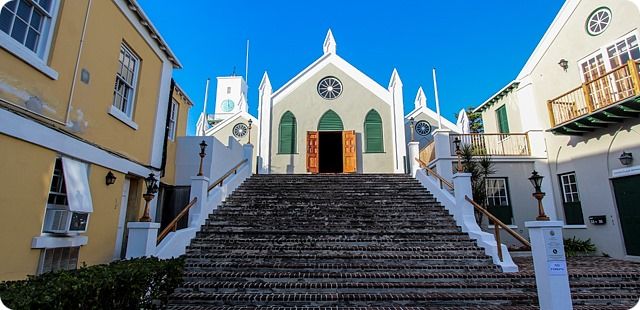 Located in the historic town of St. George's, St. Peter's Church is believed to be the oldest continually used Anglican church in the Western hemisphere.
The church is built on the same location as a 1612 structure made of wooden posts and palmetto leaves that was destroyed in a storm.  St. Peter's cedar altar has been in use since 1624 and is the oldest piece of cedar furniture in Bermuda.
The churchyard contains two graveyards: a walled area to the west of the church was for used black slaves until the 19th century, while the eastern section was reserved for white parishioners.
In 2012, Her Majesty Queen Elizabeth re-designated St. Peter's Church as 'Their Majesties Chappell', in honour of the church's 400th anniversary.
The Document signifies Her Majesty's pleasure to designate to St Peter's this early historic title, first used during the reign of King William and Queen Mary.
The 400 year old Church is a piece of living history, and a must-see attraction in the town of St. George's.
Queen Street
St. George's
Tel: 441-297-8359
Heydon Trust, Sandys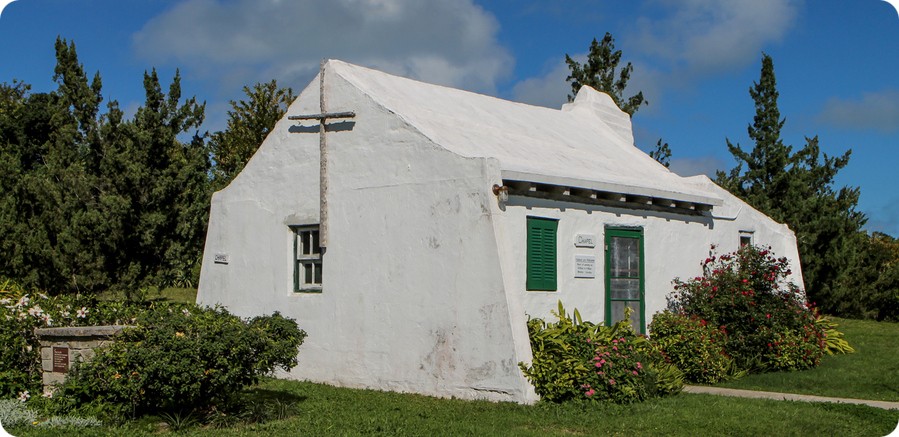 Built in the early 17th century, Heydon Trust is Bermuda's smallest church, featuring beautiful architecture and 43 acres of neatly manicured gardens.
Still used regularly today, the church holds regular services, with its large garden continuing to play host to a bird sanctuary, fruit groves, and flower gardens.
The Church is open for viewing most days, and while it is often unattended, the doors are open for visitors to let themselves in. If you are with a large group of people, you may have to "take turns" going in, as the Church is actually that tiny.
16 Heydon Drive
Sandys, MA 06
Tel: 441-234-1831
Parliament, City of Hamilton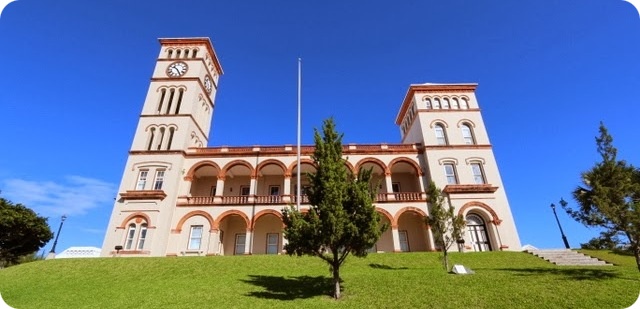 Although not a visitor attraction in the typical sense, visitors are welcome to attend our Parliament in the City of Hamilton which is generally in session on Fridays and one of the oldest known Legislatures in the world, dating back to 1st August 1620.
We are a self-governing British Overseas Territory and elect our own Parliamentarians under the Westminster system. In keeping with Bermuda's style, you won't find any heavy security in place at Parliament, and will be welcomed in to the public gallery after signing in. There is no photography allowed and also guests are asked to remain silent.
Sessions House
21 Parliament Street
Hamilton, HM12
Tel: 441-292-7408
Comments
comments