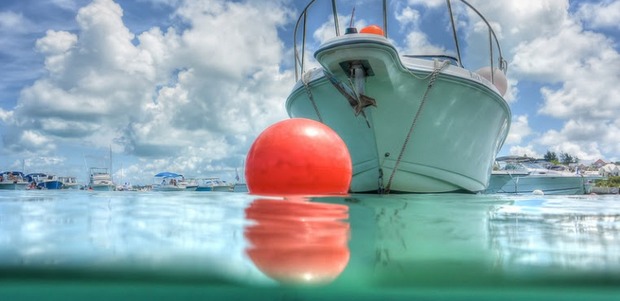 Located in a secluded area of the Atlantic Ocean, Bermuda is able to provide a wide variety of watersports and boating opportunities, with seemingly endless exploration opportunities available.
Whether you want to end up fishing, scuba diving, or simply relaxing while you enjoy the sights and sounds of our waters, Bermuda's long list of fine companies offering watersports and boating activity include those offering snorkeling, glass bottom boat tours, helmet diving, boat rentals and charters, sailing, jet ski rentals, and much more.
Fantasea Diving & Watersports
Fantasea Diving and Watersports is the only PADI diving centre located in historic Royal Naval Dockyard. Once a strategic Atlantic outpost for the British Navy, this now popular tourist destination is the ideal jumping off point to explore genuine shipwrecks, vibrant coral reefs, and secluded island beaches.
Choose from daily 2-tank dives, Discover SCUBA lessons, PADI certifications, SNUBA diving, shipwreck & beach snorkeling, power snorkeling, glass bottom kayak tours and stand-up paddleboard tours, mountain bike tours, pontoon boat rentals, boat charters and more, all within walking distance of the bus, ferry, and Dockyard cruise ship terminals.
Location: Dockyard
Telephone: 441-236-3483
Email: info@fantasea.bm
Website
Blue Hole Water Sports
Located near the Grotto Bay Beach Hotel, Blue Hole Water is able to provide the ideal starting point for a great day out on the water. They offer a wide variety of professionally-maintained equipment at one location in the East End, making it easy to make a trip to Castle Island, or a kayak trip to Whalebone Bay, Walsingham Nature Reserve, and Bailey's Bay.
Location: 11 Blue Hole Hill, Bailey's Bay
Telephone: 441-293-2915
Email: blueholewater@gmail.com
Website
Blue Water Divers & Watersports
Specializing in visiting tropical shallow water shipwrecks around the island, Blue Water Divers & Watersports will help you explore the wrecks of the Constellation, a B29 bomber, the Marie Celeste, the North Carolina, and many other vessels that ended up on our ocean floor over the years.
Blue Water Divers can also help you to explore the 400 square kilometres of reef surrounding the island; the most northerly coral to be found in the world. Featuring overhangs, runnels, gullies and huge arches interspersed with abundant pockets of pink and white sand, our reefs are truly a sight to behold.
Location: Robinson's Marina, Somerset Bridge, Sandys Parish
Telephone: 441-234-1034
Fax: 441-295-4746
Website
Tucker's Point Dive and Water Sports Centre
Experience the thrill of wreck and reef diving in Bermuda with Tucker's Point Dive and Water Sports Centre, the island's newest and best-equipped PADI Resort and water sports facility.
Open all year around, Tucker's Point offers one and two-tank dives daily, lessons for beginners, and trips for snorkelers. If you desire exclusivity, be sure to ask us about their private course, private guiding, and private charter programmes.
Whether you want the experience tailored to you, or you simply want to rent a motor boat, sailboat, kayak, or snorkel gear, Tucker's Point Dive and Water Sports Centre has you covered.
Telephone: 441-298-4050
Fax: 441-298-4002
Email: watersports@tuckerspoint.com
Website
Hartley's Helmet Diving
In operation for more than 56 years, Hartley's Helmet Diving gives you the chance to experience Bermuda's waters in a fun, safe, and truly unique way. By simply wearing an air-tight helmet, you can explore our shallow waters in order to casually browse golden heads of coral all around you, with beautiful Bermuda angelfish in your company all the while.
Telephone: 441-234-3535
Telephone 2: 441-334-7607
Fax: 441-234-3000
Telephone [Toll-Free]: 866-836-3989
Email: hartley@ibl.bm
Website
Kirk's Coral Reef Adventures
Offering glass bottom tours, offshore and inshore fishing trips, and a wide variety of other boating tours that cover a number of niches, Kirk's Adventures has boats that leave Dockyard daily, giving you the opportunity to experience Bermuda's waters just about any time you choose.
Their Triangle Night Glass Bottom Boat tour is one of their more unique offerings, giving you the ability to observe the ocean floor through the bottom of a boat while it is flooded with brilliant beams of light.
Combined with their snorkeling and sailing offerings, Kirk's Coral Reef Adventures gives you access to most every aspect of Bermuda's water.
Location: Sandys
Telephone: 441-747-2204
Email: info@kirksadventures.com
Website
Sail Bermuda Yacht Charters
Specializing in customised yacht experiences, Sail Bermuda Yacht Charters is always prepared to host sea-bound adventures in its beautifully appointed vessel Shekynah. Step aboard and you'll find she's equipped with all the amenities, including a large sunbathing deck, lots of shade for snoozing, iPod connection, satellite radio, and even fresh water rinse-off.
The team at Sail Bermuda will pick you up and whisk you away for your sailing experience, accompanied by music and informative commentary. Enjoy some of the best snorkeling to be found anywhere in the world with masks, snorkels, and noodles provided.
If catering has been arranged, or you've brought food along, you can have lunch at anchor, while sipping a Bermuda Rum Swizzle and chatting with the crew. Add in swimming, sight-seeing, and other leisure activities, you can ensure that you'll have a fun, relaxing trip with Sail Bermuda.
Location: Paget
Telephone: 441-737-2993
Email: info@sailbermuda.com
Website
AJ's Wings Charter Yachts
AJ's Wings is one of Bermuda's newest charter yachts and is captained by Anthony Mello, a Bermuda captain with over 40 years of sea-faring experience, including countless Atlantic crossings. By heading out on their vessel, you'll have the opportunity to discover the fascinating history, scenery, and culture of the paradise that is Bermuda.
Telephone 1: 441-534-7669
Telephone 2: 441-236-5071
Fax: 441-236-8918
Email: info@bermudacharters.com
Website
K.S. WaterSports
K.S. WaterSports has long prided themselves on bringing locals and visitors alike some of the very best water-based adventures and tours in Bermuda. Take a jet ski tour starting from $125, take a spin around the entire island on a WildCat "Round The Island Adventure" starting from $110, or see Bermuda from above as you indulge in a high-flying parasailing adventure starting from only $99.
Location: Dockyard
Telephone: 441-238-4155
Email: info@watersportsbermuda.com
Website
Destiny Water Tours
Destiny Water Tours offers a variety of opportunities to see Bermuda from the water, providing glass bottom boats and sight-seeing tours around the island, while their unique Harbour Nights tour guides you along Front Street in Hamilton in order to experience a uniquely Bermudian festival, helping you to cover every angle of our island's culture and landscape, and all from the water itself.
Telephone 1: 44-292-7103
Telephone 2: 441-705-9509
Fax: 441-292-5628
Website
H2O Sports
H2O Sports is ideally located in beautiful Mangrove Bay, Somerset Village, where their experienced staff are ready to advise you on the best cruising itinerary for the watersports adventure of your choice, whether you're looking for a guided tour or the freedom to cruise our waters on your own time.
With a large selection of boats and equipment available, H2O Sports is the go to place for jet ski rentals, sailboat rentals, motorboat rentals, kayak rentals, snorkel gear, underwater cameras, and many other unique ways to enjoy our waters.
Location: Mangrove Bay, Somerset Village
Telephone: 441-234 3082
Email: h2osportsbermuda@yahoo.com
Website
Sea Venture Watersports
See Bermuda from a uniquely personal perspective by exploring our waters on a jet ski courtesy of Sea Venture Watersports. From the island's beautiful coastline to the crystal clear waters that gently peel away from it, Bermuda is perhaps no more beautiful than when seen from the sea aboard your own personal craft, making a Sea Venture jet ski rental an easy choice when you pay us a visit.
Alternatively, Sea Venture Watersports also offers chartered vessels complete with a captain and instructor, helping you to have a safe, leisurely view of Bermuda from the water at a time of day that suits your mood.
Telephone: 441-238-6881
Email: info@jetskibermuda.com
Website
Somerset Bridge Watersports
Family-run Somerset Bridge Watersports has been in operation for more than 25 years, offering first class service with top of the line equipment throughout its existence. Recognized by TripAdvisor with a five-star rating for Bermuda watersports, they specialize in jet ski tours, self-drive motor boats, Boston whalers, pontoon boats, and kayaks, all available at great prices.
Somerset Bridge Watersports has received a TripAdvisor Certificate of Excellence award. The accolade, which honours hospitality excellence, is given only to establishments that consistently achieve outstanding traveler reviews on TripAdvisor, exemplifying the commitment of Somerset Bridge Watersports to provide its customers with only the best in service and equipment.
Location: Somerset Bridge, Sandys Parish
Telephone 1: 441-234-3145
Telephone 2: 441-234-0914
Website
Aquatic Bermuda
With only a six inch draft and a huge 4′ x 8′ glass bottom, no other glass bottom boat in Bermuda gives you such a thrillingly intimate reef viewing experience as the Coral Reefer of Aquatic Bermuda. Their guests enjoy the longest glass bottom reef-viewing in Bermuda over shallower and more vibrant reef, without jostling with other passengers to get a glimpse through the glass.
Throughout their tours, information is imparted in a refreshingly adlib style by Captain Tony. Best of all, you don't have to share your experience with a crowd of strangers; they rarely carry more than 12 passengers at a time in order to keep things as personalized and relaxed as possible.
Aquatic Bermuda also rents self-drive 17 foot Boston whalers and 23 foot BeachCats, Bermuda's biggest rental boats. Each of these vessels come with a high standard of instruction from licensed Bermuda pilots and detailed maps to help you find your way to the best boating spots. Fill the cooler with a picnic, grab a couple sets of snorkel gear and some noodles and embark on your own for an absolutely unforgettable day of adventure and seclusion.
Location: Hamilton
Telephone: 44-236-2200
Email: aquaticbermuda@logic.bm
Website
Escape Charters
Join the staff of Escape Charters aboard the 65 foot sailing yacht Bermudian Escape and enjoy sailing,
swimming, and snorkeling in Bermuda's most spectacular waters. Escape Charters specializes in custom made charters, from a half-day sail and snorkel to sailing adventures over several days.
No matter your needs, their tours are perfect for a couple, a family, or group of friends who would like to get away from it all and see our island from a completely different perspective. Their full day, half-day and sunset cruises can accommodate a dozen or more guests.
Enjoy visiting some world-class snorkeling spots, remote beaches, or just relax while cruising through some of Bermuda's most beautiful waters from their base in Castle Harbour, close to Rosewood Tucker's Point Hotel, the Mid Ocean Club, and Grotto Bay Resort.
Telephone: 441-2273
Email: lawrence@escape.bm
Website
Spellbound Charters
Spellbound is a 75 foot Italian motor yacht, built by Versil Craft in 1992, and can accommodate up to 40 guests, with a maximum of 30 for dinner. With her modern design, this vessel offers a generous layout, including a large top deck with a full-service bar, a sun pad on the foredeck for seating or for stretching out to improve your tan, as well as an aft deck with table and chairs – a great spot for entertaining.
The fore and aft areas are easily accessible via a complete walk-around teak deck. The Main Salon is completely air conditioned and offers a full-service bar, as well as a formal dining area for up to eight guests. There is also a modern galley on the main deck, with a wide range of convenient appliances.
Spellbound Charters specializes in the corporate market, with the vessel available for the day, the evening, or by the hour. Whether you are entertaining clients or would just like to enjoy the company of good friends, they can custom plan a cruise to meet your requirements.
Location: Hamilton
Telephone: 441-505-2628
Fax: 441-232-0294
Email: spellbound@northrock.bm
Website
Snorkel Park Beach
Snorkel Park Beach is Bermuda's premier watersports location, offering numerous activities you can enjoy on and under the water.
Their Jet Ski Safari offers a fun and exciting way to experience Bermuda's beautiful coastline and crystal clear waters, allowing you to see the island from a completely different perspective, while Stand Up Paddle Boards allow you to get on the water like our native islanders used to.
Single and double seater kayaks and two or four seat pedal boats are also available to rent, allowing you to cruise Bermuda's waters at your own pace.
Location: Dockyard
Telephone: 441-234-3100
Email: info@snorkelparkbeach.com
Website
SeaSplash Bermuda Ltd
SeaSplash Bermuda is one of the island's newest charter boat companies. Happy Cat is their 34′ Gemini 105mc sailing catamaran. Built in 2007, it is spacious and comfortable with all the modern conveniences necessary for a fun day out on the water.
Captain Richie and Maureen are born and raised Bermudians who have spent most of their lives on or in the water. They have worked in the tourism industry for many years. Having worked for other companies in the industry, they have decided to open their own charter boat business.
Their aim is to share their knowledge and love of their island home above and below the water with curious visitors and locals alike. From guided snorkel tours to sightseeing commentary, they will provide a memorable trip.
Location: Dockyard
Telephone: 441-505-5569
Email: seasplashbermuda@gmail.com
Website
Comments
comments