Bermuda's crystal-clear waters and array of shipwrecks make the island one of the most ideal diving destinations in the world. With a wonderfully unique underwater world to experience, diving in our waters is a fun and exciting way to get a truly authentic Bermuda experience.
Our reefs, warmed by the Gulf Stream, form the northernmost coral reef ecosystem in the world. Forming a large and complex underwater ecosystem, Bermuda's reefs are inhabited by a wide range of beautiful fish, including angelfish, snappers, parrot fish, doctor fish, and many others, giving you the opportunity to interact with a variety of life every time you dive here, even as you get a taste of the island's underwater cultural heritage.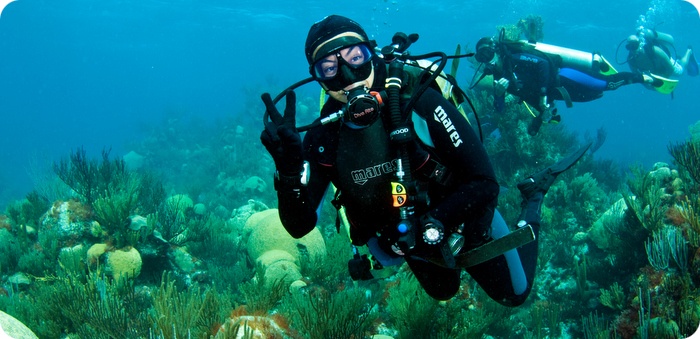 Along with our forms of water-based fun, including fishing, watersports, and boating, scuba diving allows you to experience Bermuda's inviting waters in order to be sure that you get a taste of everything our island has to offer.
Commonly called the shipwreck capital of the Atlantic, the water surrounding our tiny island plays host to more than 300 individual shipwrecks, featuring ships both modern and centuries old, connecting the past and present in an unforgettable way; our shipwreck map highlights the general locations of many of the most famous of those wrecks.
Dive Bermuda
Dive Bermuda is the only Instructor Development Centre located in Bermuda, with over 30 years experience in offering diving trips, snorkeling tours, and PADI training courses, from beginner to instructor level.
Dive Bermuda can help you to visit reef sites full of Jacks, Snappers, Spiny Lobster, Parrotfish, and stunning Queen Angelfish, and any one of Bermuda's more than 300 shipwreck sites.
Location: Fairmont Southampton Beach
Telephone: 441-238-2332
Email: info@bermudascuba.com
Website
Blue Water Divers & Watersports
Specializing in visiting tropical shallow water shipwrecks around the island, Blue Water Divers & Watersports will help you explore the wrecks of the Constellation, a B29 bomber, the Marie Celeste, the North Carolina, and many other vessels that ended up on our ocean floor over the years.
Blue Water Divers can also help you to explore the 400 square kilometres of reef surrounding the island; the most northerly coral to be found in the world. Featuring overhangs, runnels, gullies and huge arches interspersed with abundant pockets of pink and white sand, our reefs are truly a sight to behold.
Location: Robinson's Marina, Somerset Bridge, Sandys Parish
Telephone: 441-234-1034
Fax: 441-295-4746
Website

Triangle Diving
Featuring a premium 5 star PADI dive resort and a full service dive shop offering a wide range of courses, including certification courses and specialty courses, Triangle Diving also offers daily 2-tank dives, snorkeling trips, and beginner lessons.
Whether you're looking for a 1-tank dive, a 2-tank dive, or even an underwater excursion during the nighttime hours, Triangle Diving has you covered.
Location: Grotto Bay
Telephone: 441-293-7319
Email: info@trianglediving.com
Website
Tucker's Point Dive and Water Sports Centre
Experience the thrill of wreck and reef diving in Bermuda with Tucker's Point Dive and Water Sports Centre, the island's newest and best-equipped PADI Resort and water sports facility.
Whether you want the experience tailored to you, or you simply want to rent a motor boat, sailboat, kayak, or snorkel gear, Tucker's Point Dive and Water Sports Centre has you covered.
Location: Tucker's Point Hotel & Spa
Telephone: 441-298-4050
Fax: 441-298-4002
Email: watersports@tuckerspoint.com
Website
Fantasea Diving & Watersports
Fantasea Diving and Watersports is the only PADI diving centre located in historic Royal Naval Dockyard. Once a strategic Atlantic outpost for the British Navy, this now popular tourist destination is the ideal jumping off point to explore genuine shipwrecks, vibrant coral reefs, and secluded island beaches.
Choose from daily 2-tank dives, Discover SCUBA lessons, PADI certifications, SNUBA diving, shipwreck & beach snorkeling, power snorkeling, glass bottom kayak tours and stand-up paddleboard tours, mountain bike tours, pontoon boat rentals, boat charters and more, all within walking distance of the bus, ferry, and Dockyard cruise ship terminals.
Location: Dockyard
Telephone: 441-236-3483
Email: info@fantasea.bm
Website
Bermuda Dive Guide - Interactive Brochure
To view an interactive Bermuda Dive Guide, please
click here
.
Comments
comments