When visiting Bermuda, there are several areas of the island that you simply have to visit, and the beautiful and historic town of St. George's is one of them.
This charming town invites visitors to take a step back in time with its well-maintained architecture, colourfully named roads, informative tours, beautiful scenery, with a modern touch of shopping and dining thrown in to connect the past with the present.
A World Heritage Destination, St George's was originally settled by English colonists in the early 1600s and was the first permanent settlement on the island.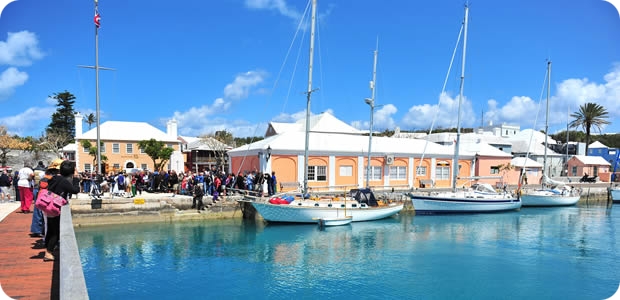 The settlement took shape as colonists who were on their way to establish new roots in Virginia aboard a ship called the Sea Venture found themselves shipwrecked on Bermuda.
St. George's served as the capital of the island until 1815, when it was switched to the City of Hamilton.
Since that time, St. George's has slowly evolved from a centre of commerce and port activity to a charming and colourful town with deep historic ties,  offering up a look at colonial days past to all who venture within it.
Information on some of the attractions in St George's is below, simply click the arrow to view more.
St Peter's Church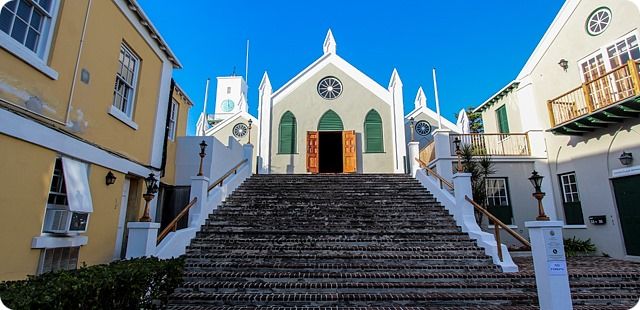 Located in the historic town of St George, St Peters Church is believed to be the oldest continually used Anglican church in the Western hemisphere.
The church is built on the same location as a 1612 structure made of wooden posts and palmetto leaves that was destroyed in a storm.
The church was rebuilt in 1713-14, after a 1712 hurricane caused widespread devastation thoughout the island and additions were completed in 1814 and 1832. St. Peter's cedar altar has been in use since 1624 and is the oldest piece of cedar furniture in Bermuda.
The churchyard contains two graveyards: a walled area to the west of the church was for used black slaves until the 19th century, while the eastern section was reserved for white parishioners.
In 2012, Her Majesty Queen Elizabeth redesignated St Peter's Church in St George's as 'Their Majesties Chappell', in honour of the church's 400th anniversary.
The Document signifies Her Majesty's pleasure to designate to St Peter's this early historic title, first used during the reign of King William and Queen Mary.
It is located right off King Square, and within easy walking distance of you are in the Town of St. George
Bermuda Perfumery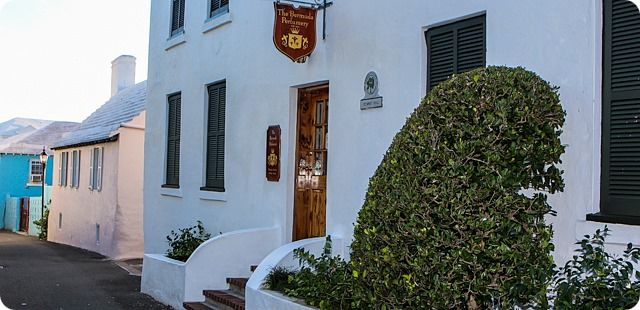 Founded in 1928 in a small wooden building in Bailey's Bay, the Bermuda Perfumery moved to the heart of historic St George's, and the same traditions and methods of perfume making continue to this day
The perfumes are an artistic reflection of Bermuda where each fragrance represents the Island's natural beauty: from the pure scent of the wind and fresh salt spray of the ocean, to its luscious botanicals such as Bermuda cedarwood, spring freesias and juicy loquats.
The New York Times, Elle Magazine, and InStyle have all written glowing reviews about the Bermuda perfume, and they have featured prominently on television including The View, CBS This Morning and The Bachelorette.
They welcome visitors, and are open from Monday to Saturday 9am to 5pm, and closed on Sundays and Holidays. Admission is free, and for those who may want a taste of Bermuda without making the journey, you can order their perfumes online.
The Bermuda Perfumery
Stewart Hall
5 Queen Street
St. George's GE 05
Tel.: 441-293-0627
Fax: 441-293-8810
info@bermuda-perfumery.com
Website
Unfinished Church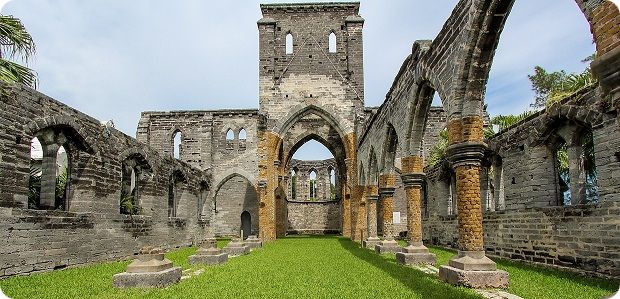 One of the most curious sights that the town of St. George's has to offer is its famous Unfinished Church.
Construction of this structure got underway in 1874, but a variety of unforeseen circumstances left the church to never be completed.
More than 50 years later, a strong hurricane destroyed much of what had been completed during the initial construction phase, leaving behind a treasure that no one could have predicted.
The Unfinished Church is now a protected historic monument as part of the St. George's UNESCO site.
Duke of Kent Street,
St. George's GE 05
Click here
to check out a 360° photosphere taken of the Unfinished Church
Bermuda National Trust Museum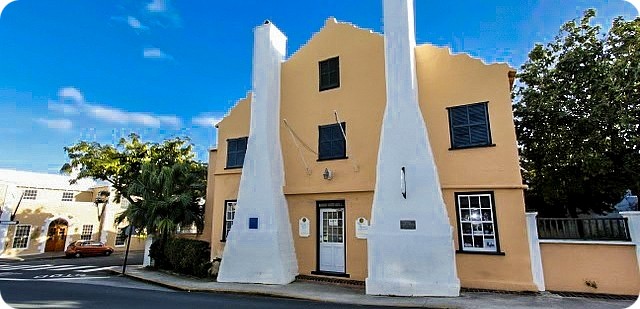 At the Bermuda National Trust Museum in St. George's, you'll have access to historic treasures that help to paint a picture of Bermuda's past, all in a quaint and accessible location that is as inviting as it is education.
The Bermuda National Trust is a charity, established in 1970, to preserve natural, architectural and historic items of importance and to encourage public appreciation of them by locals and visitors alike.
32 Duke of York Street
St. George, St George's Parish
Telephone: 441-297-1423
Official Website
Deliverance Replica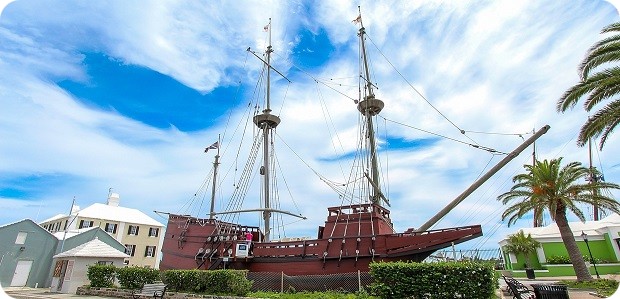 On Ordnance Island in St. George's, you'll find a full-sized replica of the ship Deliverance, giving you a glimpse into Bermuda's 400 year old history. It was on the Deliverance, and another ship Patience, by which Sir George Somers and his crew completed their journey to Virginia in 1610, after initially being shipwrecked in Bermuda.
The Deliverance is open for visitors on Tuesdays, Wednesdays and Saturdays from 10:00am to 2:00pm. Admission is only $1.00.
Ordnance Island
St George's
Tel: 441-297-0045
Official website
Click here
to see a 360° photosphere of Ordnance Island in which the Deliverance is visible
Tucker House Museum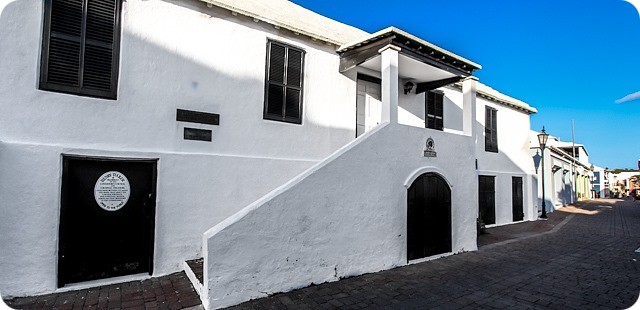 Offering an in-depth look at the life of a Bermudian in the 18th century, the Tucker House Museum resides in a home built on the island in the 1750s, now housing fantastic collections of historical pieces and artifacts for visitors to appreciate and learn from.
It is open on Wednesdays, Thursdays, Fridays and Saturdays from 11.00am – 3.00pm, and is closed on Public Holidays. The admission is $5.00 for adults, and $2.00 for children aged 6 to 18.
Water Street
St. George, St George's Parish
Telephone: 441-297-0545
St. George's Historical Society Museum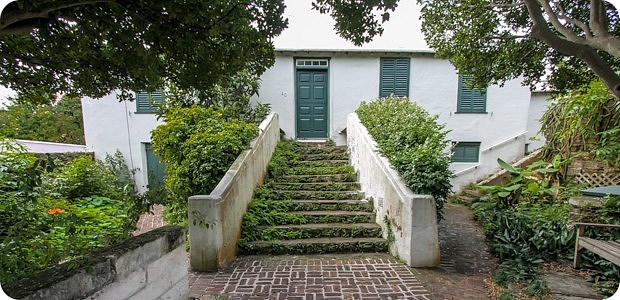 St. George's Historical Society Museum and Mitchell House is one of the island's oldest and most unique institutions. Built in the 1730s by a prosperous St. George's merchant, Major Walter Mitchell, for his nephew William, Mitchell House has retained all of its 18th century character and charm for your enjoyment today.
It is open from 10:00am – 4:00pm Monday through Thursday and Saturday from April through November. From January through March it is open from 10:00am – 4:00pm on Wednesday and Saturday only. The admission is $5.00 for adults, and $2.00 for children.
Duke of Kent Street
St. George, St George's Parish
Telephone: 441-297-0423
Official Website
Fort St. Catherine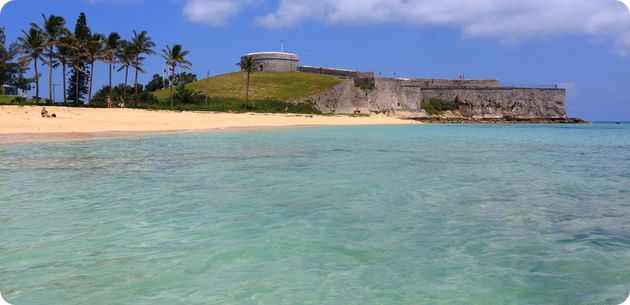 The original fort was built around 1614 by Bermuda's first Governor Richard Moore as a means of general protection against any nation who wanted to claim the island, and it was renovated and enlarged at least five times.
The existing fort was built from 1840 – 1880 and was in use up until 1900. It was defended by 5 cannons, which each weighed 18 tons and fired shells weighing 400 pounds.
The military structure has since been used for more peaceful matters, once hosting a production of Shakespeare's Macbeth starring the late Charlton Heston.

15 Coot Pond Road
St George's Parish
Tel: 441 297 1920
Email: fortstcatherine@logic.bm
Hours: 10am – 4pm Monday – Friday
Admission: $7 for adults, $5 for seniors, $3 for children [5-15], kids under 5 are free
Wednesdays is discount day: $5 for adults, $3 for seniors, and kids are free
Somers Gardens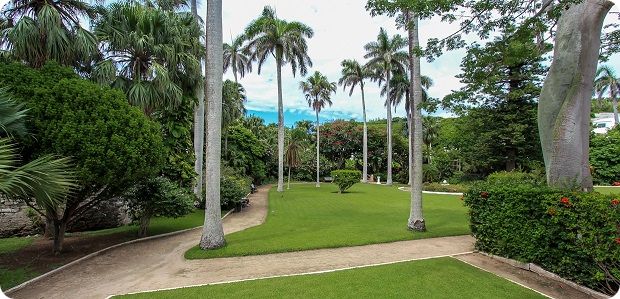 Located on the eastern end of the island, just a short walk from Kings Square in the town of St. George's, Somers Gardens is named after Sir George Somers, who captained the ship that wrecked off the reefs of Bermuda, leading to the island's settlement in 1609.
It is said that Sir George Somers asked to be buried in Bermuda, and his heart is buried somewhere on the grounds of what is now known as Somers Gardens.

Tours of St. George's
Olde Towne Railway
Bermuda's Olde Towne Railway gives you the opportunity to see the sight's that the beautiful town of St. George's has to offer, with skilled drivers and friendly staff accompanying you on your ride in order to tell the island's stories first hand.
Official Website: Olde Towne Railway
CedarTours Walking Tours
CedarTours is a company which offers Bermuda walking tours with an added bit of authenticity that you'll not find anywhere else; the tour ambassador on every trip is not only a certified tour guide for the town of St. George's, but a local St. Georgian as well, ensuring that you receive accurate historical information as well as that pertaining to current life for Bermudians.
Official Website: CedarTours Walking Tours
Kings Square, St. George's Guided Tour – Free
Take a guided walking tour of the Town of St. George's, followed by a personal greeting from the Mayor on Wednesdays at 10.30am and 1.30pm and on Saturdays at 10.30am between November and March, all at no charge. For additional details, please contact the St. George's Visitor Information Centre, located at the Globe Hotel, at 441-297-1423.
Dining Options in St George's
No matter where you go on the island, great food is always just a few steps away, and St. George's is no exception to that rule. Whether you're looking for a cozy bistro in which to sit down, a tavern offering up stiff drinks and bar food, or even spicy Asian cuisine, St. George's has a variety to choose from.
Restaurants in St George's include:
CV Cafe & Conscious Vibes Fair Trade
Eliana's
Griffin's Bistro and Bar
Angeline's Coffee Shop
Polaris at the Carriage House
Tamasun's Japanese House
Tavern by the Sea
Temptations
Wahoo's Waterside Bistro & Patio
White Horse Pub & Restaurant
Wongs Golden Dragon
Complete Guide to St George's - PDF
For a 34-page guide to St George's from the Bermuda's Department of Tourism
click here
Comments
comments