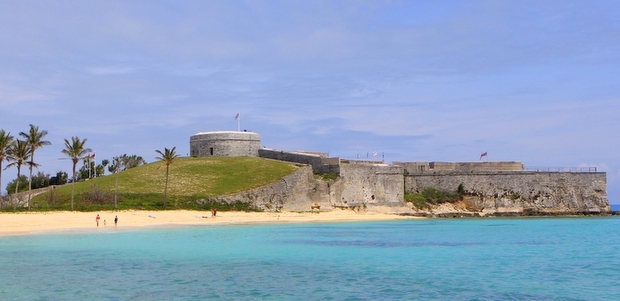 Today it is considered a paradise for those seeking general relaxation, but it's worth remembering that Bermuda was once a British naval outpost as it worked to explore and tame the New World.
By the time the American Revolution began, Britain had turned the island into a centre of military activity, building forts and dockyards to both protect their holdings there, and to launch missions directly to the Americas in aid of the Confederate movement there. With both troops and supplies stationed there, Bermuda allowed the British forces to bypass Union blockades in order to bring relief to soldiers operating in the hotly contested American south.
All of this military activity lead to the building of many forts and bases on the island; more than a century later, many of those same structures aided the Allied forces during World War I and World War II. Now, with wartime behind the island, Bermuda's military history is yours to explore.
Alexandra Battery Park, St George's Parish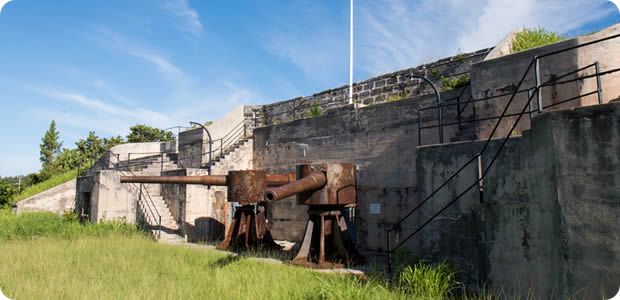 Situated in the historic town of St. George's, Alexandra Battery Park is an area that contains both an historic fortification that can be explored and a small beach to let you enjoy Bermuda's notoriously warm waters.
Built during the 1860s, Alexandra Battery was named after Princess Alexandra Denmark, who was married to Edward VII when he was the future king of Great Britain. Today, the fort provides room to explore and discover a piece of Bermuda's history even while enjoying a scenic park and the nearby beach.
Barry Road
St George's Parish
No admission fee
Gates Fort, St George's Parish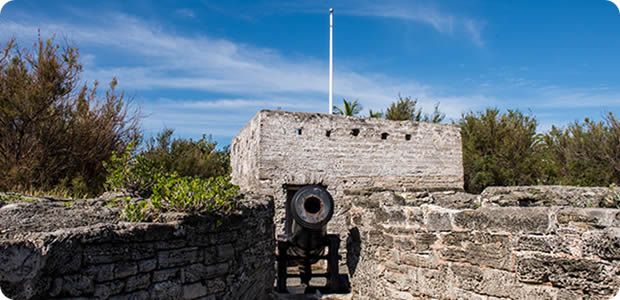 Built in the early 1600s at the tip of a man-made peninsula, Gates Fort is a tiny fortification that sits at the edge of the Atlantic Ocean. The watery channel it straddles, called Town Cut, was created in order to allow boats easy access to the St. George Harbour; Gates Fort was built there in order to deter enemy boats from entering.
The fort was named after one of the original occupants of Bermuda, Thomas Gates. After arriving in 1609 aboard the Sea Venture and governing Bermuda through 1610, Gates went on to become the Governor of Jamestown, Virginia.
Off Barry Road, not far from Alexandra Battery
St George's Parish
Open daily
No admission fee
Fort Hamilton, Pembroke Parish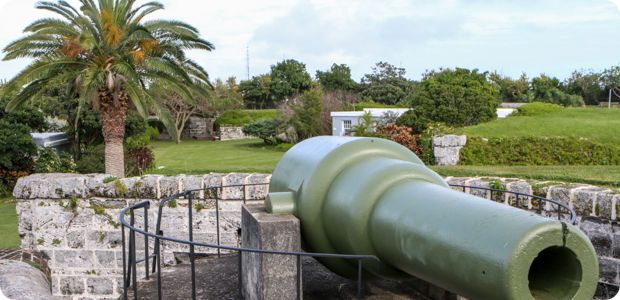 Perhaps the most famous military outpost on Bermuda, construction of Fort Hamilton began in 1868, taking several years to complete. Built by order of the Duke of Wellington, the fort's main objective was to protect the valuable Hamilton Harbour from a potential American invasion, and it was outfitted accordingly, sporting a wide moat, extensive underground passageways, high walls, and a series of 18-ton guns that could sink approaching vessels if necessary.
Happy Valley Road
Pembroke Parish
Within walking distance of the City of Hamilton
Open from sunup to sundown daily
No admission fee
Click here
to check out a 360° photosphere taken from Fort Hamilton
Fort St. Catherine, St. George's Parish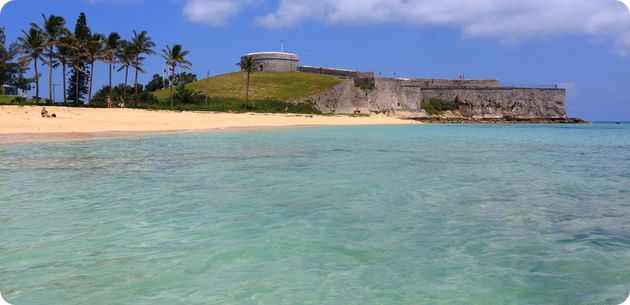 Fort St. Catherine is a part of the east end UNESCO World Heritage Site of St George's.
The original fort was built around 1614 by Bermuda's first Governor Richard Moore as a means of general protection against any nation who wanted to claim the island, and it was renovated and enlarged at least five times.
The existing fort was built from 1840 – 1880 and was in use up until 1900. It was defended by 5 cannons, which each weighed 18 tons and fired shells weighing 400 pounds.
The military structure has since been used for more peaceful matters, once hosting a production of Shakespeare's Macbeth starring the late Charlton Heston.

15 Coot Pond Road
St George's Parish
Tel: 441 297 1920
Email: fortstcatherine@logic.bm
Hours: 10am – 4pm Monday – Friday
Admission: $7 for adults, $5 for seniors, $3 for children [5-15], kids under 5 are free
Wednesdays is discount day: $5 for adults, $3 for seniors, and kids are free
75% wheelchair accessible
Martello Tower, Ferry Reach, St. George's Parish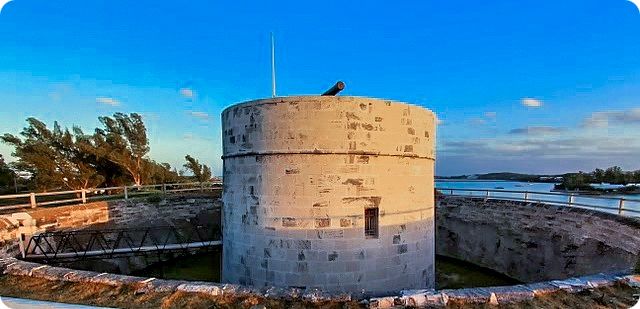 Built in the 1820s as a protective measure against the possibility of an American or French invasion of the island, Bermuda's egg-shaped Martello Tower features walls more than 10 feet thick, intended to withstand potential cannon fire. Though that cannon fire never came, the tower did fall into disrepair over the years until it was restored in 2008, leaving it looking much as it did when it was originally built, and making it an interesting stop for any history buff.

St George's Parish
Open by appointment only
Royal Naval Dockyard, Sandys Parish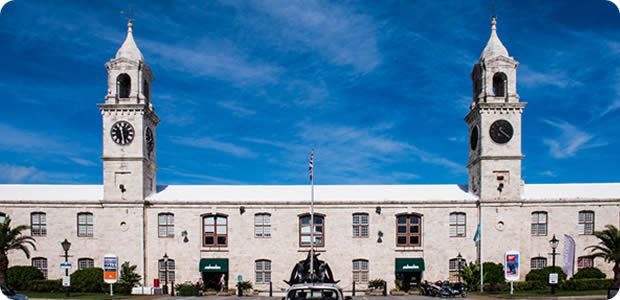 Continuing with the theme of protecting against a potential American invasion of the island, the Royal Naval Dockyard in Sandys Parish was built in the 1860s with just that possibility in mind. Originally, the Dockyard complex served as a British stronghold for naval operations and troop placement; today, it features as one of Bermuda's most visited tourist attractions, with a long list of places to visit within, including many shops and restaurants, along with the Bermuda Arts Centre, the Bermuda Craft Market, and the Bermuda National Museum.
Royal Naval Dockyard
Sandys Parish
Located on
bus routes
#7 and #8
Also accessible by
ferry
, with the blue and orange routes stopping in Dockyard
For more information, visit our
Dockyard page
Great Head Battery and Park, St. David's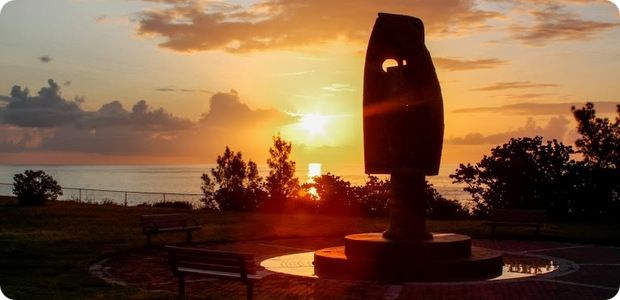 Protecting the easternmost point of Bermuda, the Great Head Battery was built on St. David's Island in 1910 in an effort to afford the Narrows Channel greater protection against the possibility of an invading force, with an array of of coastal defence guns mounted along its walls. Like many of Bermuda's protective forts, it never was forced to protect against an invasion, and the battery has since been transformed into a 24 acre memorial park.
Battery Road
St. George's DD02

Comments
comments