Bermuda may be a tiny island, but we are a world class fishing destination that attracts anglers from all over the world.  A fisherman's paradise, our waters offer some of the best sport fishing on the planet.
Bermuda is home to the annual Bermuda Triple Crown fishing competition, which offers six figure prize money for the biggest catches of the competition, with catches in Bermuda waters known to tip the scales at over 1,000 pounds.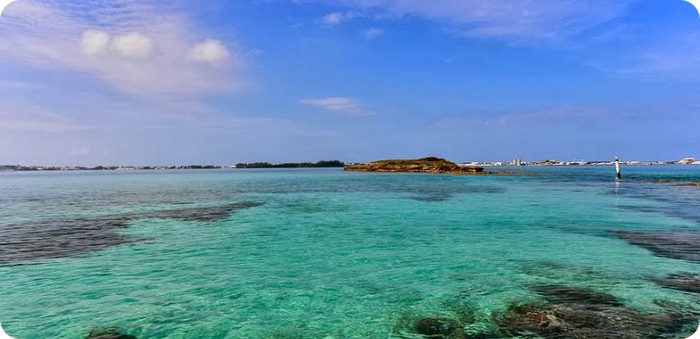 If you go out deep sea fishing with one of our local charter services, you will find that your guide will know the waters like the back of their hand, giving you all of the insight that you'll need to have a successful day on the water as to our fishermen, it's not a business, but a way of life.
If you prefer to stay closer to shore, you can always fish "off the rocks," a traditional and inexpensive pastime for Bermudians that sees us land surprisingly large fish without ever taking our feet off of dry land.
Paradise One Fishing Charters
Run by brothers Allan and Delvin Bean, Paradise One is a 54ft sport fishing catamaran which contains 2 staterooms, 2 bathrooms, a kitchen with dining nook, and a living/lounging area to relax in while on your Tuna or Marlin fishing charter, all with half-day rates starting at only $1,000.
Telephone 1 [Delvin Bean]: 441-734-9409
Telephone 2 [Allan Bean]: 441-705-6134
Email: paradiseonecharters@yahoo.com
Official Website
Playmate Charters
Playmate is a 43 foot Torres Sports vessel, captained by Kevin Winter. Half-day rates for fishing expeditions onto Bermuda's waters start at $1,000.
Telephone: 441-292-7131
Fax: 441-292-9598
Boat Cell: 441-335-5172
Email: playmate@logic.bm
Official Website
Overproof Charter Fishing
Overproof Charter Fishing and Captain Peter Rans invite you to join them on Bermuda's waters for your chance to land some of the biggest marlin that the Atlantic has to offer.
Location: Somerset
Telephone 1: 441-335-9850
Telephone 2: 441-238-5663
Email: overproof@northrock.bm
Official Website
Baxter's Reef Fishing
Piloted by Captain Michael Baxter, the Ellen B will take you out onto Bermuda's waters on your schedule, allowing you to take advantage of any of the island's special fishing spots in order to enjoy both a relaxing day and a great catch.
Location: Somerset
Telephone 1: 441-234-2963
Telephone 2: 441-334-9722
Email: baxtersreef@northrock.bm
Official Website
Reel Addiction Charters
Discover Bermuda's deep sea action on Reel Addiction, one of Bermuda's top sportfishing boats. Whether you are fishing for wahoo, tuna, or blue marlin, Reel Addiction has everything that you need to do it in style and comfort.
Telephone: 441-799-9927
Telephone [Boat Cellular]: 441-799-9928
Email: info@reeladdictionbermuda.com
Official Website
Reel Hot Charters
Guided by Captain Nick New, the 43 foot Reel Hot is an air conditioned Torres, fully equipped with three fighting chairs and top shelf tackle in order to make your fishing trip the best it can possibly be, whether you're after wahoo, tuna, marlin, or dolphin.
Telephone: 441-537-6040
Email: reelhot@ibl.bm
Official Website
Mako Charters
Boasting more than 30 years of experience in hosting fishing excursions, Mako Charters' motto of "staying on top of it" refers to all aspects of their vessel and services, ensuring that you get the best of everything when you sail with them.
Location: Pembroke
Telephone: 441-295-0835
Telephone [Boat Cellular]: 441-505-8626
Official Website
Jump Dem Bones
Bermuda's premier fly and light tackle guide for bonefish, hogfish, and other inshore species, Jump Dem Bones is a custom-built 18 foot Dolphin Skiff specially designed for navigating Bermuda's waters. With all tackle and even refreshments provided by Jump Dem Bones, you need only bring your passion for fishing when you head out on the water with them.
Telephone: 441-747-6911
Email: jumpdembones@hotmail.com
Official Website
Challenger Charter Fishing
This 40-foot Gamefisherman, owned and operated by Captain Alan Card and his son Ian, has experience landing multiple blue marlin that have tipped the scales at over 1,000 pounds, providing you with all of the assurance that you need that Challenger Charter Fishing knows where to find – and how to land – some of Bermuda's biggest fish.
Location: Somerset
Telephone: 441-234-0872
Telephone [Boat Cellular]: 441-337-2109
Email: ajcard@northrock.bm
Official Website
Mega Bucks Charters
Captain Sinclair Lambe will welcome you aboard his brand new 43 foot Torres vessel, the Mega Bucks, with half-day rates for reef fishing adventures starting at only $750.
Telephone: 441-234-3081
Fax: 441-234-3081
Email: megabuckscharters@gmail.com
Official Website
Sanctuary Charters
Sanctuary Marine offers exclusive cruising charters aboard the 47 Riviera sport fish Sanctuary. Riviera Yachts of Australia build high end luxury sport fishing boats and cruisers fitted with the latest technology and creature comforts to provide a luxury boating experience. The Sanctuary is 53 feet overall, with a 16 foot beam and is available for a minimum of 2 hours.
Telephone: 441-334-9933
Email: anj@northrock.bm
Official Website
Wound Up Charter Fishing
Fish Bermuda aboard the Wound Up, a boat whose crew have a hard-earned reputation as a family friendly, conscientious fish producer. Their tournament wins, local records, record tournament earnings, and big Blue Marlin catches has made this one of Bermuda's hottest boat in recent years.
Telephone: 441-737-9985
Email: freshfish@northrock.bm
Official Website
Albatross Charters
Albatross Charters is dedicated and committed to providing their clients with the best fishing available in Bermuda, at the best prices; half-day rates start from only $750.
Location: St. David's Island
Telephone: 441-331-8089
Email: bookings@fishwithalbatross.com
Official Website
Bermuda Fishing Guide - PDF
Comments
comments