Paying a visit to the island's caves allows you to experience underground Bermuda where cavernous pools of water, enchanting geological formations, and unique wonders await you at every turn.
While we may be better known for our beaches, Bermuda actually has one of the greatest concentrations of caves in the world and they contain more endemic species than any other Bermudian habitat.
The island's most well known caves, the Crystal Caves, were first discovered by accident in 1907. Two boys were playing a game of cricket when the ball disappeared into a hole, and one of the boys crawled down to try and retrieve the ball, and ended up discovering a spectacular natural wonder.
Fantasy and Crystal Caves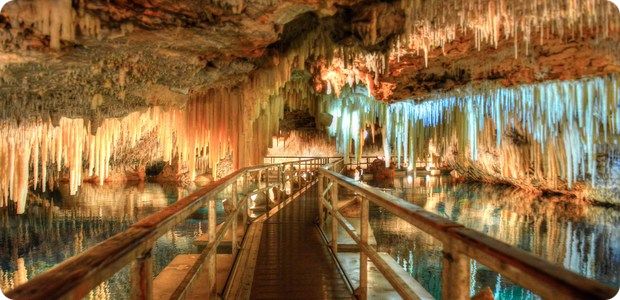 Taking just a single step into Bermuda's Crystal or Fantasy Caves is all it will take for you to know that you are descending into one of the Earth's most naturally beautiful places.
Full of water, the guided path is laid down with floating pontoons, allowing visitors to get a close-up look at the clear underground lake, itself full of formations beneath the surface.
Above, stalactites and crystallized soda straws loom over you, hanging low from the ceiling of the cave and putting on a wonderful show of their own.
This unforgettable experience will be accented by a knowledgeable guide who can fill you in on the unique history of the cave with every corner turned.
8 Crystal Cave Road
Hamilton Parish
Telephone
: 441-293-0640
Fax
: 441-293-7334
Admission
: Adults $22, children age 5-12 $10, children under 5 are free
Combination ticket to access both Crystal and Fantasy Caves is $30 for adults, $12 for children
Located in the eastern section of the island, between the
City of Hamilton
and
St George's
Accessible by
bus routes
#1, #3, #10 and #11 from Hamilton and St. George
Official Website
Grotto Bay Caves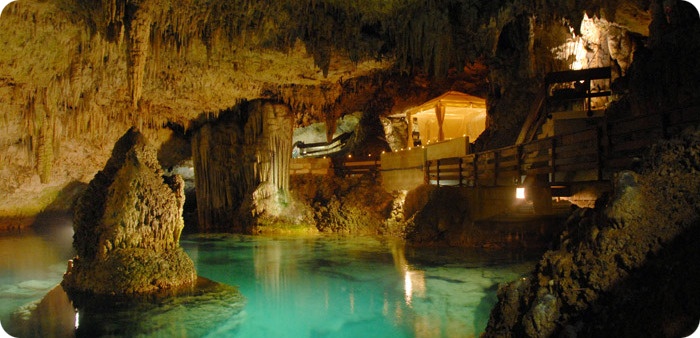 The Grotto Bay Hotel in Hamilton Parish offers a spectacular underground setting to go with the beautiful above-ground resort, with the general area playing host to both the Prospero and Cathedral Caves.
Guests are welcome to swim in the underground pools, and the resort also offers one of the most unique spa settings in the world, with the natural cave ambiance creating a relaxing atmosphere that only nature can provide.
Massages and other spa treatments are performed among the stalactites and stalagmites of the 50,000-year-old cave, which overlook an underground crystal clear lake, making for an unforgettable experience each and every time you visit.
Grotto Bay Hotel
11 Blue Hole Hill
Hamilton Parish CR 04
Telephone
: 441-293-8333
Telephone Toll-Free [USA]
: 800-582-3190
Telephone Toll Free [CAN]
: 800-463-0851
Fax
: 441-293-2306
Email
: dburrows@grottobay.com
Official Website
Comments
comments