Bermuda is a place of incredible beauty, and there is perhaps no more beautiful way to get from point to point on the island than by boat.
With four routes in total, Bermuda's ferry system aims to give you access to the major parts of the island, providing for fantastic views of Bermuda's waterways and pastel coloured houses along the way.
Out of the four routes, the two most likely to be used by visitors are the Blue Route which travels from the City of Hamilton to Dockyard, and the summer time Orange Route which travels from Dockyard to St. George's.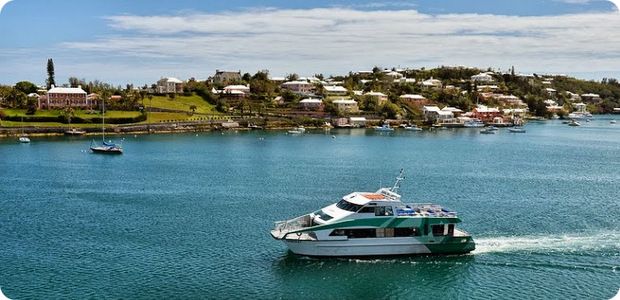 Fares per ride are $4.50 each [the Bermuda dollar is on par with the U.S. dollar], $2.50 for children aged 5-15 and children under 5 are free.
Transportation Passes — which allow unlimited rides on both the buses and ferries — are also available.
For adults, a 1-day transportation pass costs $15.00, a 2-day pass is $25.00, a 3-day pass is $35.00, a 4-day pass is $44.00 while a 7-day pass is $56.00.
If you are in Bermuda for an extended stay, a month-long pass is $55.00 and a three-month pass is $135.00. For children over 5 years old, the transportation passes are half-price.
Transportation Passes, Tokens & Tickets are available from the Hamilton Ferry and Bus Terminals, Visitors Information Centres, sub-post offices, as well as most hotels and guest houses.
The Hamilton Ferry Terminal is located on Front Street in the City of Hamilton [pictured on map above] and is open Mon-Fri 6:30am – 8:00pm, Sat 7:30am – 6:00pm and Sun & Holidays 8:30am – 6:00pm.
Further information is available on the official ferry guide which is available here [PDF].
–

Comments
comments