Boasting centuries of marine history and over 300 shipwrecks, Bermuda is known as the shipwreck capital of the Atlantic. Our island has done well to earn the title, boasting ample opportunity for you to find yourself face-to-face with some of the most compelling vestiges of the past that the sea has to offer.
With our waters dotted with the wrecks of ships, the opportunities to experience a true taste of marine history found in Bermuda are second to none.
Most of the shipwrecks surrounding our island ended up in their watery graves due to the treacherous reefs that surround Bermuda, leading to an interesting variety of sunken vessels to be found in our waters.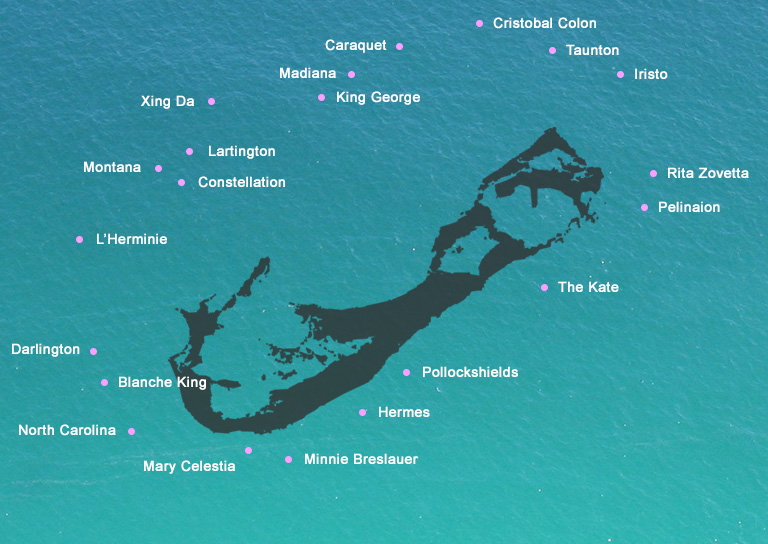 From war ships to merchant boats, most vessels fell prey to unsophisticated navigation systems and hidden reefs, leaving a legacy for divers that is unmatched the world over.
Many of Bermuda's shipwrecks can be visited today by scuba divers, giving you the opportunity to experience the treasure of the Atlantic is a unique firsthand fashion.
From small vessels that are more or less unknown in history books, to important sail boats and cargo ships that made their mark on our island's past forever, you'll find no shortage of shipwrecks to examine if you're so inclined, and all in beautiful waters whose temperature ranges from 83° during the summer months to 62° during the winter.
Shipwrecks can be observed via any one of the many scuba diving services available on the island, giving you access to historical gems such as the Constellation, which served as an impromptu cargo ship during World War II, and the King George, Bermuda's largest fully intact wreck.
Our island also boasts a number of watersports and boating opportunities that will bring you closer to our marine history than is possible on land, ranging from unique experiences like helmet diving to snorkeling along our exquisite coral reefs.
For a list of scuba diving providers click here, for information on general watersports and boating click here, and to see all of our shipwreck sites using a Google Earth map, click here.
For more information on the many activities to take part in while visiting Bermuda, click here.
A list of open Bermuda Shipwrecks, courtesy of the Dept. of Conservation, is below [PDF here]

Comments
comments