Musical group Edge Effect recently took a trip to Bermuda, and while on the island recorded a version of the song Hallelujah within the island's unique caves, taking advantage of the "amazing natural acoustics" provided by the natural structures.
The band, which calls the city of Orlando, Florida home, includes members Danny Alan [Tenor/Guitar], Sean Gerrity [Tenor/Drums], John Gibson [Baritone], Troy Dolendo [Baritone/Vocal Percussion/Keys], and Karl Hudson [Bass].
The video's description says, "We recently took a trip to Bermuda where we found these awesome caves and grottos under our hotel.
"Being the nerd singers we are, we felt we needed to take advantage of the amazing natural acoustics and sing a song. This is one take with no edits, just the natural reverb of this amazing cave. Hope you enjoy!"
The band's Facebook page says, "Winners of MTV's Top Pop Group and Boyz II Men's Next Great A Cappella Group, America's Got Talent finalists, and international recording artists, The Edge Effect, is taking music to a whole new level – and in ways you might not expect.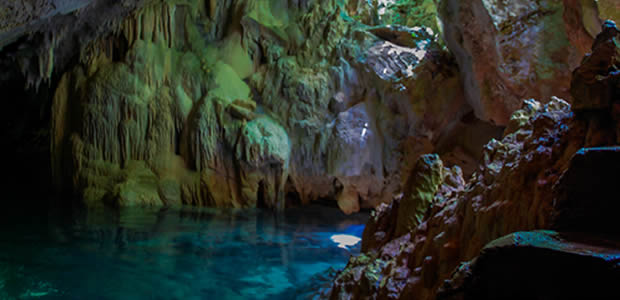 "The Edge Effect's signature sound blurs the genre line and weaves a colorful tapestry of infectious beats, intricate harmonies, and spectacular vocal acrobatics.
"Having shared the stage with such superstars as Prince, Tony Bennett, the Pussycat Dolls, Stevie Wonder, John Legend, and Jay Leno to name a few, the members of The Edge Effect have mesmerized audiences throughout the United States and around the globe.
"The band's members have earned recognition throughout the industry, with performances at both The Academy Awards and The Grammy Awards, as well as being crowned winners of MTV's Top Pop Group and CBS' Next Great A Cappella Group by Boyz II Men."
While we may be better known for our beaches, Bermuda actually has one of the greatest concentrations of caves in the world and they contain more endemic species than any other Bermudian habitat.
Comments
comments