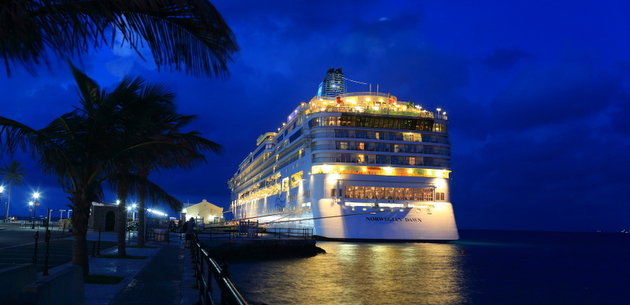 While there are many ways to get to our beautiful island, one of the favourite methods is via a cruise ship.
Just 600 nautical miles off the coast of North Carolina, more than 100 cruise ship stop in Bermuda in a typical year, giving travelers the opportunity to experience our pink sand beaches, unique history, and friendly people.
The regular cruise callers to Bermuda are operated by Norwegian Cruise Line, Royal Caribbean, and Celebrity Cruises.
The Norwegian Breakaway sails from New York City, the Norwegian Dawn from Boston, the Explorer of the Seas from New Jersey, the Grandeur of the Seas from Baltimore, and the Celebrity Summit from Cape Liberty.
In addition, Bermuda has around 20 'occasional callers' scheduled to make one or two visits in 2014, including the AIDAluna, Balmoral, Carnival Splendor, Celebrity Eclipse, Celebrity Infinity, Europa, Emerald Princess, Insignia, Legend of the Seas, Ocean Princess, Ruby Princess, Regatta, Riviera, Seven Seas Navigator, Silver Spirit, Silver Whisper, Thomson Dream, and Vision of the Seas.
Information on the regular callers is below; simply click an arrow to view more.
Grandeur of the Seas sailing from Baltimore
Grandeur of the Seas: 14 visits in 2014
• Arrives in Dockyard on Sunday afternoon at 3.00pm
• Departs from Dockyard on Tuesday afternoon at 6.00pm
Royal Caribbean's Grandeur of the Sea sails from Baltimore to Bermuda, providing its passengers with remodeled staterooms, a pool with an outdoor movie screen, specialty restaurants, live entertainment, and more, ensuring that your trip to Bermuda is nearly as fun as your stay.
Norwegian Dawn sailing from Boston
Norwegian Dawn: 22 visits in 2014
• Arrives at Heritage Wharf, Dockyard on Sunday morning at 11.00am
• Departs from Dockyard on Tuesday afternoon at 5.00pm
Norwegian Cruise Line's Norwegian Dawn offers the ultimate cruising experience, with a choice of 14 delicious dining options, 12 fun bars and lounges, a fitness center and spa, a casino, pools, and more.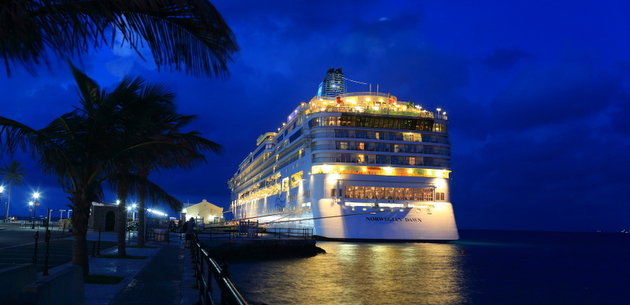 Norwegian Breakaway sailing from New York
Norwegian Breakaway: 22 visits in 2014
• Arrives in Dockyard on Wednesday morning at 7.30am
• Departs from Dockyard on Friday afternoon at 5.00pm
Embarking from New York City and traveling to Bermuda 22 times in 2014, the Norwegian Breakaway combines the best of New York City with the most magnificent amenities at sea.
Breathe in the fresh ocean air and connect with the sea like never before along The Waterfront, a quarter-mile oceanfront promenade lined with restaurants, bars and spectacular views. Indulge in 29 dining experiences, including three new dedicated seafood venues by celebrity chef Geoffrey Zakarian.
You can even enjoy dazzling Broadway performances, including Rock of Ages, Burn the Floor, Cirque Dreams, and Dinner Jungle Fantasy.
Celebrity Summit sailing from New Jersey
Summit: 19 visits in 2014
• Arrives at King's Wharf, Dockyard on Wednesday morning at 8.00am
• Departs from Dockyard on Friday afternoon at 4.30pm
Celebrity's Summit is the third member of their Millennium Class, having undergone a dazzling revitalization, including the addition of AquaClass staterooms and the inclusion of popular restaurant, Blu.
Summit has the hip Celebrity iLoungeSM where you can participate in the iLearn enrichment series or pick up the latest high-tech gadget from the first Apple Reseller at Sea. Enjoy a memorable dinner at the uniquely extraordinary restaurant Qsine, with a menu and wine list presented on an iPad, and finish with a chilled Lychee Martini at the ultra-cool, ice-topped Martini Bar.
Explorer of the Seas sailing from New Jersey
Explorer of the Seas: 27 visits in 2014
• Arrives at King's Wharf, Dockyard at 8.00am/9.00am
• Departs from Dockyard on Tuesday afternoon at 6.00pm
Royal Caribbean's Explorer of the Seas is home to an array of innovations that give you whatever type of vacation you desire. Climb a rock wall that overlooks the sea or find your adventure on the basketball court, ice-skating rink, or mini-golf course. If it's zen you seek, achieve it poolside or at the relaxing VitalitySM Spa.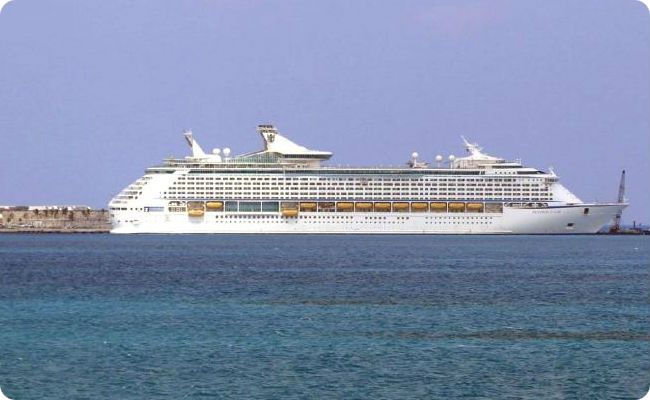 Liven up your nights on the Royal Promenade, with parades, dancing, and duty-free shopping deals. And bring along some friends – with spacious public areas, enhanced staterooms, and a spectacular three-story dining room, this ship has room for your whole crew.

All of the cruise callers listed above will berth at the Royal Naval Dockyard, which is located at the western tip of the island and is depicted on the map above. There is plenty to see in Dockyard, and you can easily visit the rest of the island by bus, ferry, taxi or on a rental scooter.
No matter where your trip originates or what vessel you find yourself aboard, you can guarantee that you're in for an unforgettable treat once you set foot on our beautiful island. Once you've arrived, our island offers a myriad of activities, click here for information on things to do in Bermuda.
Comments
comments