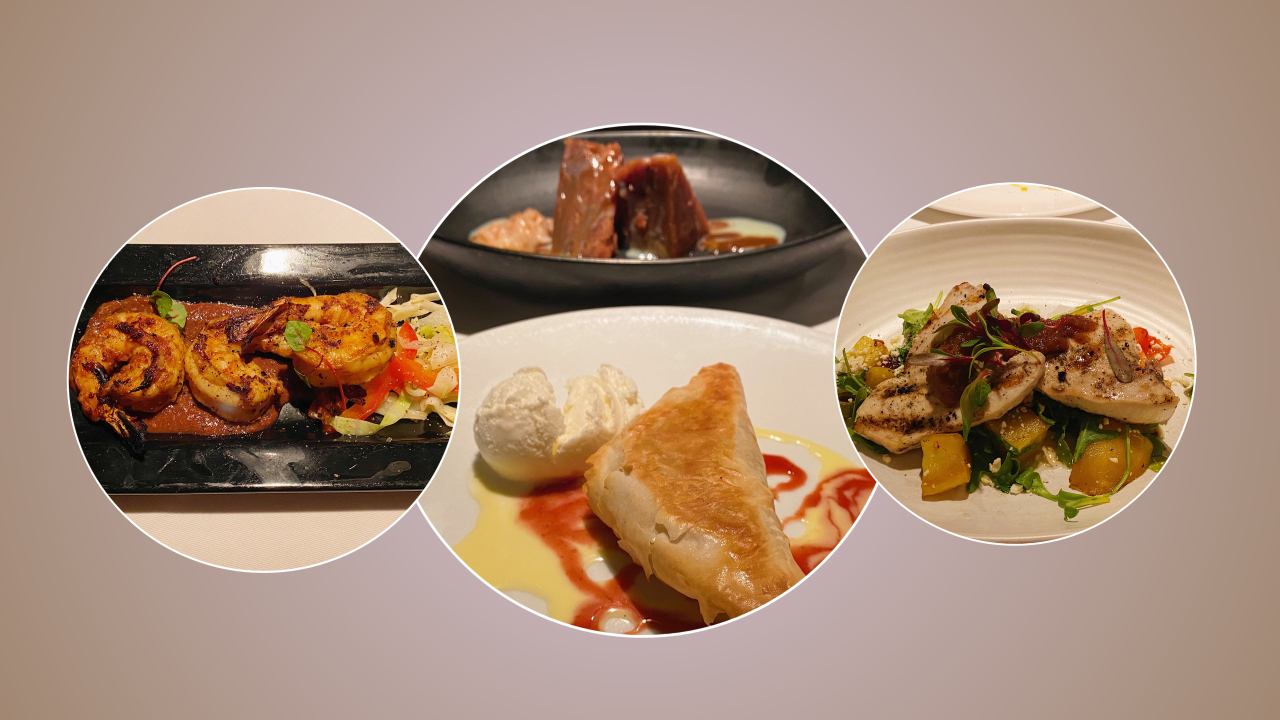 [Written by Mikaela Ian Pearman]
Blackened shrimp, Flame-Grilled local swordfish and Apple Strudel. What do these three dishes have in common? It's OK, I'll answer the question for you.
These were the dishes I ate to kick off Restaurant Weeks 2022 at Barracuda Grill. And when I tell you, the menu blew my mind, please believe me.
OK, let's start from the beginning like any good story. I decided to dine at Barracuda Grill as my first stop this year because the menu looked amazing and I hadn't been there in awhile. Here's a few of the offerings: Beef Cheek Croquette, Blackened Shrimp with Mole, Fire Seared Lamb Chops, Impossible Kofta, Tiramisu Cake. As you can see, there were plenty of incredible options just waiting to be tasted.
After ordering cocktails, Chef Derek Myers [one of my faves] came out to explain the menu to us [my cousin joined me for dinner]. He highly recommended the shrimp and the swordfish so I figured it would be smart to order both.
Before I get into how everything was, let's talk about the vibe for a second. Barracuda Grill is a great spot because it has a private, exclusive feel. The whole place was packed so it was buzzing a la pre–pandemic times. I absolutely loved it.
OK, back to the food. The shrimp came out and I was surprised by the portion. I got three large shrimp on the plate with the mole sauce and spiced slaw. The shrimp were perfectly seared and full of flavour thanks to awesome blackening spices. The complexity from the mole sauce and the fresh bite from the slaw complemented the shrimp beautifully. This dish was easily the best thing I've eaten in a long time. Fresh, spicy, and smokey all at once.
For the mains, I was presented with a generous portion of swordfish and again found myself surprised with the portion. This dish was Flame Grilled Swordfish with roasted sweet potatoes, mixed olives, arugula, feta cheese, peppers and local loquat compote.
This dish also blew my mind. The fish was full of flavour, so moist and everything that came with it just added to the overall deliciousness.I got smokey, sweet, salty, briny and creamy in this dish. My only gripe would be that the sweet potatoes could've been cooked a little bit longer. But, this was an excellent Mediterranean style plate with a Bermudian flair. I would happily order it again.
For dessert, I went with the Apple Strudel. The pastry was crisp and the apples were tart and sweet. It came with vanilla ice cream, creme anglaise and a berry compote. Not mind blowing, but delicious.
If you haven't been anywhere for Restaurant Weeks yet, I highly recommend booking a table at Barracuda Grill. The menu is exciting with a number of choices to please many palletes. You won't be disappointed.
*Barracuda Grill is in the $52 category and their menu is available through the end of March.
Comments
comments