Over 800 lionfish were caught during the annual Winter Lionfish Derby, as locals gathered to take part in the month long competition, having fun while also helping to remove the invasive species from Bermuda's waters.
"With great weather to start the year, local lionfish hunters got a quick start to the competition, catching nearly 250 lionfish in the first week. By the end of the month-long tournament, the 68 registered participants had caught 849 lionfish, a 36% increase from the 2018 derby when 624 lionfish were caught," a spokesperson said.
"The top three freediving teams managed to catch 561 fish out of the total haul, many of which ended up in local restaurants and grocery stores as part of the culler vendor programme supported by the Department of Environment and Natural Resources.
"In addition, a lot of lionfish were donated for the wrap party catering, primarily from teams BDApnea, Natural Born Killers, Lost in the Triangle, and We Dive at Five.
"Although it's difficult to estimate how much of a dent we made in the local population, rough calculations suggest that removing these fish may have prevented up to 500,000,000 lionfish eggs being spawned this year alone!
"The Winter Lionfish Derby was started in 2015 as a way to collect data for research, as there were no samples from the winter months. The level of participation and the number of fish caught has increased each year."
Lead organizer, Dr. Corey Eddy, said: "I never really expected the derby would become such a successful and popular event for our lionfish hunters, but I have been more than pleasantly surprised.
"As I've said in the past, this event isn't just about catching lionfish, but about bringing the lionfish community together. Importantly, the wrap party is our way of thanking the dedicated cullers who go out year round and make a significant contribution to the removal of lionfish from Bermuda's waters.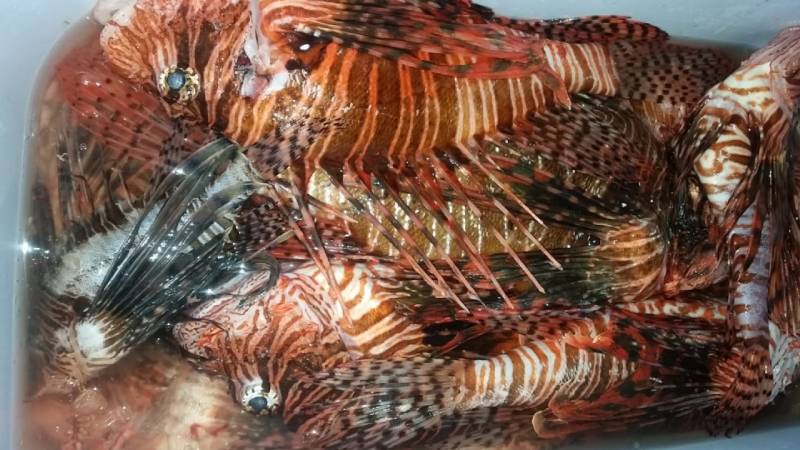 "As we've seen in every Winter Derby, these lionfish are being caught in shallow waters close to shore, making them comparatively easy to find and catch. Looking back at the data we've collected since 2012, it's pretty cool to see that 24.2% of all lionfish captured in Bermuda have been caught in one of the Winter Lionfish Derbies, at an average depth of 20 ft."
"Thanks to support from the Bermuda Zoological Society and Bermuda Aquarium Museum and Zoo, we were lucky enough to host the wrap party and awards ceremony in the main aquarium hall, with lionfish ceviche prepared by Take Five Catering Ltd and lionfish chowder from Sid's Seafoods. Goslings generously provided a variety of beverages for the bar.
"Thanks to financial support from the Bermuda Lionfish Task Force, Lindo's, Marine Locker, Gorhams, Atlantic Lionshare, OnIT IT Consulting, BlueShark Consulting, and Atlantic Mooring Maintenance, we were able to double the value of our cash prizes for first, second and third place in both the freediver and SCUBA diver categories.
"However, the impressive number of fish caught warranted fourth place awards and some individual recognition, and additional prizes were provided by Makin Waves, Dive Bermuda, Blue Water Divers, Blue Hole Water Sports, Goslings, La Garza Jewelry, and the Bermuda Underwater Exploration Institute.
"Logistical support was provided by Conyers Imports Ltd. and a number of enthusiastic volunteers. We are very grateful for the ongoing support from the community and these very generous sponsors."
The winners:
Freediver category
1st place [$1000]: Iron Lion Zion [Will Gillett, Treshun Correia, Andrew Conyers, Jon Pedro], 207 fish
2nd place [$500]: Natural Born Killers [Chris Cabral, Sean Correia, Trevor Rawson], 179 fish
3rd place [$200]: We Dive at Five [James Adderley, Mark Outerbridge, Mark Fullerton, Jamie Fraser], 175 fish
4th place [various gift cards and Goslings rum]: Sexy Reef Ambassadors [Natalie Dyrlie, Tim Price, Vanessa Conway, Lee Conway], 105 fish
Most fish per male: Chris Cabral [NBK], 121 fish
Most fish per female: Vanessa Conway [SRA], 28 fish
Scuba category
1st place [$1000]: Lost in the Triangle [Kweshon Hollis, JD Symonds, Rafal Burdon, Mark Wynne], 53 fish
2nd place [$500]: Pick One [Sandor Arany and Dimitri Ceban], 14 fish
3rd place[$200]: Rory Gorman, 6 fish
4th place [various gift cards and Goslings rum]: tied between Free Flow [Max and Sharon Ferrero, Carl Cao, and Justin Phillips] and Andrew de Melo, 5 fish
Most fish per male: Kweshon Hollis [LIT], 29 fish
Most fish per female: Adrienne Smatt [Scuba Salseros], 3 fish
Additional
Biggest lionfish: Natalie Dyrlie [Sexy Reef Ambassadors], 17.6 in [44.8 cm]
Second biggest: Chris Cabral [Natural Born Killers], 16.9 in [43.0 cm]
Smallest lionfish: Vanessa Conway [Sexy Reef Ambassadors], 3.9 in [10.0 cm]
Second smallest: Kweshon Hollis [Lost in the Triangle] 4.1 in [10.5 cm]
Deepest lionfish culled: Andrew de Melo, 111.5 ft [34 m]
Ugliest lionfish culled: Will Gillett and Andrew Conyers [ILZ]
Photos courtesy of Ryan Souza
Comments
comments