Actor Michael Douglas — whose mother was Bermudian — visited the SoftBank Team Japan base in Bermuda recently, seeking to get a taste of what's to come when the America's Cup kicks off next month.
Having seen the 2007 America's Cup in Valencia, Douglas toured SoftBank Team Japan's new next-generation America's Cup Class race yacht, "Hikari" and got a first hand look at how far the race has evolved in only ten years time.
"I had the nicest opportunity to visit the America's Cup base at the Dockyard and it is unbelievable what they've got going on here", said Douglas.
"This is going to be something to behold, it's going be a lot of fun!"
Dean Barker, CEO and Skipper of SoftBank Team Japan, was on hand to welcome Douglas and show him the foiling technology that enables this new breed of boat to reach speeds in excess of 50 mph.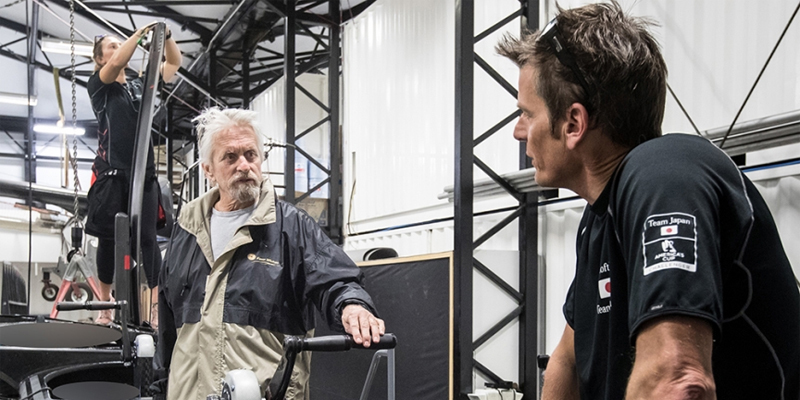 "I think like everyone, he was impressed by the technology and design and how we push all the boundaries so hard", said Barker.
"Having a look at what we do and realize it's not just what's on the water but all the hard work that goes into the boat behind the scenes by the shore crew to get it sailing each day – I think that's always the biggest eye opener to anyone who comes and visits."
As the race date quickly approaches and with the team eager to get as much valuable time practicing on the racecourse, Barker hopes to get Douglas out on the water to sail on the race yacht itself.
"We're very lucky to have Michael say hello at the base after sailing today. Next step is to get him on the water!"
Comments
comments