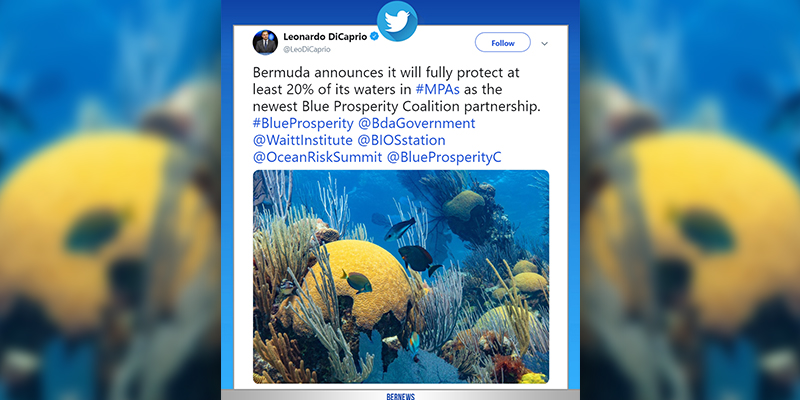 Prominent actor Leonardo DiCaprio recently took a moment to reflect on Bermuda's decision to protect at least 20 percent of our waters, sharing the announcement with his more than 19 million followers on Twitter.
In his tweet, Mr. DiCaprio said, "Bermuda announces it will fully protect at least 20% of its waters in #MPAs as the newest Blue Prosperity Coalition partnership."
Known for his roles in a long list of high profile films including The Basketball Diaries, Titanic, Django Unchained, and others, Mr DiCaprio also has a long history as an environmental activist.
Via his Leonardo DiCaprio Foundation – an organization "dedicated to the protection and wellbeing of all Earth's inhabitants" – the actor helps to support environmental projects around the world.
Earlier this month, the Ministry of Home Affairs, the Waitt Institute, and Bermuda Institute of Ocean Sciences [BIOS], signed a Memorandum of Understanding [MOU] to form the Bermuda Ocean Prosperity Programme.
"Through this partnership, Bermuda will create a binding ocean plan to sustainably manage and improve ocean industries like fishing and tourism while at the same time preserving 90,000 square kilometers [50,000 square miles] of Bermuda's waters, which total 465,000 sq. kilometers [ sq. miles], in fully protected areas [no fishing, extraction, or destruction of any kind is allowed]," a spokesperson said at that time.
"This process will be based on scientific, legal, and socio-economic assessments of the island and will be designated and implemented by 2022.
"Utilizing marine spatial planning [MSP], new inshore and offshore zones will aim to preserve commercially important fish stocks, migratory routes for marine mammals, and deep-sea ecosystems like seamounts and corals while allowing for responsible development of marine industries."
Comments
comments