The City of Hamilton announced the opening of their first new food concession for 2021, with J&B's Wood Fired Pizza opening for lunch today [Feb 10] at Dr. E. F. Gordon Square, serving flavorsome homemade woodfired pizzas and iced teas.
"J&B's Wood Fired Pizza is one of six new mobile food vendors which have been selected by the City of Hamilton to join the City Food Concession Programme for 2021, following a Request for Proposal last year," the City explained.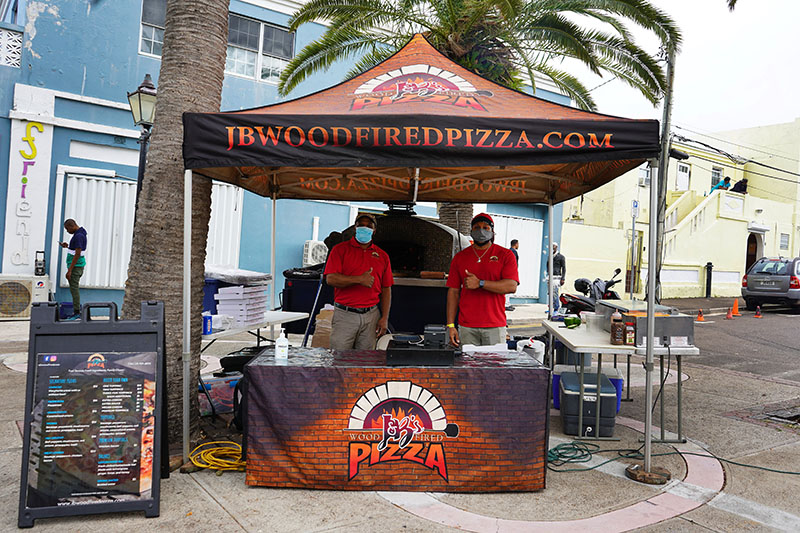 "Other selected pop-up vendors for 2021 include an ice cream and dessert concession on Front Street, a tea concession in Queen Elizabeth Park, a dessert, shake and snack trailer in Victoria Park, as well as a Trinidadian street food concession on Laffan Street and a taco wagon on Front Street – all of which are scheduled to open within the next few months. The public will be advised as each new concession opens to the community."
"The aim of the Food Concession Programme is to enhance the vibrancy of the City and continue to cater to the working public and residents by providing quality services.," explained the City's Projects and Rentals Coordinator Tamara Bradshaw.
"We believe that this year's food concessions all provide an added value to the area in terms of diversity of available options, vibrancy, customer experience and aesthetics, without directly competing with any existing businesses in the surrounding areas."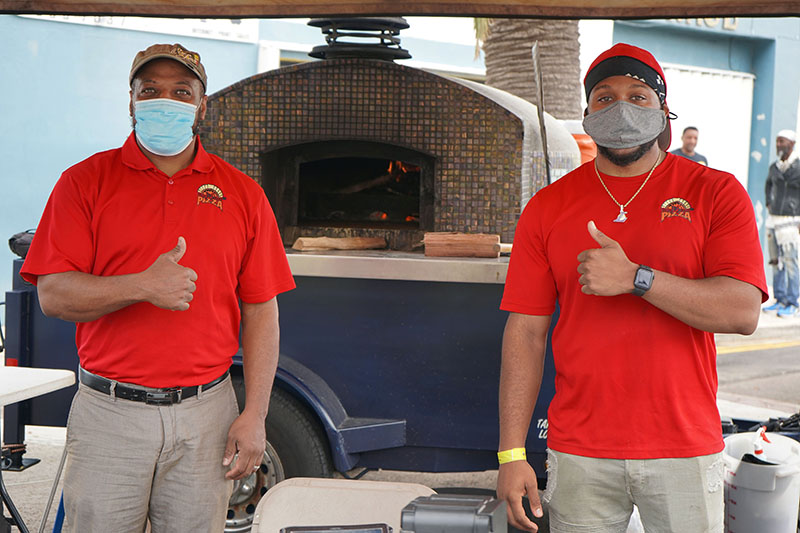 "J&B's Wood Fired Pizza, which is owned and operated by Dr. Timothy Jackson and his wife Michelle Brock Jackson, will be open on Mondays, Wednesdays, and Fridays from 11am until 3pm at the Dr. E. F. Gordon Square, located at the northeast corner of the Dundonald Street and Court Street junction," a spokesperson said.
"The healthy pizza company, with its sugar-free bases and ingredients, made its island debut at the America's Cup event four years ago where it was one of the five primary food and beverage vendors for the America's Cup Village.
"Dr. Jackson said their company's aim was always to, 'make pizza as healthy as possible using the freshest ingredients.' Today they debuted their new gluten free pizza crust option for those with gluten sensitivity.
"Staffed entirely by Bermudians, the company truly has a Bermudian flavour with ingredients sourced locally wherever possible. The pizzas even pay tribute to Bermudian themes with names such as 'Onion Patch' and 'Chingas'.
Dr. Jackson, a former principal at Sandys Middle School, said, "We are excited to have greater visibility right in the heart of the City, so we are hoping to get a nice turnout. Operating a mobile food business is definitely advantageous over having a fixed restaurant space as it cuts down significantly on overhead. Also, people can walk right up to you as you make it, so it's hot and fresh out of the oven!"
"If members of the public would like to call in an order for pick-up at this location, they can call 707-4992. For more information on J&B's Wood Fired Pizza, email: tim@jbwoodfiredpizza.com," the City said.
"As part of the approval process for this initiative, the proposed vendors, locations and concepts were presented to the relevant City committees inclusive of those representing the interests of City residents."
Comments
comments