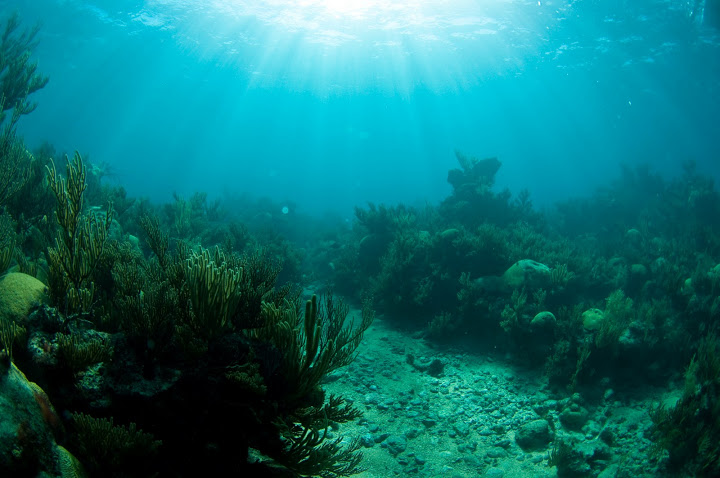 Since Bermuda was first colonized by the survivors of the Sea Venture in 1609, its fringing reefs have maintained their reputation as notoriously treacherous over the centuries, claiming hundreds of vessels that attempted to navigate Bermuda's waters.
These shipwrecks have shaped the history of the island and what was once a boat captain's nightmare is now a wreck diver's dream destination.
Bermuda consists of 21 square miles of land encompassed by 500 square miles of coral reef, which may explain why there are over 350 shipwrecks surrounding the island. Bermuda is hailed as the 'shipwreck capital of the world' for the range of wrecks available to divers.
These vary in historical significance, aged between 10 to 500 years old, and include an array of types of vessel; from paddle steamers to tug boats. The shipwrecks lie dotted around the perimeter of the island, nearly all of which sunk on shallow reefs (between 30ft-65ft in depth), making them accessible for divers of all abilities and allowing maximum dive time for exploration. Dive operators on the south shore have access to a number of wrecks within a 5-10 minute boat journey out, which all have their own interesting history behind them.
The Mariy Celeste was a civil war blockade runner and paddle wheel steamer which sank in 1864 with only one casualty. Today, she sits in 55ft of water and is one of the only vessels of her kind to have both paddle wheels still intact which make an excellent site for photography and a particularly popular wreck with divers.
Teddy Tucker, who sadly passed away last summer, is a revered Bermudian legend who discovered, researched and charted most of the shipwrecks in Bermuda as well as recovering treasure and providing information of great historical importance.
However, there are estimated to be a number of missing wrecks still waiting to be found and The Roanoke, a contemporary of the Mari Celeste, has attracted recent attention from hopeful treasure hunters. A long-lost American Civil War blockade runner, it was commandeered by the Confederate Navy and burned and sunk off the coast from St. George's in 1864 and has yet to be discovered.
The area of Five Fathom Hole is where divers expect to find the wreck and groups of divers plan annual trips to the site to see what they can uncover. In 2013 one group found 11 anchors and a further 6 anchors, glass bottles and plates in 2014.
Off the north-west coast of Bermuda is the Constellation, a four-masted schooner built in 1918. She wrecked on the reef in 1942 carrying a 2,000 ton cargo en-route from New York to Venezuela. It was in fact this wreck which provided the inspiration for Peter Benchley's story The Deep, as amongst her cargo the Constellation carried thousands of drug ampuls and many broken glass vials and bottles which can still be found by divers today in only 9m of water.
Within only 50ft of the Constellation is another wreck, the Montana, which sunk in 1863. She is an English paddle wheel steamer and civil war blockade runner which is often referred to as the Nola as she was given multiple names to elude American spies. She lies in 33ft of water, 8 miles north-west of Dockyard.
Surrounding the wrecks in Bermuda are thriving coral reefs and interesting rock formations which offer arches and swim-throughs for divers to explore. For the more intrepid individuals there are some intriguing cavern systems with some narrow tunnels to discover.
However, there are also some wider, more open passages for less experienced divers. Most dive operators on the island offer a wreck and reef 2-tank dive for certified divers every morning during peak season. During the last 30 years wreck diving has become increasingly popular, so much so that more wrecks have been created for divers to experience.
In 1984 the King set the trend for a new kind of shipwreck in Bermuda, one which was intentionally sunk. The King is an old Navy tug boat, built in 1941 and was the first vessel to be scuttled in Bermuda. At 55ft long she lies intact in 62ft of water, a short ride out from East Whale Bay.
Purposefully sinking the King for diving proved such a success that it encouraged other vessels such as the Hermes and the Forceful to be scuttled as well. The Forceful is also an old tug boat which was intentionally sunk in 2008, just 50 yards away from the King, creating a site where two wrecks can be explored on one dive. At 75ft long, she has an open hull which provides safe and easy penetration and there are many ways she can be explored: divers can even stand inside the pilot house.
Also in 1984, The Hermes, originally a 175ft U.S. Navy buoy tender built in 1943, was purposefully sunk for diving and now lies in 65ft of water. She has been made safe for wreck penetration diving, and remains intact, upright and very photogenic.
Fuelling the Bermuda Triangle myth; it is not just shipwrecks that can be found in the waters around Bermuda, but also aircraft. In 1962, a U.S. B-29 Bomber plane took off from Bermuda and went down over the sea due to a fuel problem. Fortunately the pilot and crew all successfully bailed out from the plane before she crashed into the water so there were no casualties. Now known as the Airplane wreck she lies in only 33ft of water and many parts of the plane, such as the propeller still remain intact for divers to explore.
However, the wrecks do not exclusively define the diving in Bermuda. There are also beautiful and vibrant coral reefs, full of marine life. One of the popular reef sites, South West Breaker, is where the opening scenes of the adaptation of Peter Benchley's novel The Deep was filmed.
This dive site is absolutely thriving with marine life; lobsters, barracudas, octopus, green moray eels, grouper, snapper can all be seen here. Average depths on the other reef sites range between 26-72ft, the visibility between 50-200ft dependant on the conditions and season.
As there no strong currents, little dangerous marine life and strict government licensing requirements, Bermuda boasts an exciting opportunity for safe and unique diving.
To learn more about the more than 300 shipwrecks that surround the island, many of them accessible to divers, click here. For more information about the many scuba diving opportunities to be found in Bermuda, click here, or for information on watersports and boating click here.
Bermuda Dive Guide - Interactive Brochure
To view an interactive Bermuda Dive Guide, please
click here
.
Comments
comments