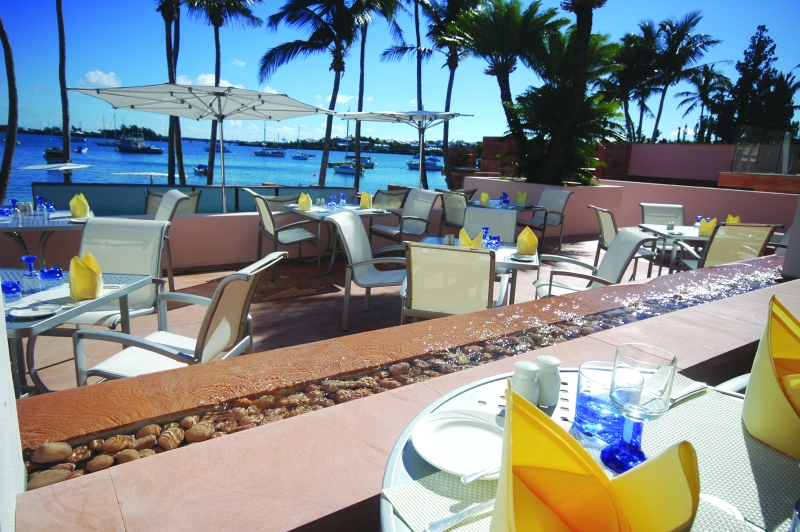 Due to the popularity of their Monday Night Barbecue, Cambridge Beaches Resort & Spa has now introduced a Sunday brunch to give residents and visitors alike the opportunity to experience the tranquility of the resort by spending a leisurely Sunday afternoon on the Tamarisk Terrace, relaxing and savouring stunning views of Bermuda's Mangrove Bay.
Cambridge Beaches is the island's first cottage colony and one of the oldest resorts on Bermuda. Unique to Cambridge, guests may also arrive at the west end resort via boat and tie up at the resort's dock.
"Cambridge has been thrilled to welcome so many local residents to the Resort over the past few years via the Monday Night BBQ and we wanted to expand their options inviting them to also enjoy the Resort during the weekend", said Melvin Dillas, the resort's maitre'd.
"We have been making every effort to reach out to the island's local residents so they feel as welcome here as our overseas guest do, including by offering special events, overnight rates, and dining experiences."
Executive Chef Keith DeShields, together with his team, has created a sumptuous brunch menu of traditional favourites fused with irresistible island delights.
For example, guests can expect dishes such as breakfast burritos, forest berry pancakes, smoked salmon and baby shrimp scrambled eggs, as well as an iced seafood station, stir fry station, and omelets to order.
There is also carving station offered alongside island favorites like cod fish and potatoes, peas and rice, local catch, salt fish jonny bread, and numerous other delicious delights.
Chef DeShields feels that Cambridge offers a unique setting for the brunch experience. Delicious food and refreshing cocktails, together with Vernon Douglas on the piano, makes for such a serene and relaxing setting for a Sunday afternoon.
Chef DeShields said, "It has been wonderful watching the locals discover all that Cambridge has to offer. Many have never been to our resort before and have returned over and over again, which is very rewarding to Mel and I as the leaders of the food and beverage team."
Cambridge Beaches has long catered to guests over the age of 16 and recently reduced the age and now welcomes guests year round who are 13 years or older.
"This niche market has proven successful over the years as Cambridge is the only resort on the island focused on a child-free dynamic.
Ready to plan your Sunday escape? The brunch experience is available every Sunday for $45 per person [plus gratuity] from 12.00pm through 3.00pm. To make reservations – which are recommended – call 441-234-0331 or email maitred@cambeach.bm.
To learn more about Cambridge Beaches Resort & Spa, along with Bermuda's other hotels and resorts, click here. For a closer look at some of the other delectable dining opportunities that the island has to offer, click here.
Comments
comments