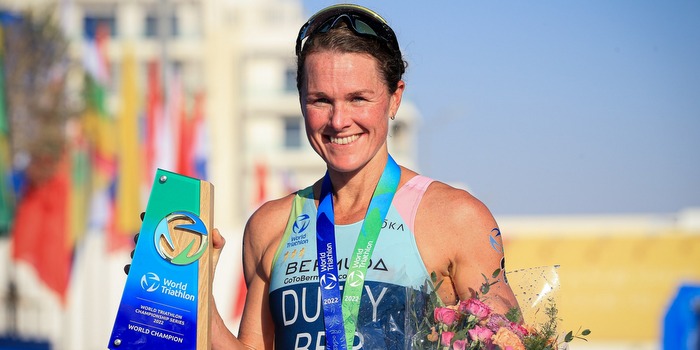 Bermudian Dame Flora Duffy — the reigning Olympic gold medalist — grabbed the Bermuda flag as she crossed the finish line in first place in Abu Dhabi, to claim yet another World Championship title, becoming the four time WTS World Champion, and the first woman to accomplish such a feat.
"I'm really, really proud of this one," said Dame Flora afterwards. "It was a difficult start to the year for me coming out of the Olympics and Covid and everything and it took a lot of work to get my mind back into it so I'm thrilled."
Following her victory, Minister of Youth, Culture and Sport Owen Darrell said, "Once again Dame Flora Duffy has proven that she is the greatest female triathlete in the world, clinching another world title and cementing her place in the history books. She proves that it is truly the resilience of character that defies the odds, that being from a small island does not preclude you from greatness.
"Indeed, Flora has shown us today that greatness is built off of continuous hard work, a humble spirit, and steadfast determination. She makes me proud to be Bermudian and I look forward to cheering for her as she continues to compete! Congratulations, Flora!"
Premier David Burt said, "Bermuda's champion continues to make her mark as the best in the world. On behalf of the Government and people of Bermuda, congratulations to Dame Flora on your record-breaking 4th WTS World Triathlon title, which no female triathlete has ever achieved.
"Dame Flora is a two-time ITU World Triathlon Series Champion, two-time ITU Cross Triathlon World Champion, six-time winner of the XTERRA World Championships, Commonwealth Gold Medalist, and an Olympic Gold Medalist.
"She is an undisputed champion. Flora, you are without question the greatest female triathlete the world has ever seen, and you are an inspiration to us all here in Bermuda. Your dedication, fearlessness, and strength of character represent the true champion that you are."
Comments
comments