The 36th annual Convex End-to-End has "committed to delivering a sustainable event, building upon years of environmentally focused efforts."
A spokesperson said, "This year's giveaway bags are canvas and all participants have been encouraged to bring their own reusable water bottle. The event's water stops will be providing water only, removing all plastic or paper cups.
"The event has also significantly reduced their paper waste through online registration, the use of QR codes and an animated route map by local motion designer Domico Watson."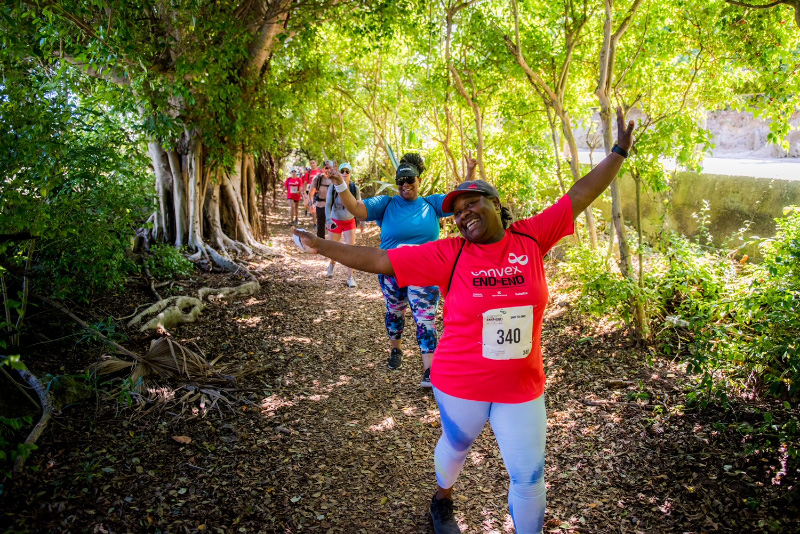 Anne Mello, End-to-End Board Chair said, "We are always looking for ways to improve the sustainability of the End-to-End. In 2008 we were Bermuda's first bring your own bottle event and with Convex now on board as title sponsor we have been able to take our efforts even further. We also enjoy working with Keep Bermuda Beautiful [KBB] every year to reduce any event waste, prevent litter and overall minimise our impact on the environment."
Traci Burgess, Executive Director for Keep Bermuda Beautiful, said "KBB has a long-standing partnership with the annual Convex End-To-End and we value the event's incredible impact on the community. Historically, KBB and Recycle Bermuda have worked closely with the event organisers to assist with waste management and helping the water stops to be more eco-friendly.
"This year's focus includes reducing the amount of waste the event is generating, both in regard to promotional and marketing materials, as well as how the water stops are operating. KBB appreciates the Convex End-To-End for making sustainability and green event waste management a priority, and we are happy to support their efforts."
Ms. Burgess continued by saying "A large portion of the event route takes place on Bermuda's historic railway trail, which is also Bermuda's largest national park. KBB, in partnership with the Department of Parks and ABIC member companies, launched a railway trail maintenance project in 2021 which aims to minimise the amount of litter and illegal dumping that is carelessly discarded along the trail.
"Over the past couple months, KBB has collaborated with several organisations to increase our clean-up efforts and implement a number of landscaping projects on the trail, making it even cleaner and easier to access for all, especially those participating in this year's Convex End-To-End."
"KBB reminds the public and event participants to please be mindful. When using the railway trail and other public spaces, please dispose of your waste in the appropriate trash and recycling bins provided or take it with you for disposal at home. We thank everyone for your contributions to keeping Bermuda beautiful and wish all of the 2023 Convex End-To-End participants and supporters a happy and healthy experience!"
Comments
comments