Potential visitors to Bermuda will soon have an additional cruise option to work with, with the Viking cruise line announcing the "restart of limited operations" from locations that include the island, with sailing to begin in June 2021.
The cruise line's website shows sailings from Bermuda in June and July of this year, and the itinerary [website screenshot below] shows the 'Bermuda Escape' 8-day cruise will visit all three Bermuda ports – Hamilton, Dockyard and St George's — with prices starting at $1,799.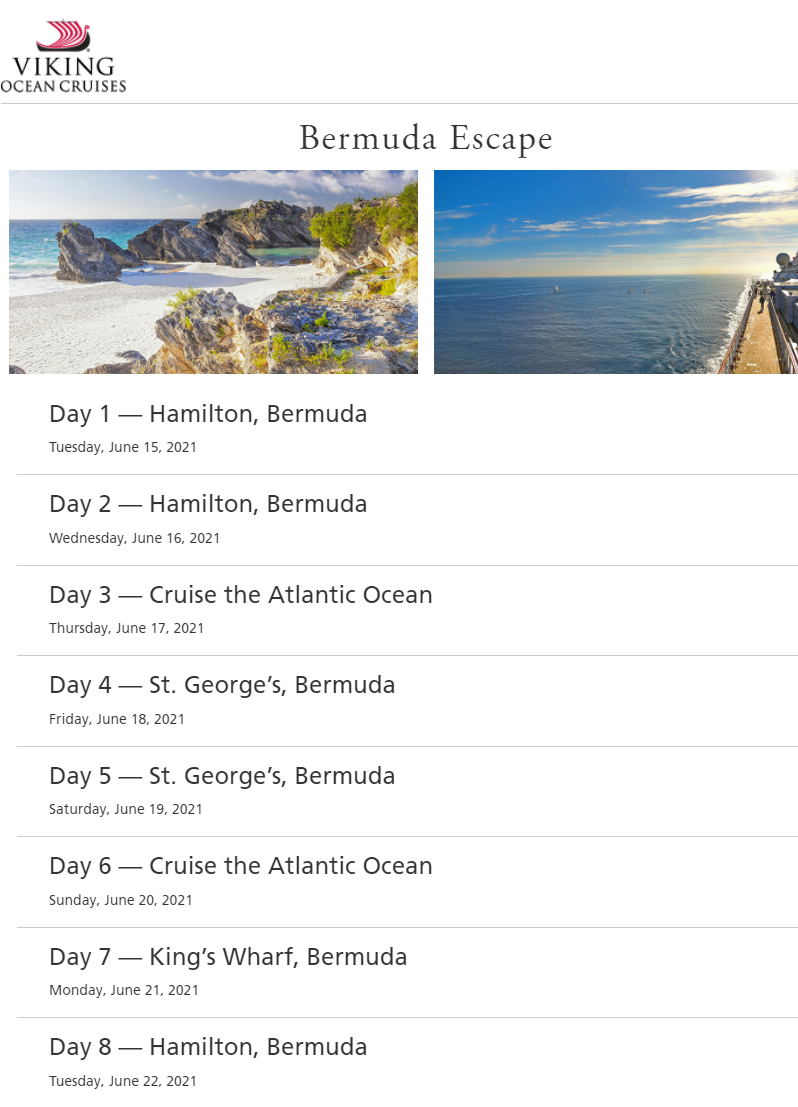 A statement from the company said, "Viking announced today that it will continue restarting limited operations with a collection of sailings around Bermuda and Iceland beginning in June 2021.
"All of Viking's new Welcome Back voyages will be available exclusively for vaccinated guests, in accordance with local entry rules in many of the destinations that will welcome Viking ships—and as a complement to Viking's new health and safety protocol enhancements, which were designed to protect guests and crew even while the Covid-19 vaccine rollout is still moving forward. Reservations for the new Bermuda, Iceland and UK voyages are now open.
"For the new Bermuda Escape itinerary, Viking Orion will homeport in Hamilton for 8-day roundtrip itineraries," with the statement adding that "the small size of Viking's ocean ships will allow convenient access to both small and large ports in Bermuda."
"Viking has been working closely with officials in the UK, Bermuda and Iceland for months; these destinations were chosen specifically because of their popularity among Viking guests, as well as their commitment to welcoming Viking ships, offering enriching experiences and reviving the travel industry in their respective countries.
"We applaud the governments of the United Kingdom, Bermuda and Iceland for their collaboration and support in restarting the cruise industry safely," said Torstein Hagen, Chairman of Viking.
"No other travel company has implemented the same science-led approach that includes a vaccination requirement for all guests, plus frequent non-invasive saliva PCR testing among all guests and crew. Therefore, we believe there will be no safer way to travel the world than on a Viking voyage. We look forward to welcoming guests back on board—and welcoming them back to the world."
The company added, "Utilizing a full-scale laboratory installed on every Viking ocean ship, all guests and crew will receive quick and easy non-invasive saliva PCR tests at embarkation and frequently throughout the itinerary. New air purification technology has also been installed on all Viking ships, which have always featured independent air handling units for all guest staterooms. And additional health checks, sanitization and physical distancing measures will provide further protection for Viking guests and crew at all points of the journey."
This marks the second cruise line to announce cruises from the island, with Royal Caribbean cruise line having already launched bookings for the cruises set to sail from Bermuda, with the first cruise scheduled to depart on June 26th
Comments
comments