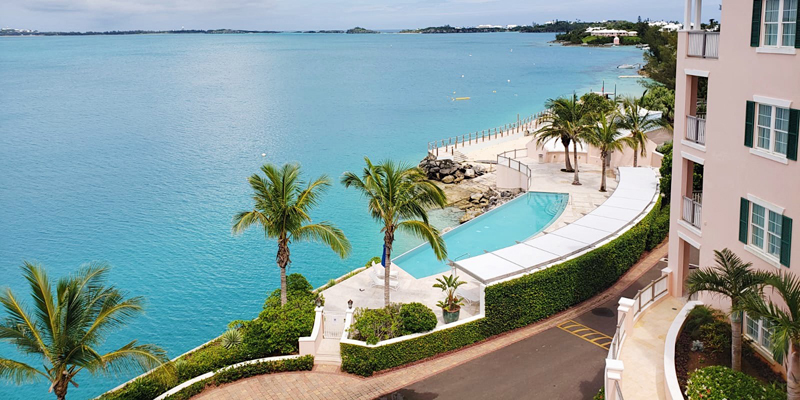 [Written by Mikaela Ian Pearman]
Summertime is usually the season when resident leave the rock for vacations. Disney World, Europe, the Caribbean, cruises, visiting family, etc are all popular options throughout July and August.
This year, things are a bit different thanks to a global pandemic known as Covid-19. With the LF Wade International Airport reopening last week, travel has resumed with limited services. But, it seems many locals are opting to stay on the rock for the summer. And what better way to enjoy beautiful Bermuda than with a staycation.
I enjoyed one over the weekend with my family at the luxurious Rosewood Bermuda and I must say, I hated to leave. Before I get into the experience, I have to say the resort was very clean and all government protocols re Covid-19 were being followed. At no time did I feel unsafe.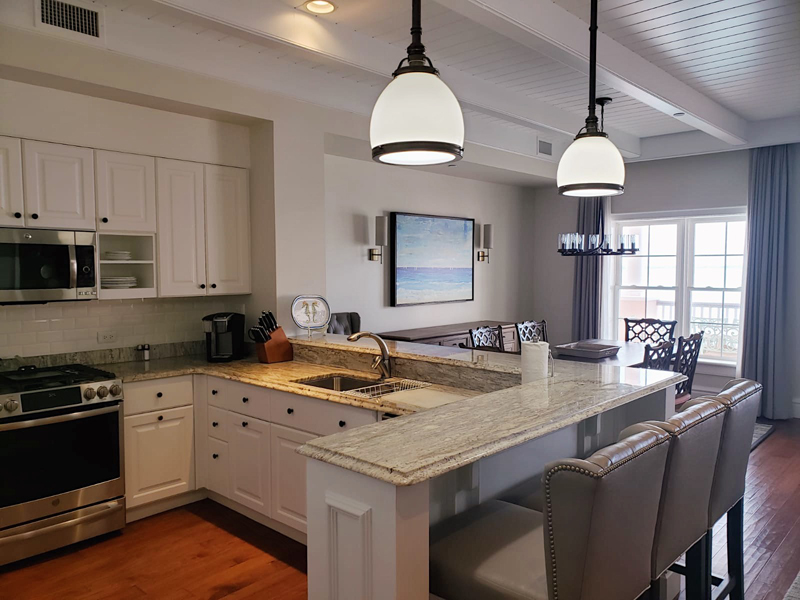 OK, let's get to it.
When I arrived at check in, we were upgraded to the Harbour Court Residences – a fantastic surprise. The residence club has its own check in area and once we checked in, we were given keys to our personal golf cart and escorted to our villa.
And what a villa it was! A bedroom and bathroom for the kids, an open plan kitchen, living and dining room space, a master suite with a king bed, soaking tub and large shower and finally, a large balcony overlooking Castle Harbour. I mean, it truly doesn't get better than that.
As soon as we checked in, my youngest Xavi wanted to go swimming. I was prepared to drive the golf cart up to the main hotel until I realized there was a private infinity pool for the residence club. The pool also overlooked Castle Harbour and was a great place for the kids to splash and play for a couple of hours.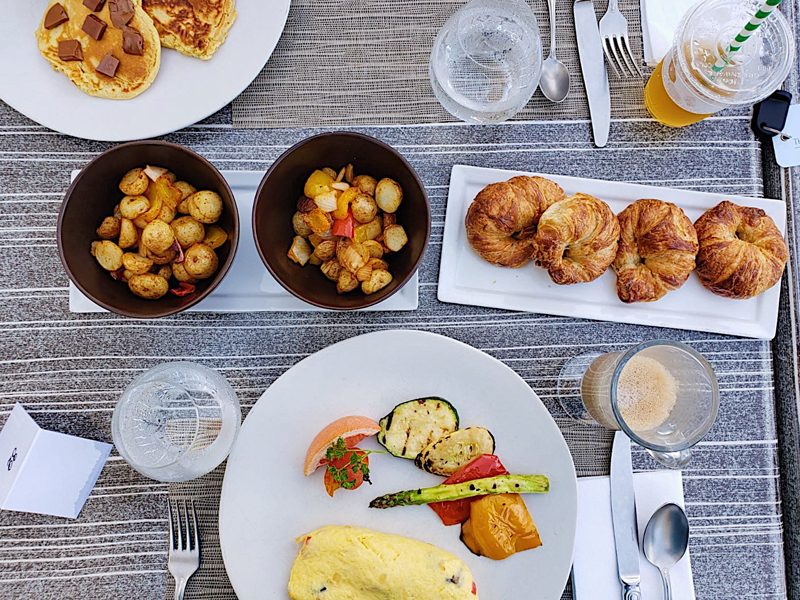 While they enjoyed the pool with my husband, I took out some time for myself and went to Sense Spa for a cedar warming massage. When I checked in, I was asked to sanitize my hands and then given disposable booties to cover my shoes. In the changing room, only a certain number of lockers were available to encourage social distancing and everything was super clean. Bottled water was in the waiting area instead of the normal citrus infused water as another precaution.
Once I got to the treatment room, my therapist Anna explained that everything had been sanitized and asked me to wash my hands again before we started. During the treatment, she wore a mask and gloves, which honestly weren't as bad as I thought they were going to be.
The massage was exactly what I needed after being home with two boys for three months and super stressed out. Anna sensed the tension in my body and worked hard to eliminate it. She also soothed my back with mint oil so that I wouldn't be in too much pain the next day. Overall, this was the best massage I've had in a long time and I will be back to visit Anna very soon.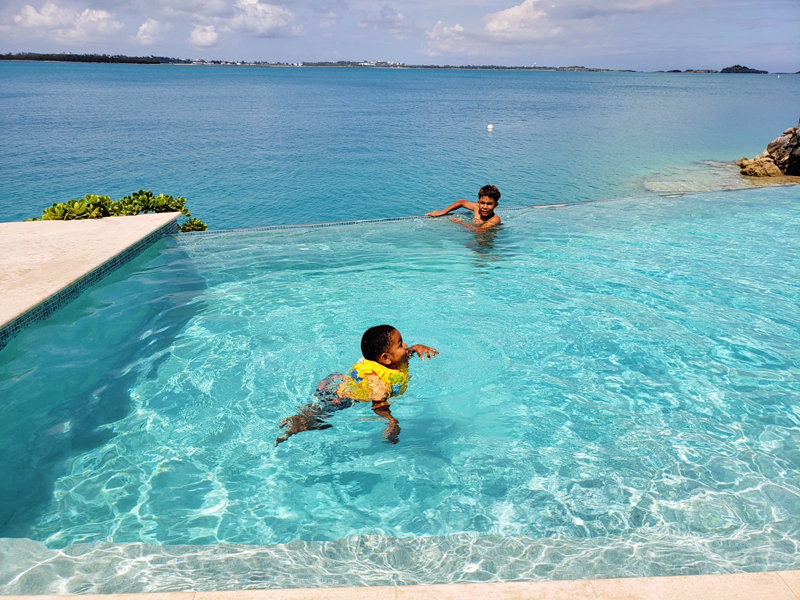 After the massage, I headed back to the villa to find my oldest, Amari soaking in his large tub and Xavi asleep from all the fun in the sun on the day bed out on the balcony with my husband. We cracked open a cold bottle of rose and relaxed until dinner time as Xavi slept.
Dinner was at Sul Verde at the golf club. We sat on the covered porch and enjoyed a beautiful dinner of garlic and parmesan focaccia, zucchini parmigiana, caesar salad, grilled wahoo with ratatouille and green peppercorn sauce, pumpkin risotto with spiced shrimp and chocolate flan cake for dessert.
The kids enjoyed Sul Verde's incredible pizza while we devoured our delicious meal. Sul Verde makes the best caesar salad I've ever had and the zucchini parm is a lighter, delicious take on eggplant parm. The fish was cooked perfectly and the sauce was just incredible. All in all, it was a perfect meal to end the day.
After dinner, we headed back to our villa to relax a bit before going to sleep. I will say the highlight was waking up just after 6am and watching the sun rise, something I haven't done in years.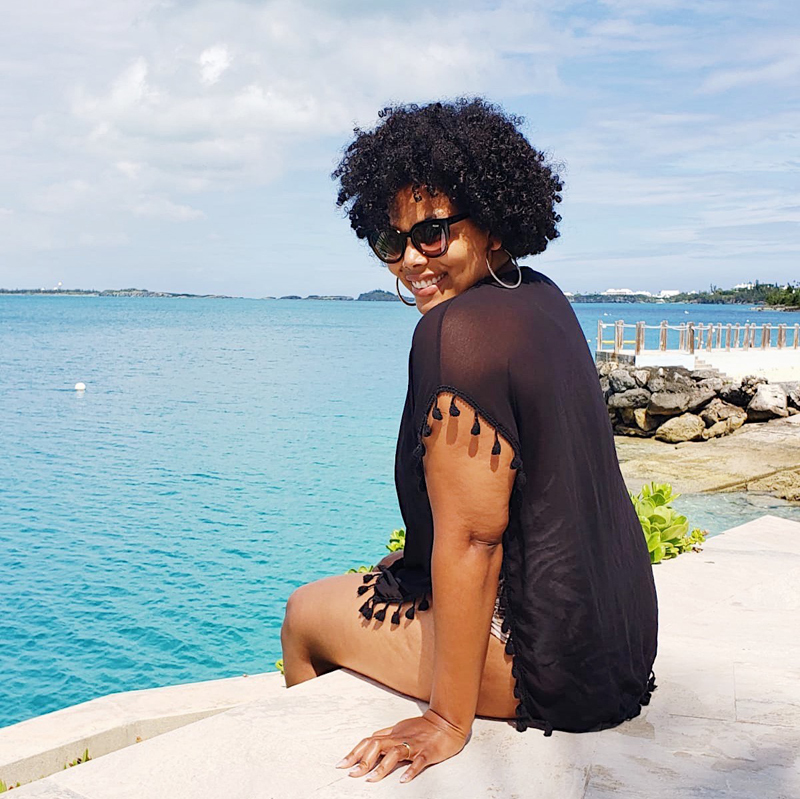 A few hours later, we had a relaxing breakfast at Island Brasserie to close out our wonderful staycation. Xavi loved it so much that he keeps saying "when are we going back to our new home". I tell him "soon".
If you're looking for a fabulous staycation, I would highly recommend booking Rosewood Bermuda. Resident rates start at $365 per night for a superior king room. Resort fees are being waived, but there is a resort tax of 11.75 percent.
All staycations include complimentary welcome rum swizzle, resort shuttle service, free wi-fi, in-room movies, weekly gin/rum tastings, activities including fitness walks, nature tours, weekly 30-minute golf pro lesson, non-motorized water sports and much more.
Additionally, there are membership opportunities available, which offer access to the resort's amenities and include special experiences at the resort and club.
For more information, visit here.
Comments
comments