On an island so small – Bermuda's land covers only 21 square miles, after all – rental scooters are an ideal way to get around. The island is covered by beautiful, twisting roads that wind from location to location, making a cycle ride a unique way to take in all of Bermuda's beauty.
Renting scooters is also the only rental option, as Bermuda does not offer rental car services due to our small size. Helmets, which are required by law, are provided by the rental cycle company. You must be 18 or over to rent a motor scooter in Bermuda.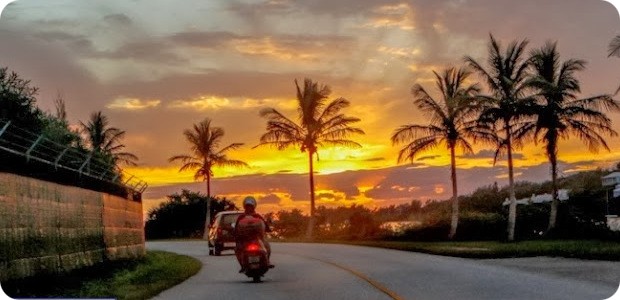 Bermuda's speed limit is technically 20 miles an hour, which is basically ignored by locals, who are more likely to be traveling at speeds more like 35 miles an hour. We drive on the left.
In an island the size of Bermuda getting lost isn't really a huge concern, as there is only so far off the path you can go on an island that is 2 miles wide!
A larger concern is the dreaded "road rash" which comes from what we term "decking out" aka crashing your scooter. Put safety first, and ride slowly and carefully. Under no circumstances should you drink and drive, not only is it illegal under Bermuda law, but you put your life at risk.
While riding your scooter you may see locals zooming past you and weaving in and out of traffic – recall they have been riding the scooters for many years and know our small windy roads.
Don't be put off of you keep hearing horns beeping, in Bermuda people beep their car and bike horns to say "hello" to passing motorists.
Rates for renting a motor scooter range from around $40 – $50 a day, and around $200 – $280 per week.
In addition, Bermuda now offers hybrid electric bicycles which offer an electric motor that provides help getting up some of the steep hills on the island. As of 2014, rates for electric bicycles are $35 a day, $55 for two days, $73 for three days and $129 for a week.
Elbow Beach Cycles
60 South Shore Road
Paget Parish (Central)
Telephone: 441 296 2300
Email: explore@elbowbeachcycles.com
Website: http://www.elbowbeachcycles.com
Hours: Open 7 days a week
Eve's Cycle Livery
114 Middle Road
Paget Parish (Central)
Telephone: 441 236 6247
Email: info@evecycles.com
Website: http://www.evecycles.com
Hours: 8:30 AM – 5:30 PM, 7 days a week
Eve's Cycle Livery
1 Water Street
St George's Parish (East End)
Telephone: 441 236 0839
Email: info@evecycles.com
Website: http://www.evecycles.com/
Hours: 8:30 AM – 5:30 PM, 7 days a week
Oleander Cycles Ltd.
6 Valley Road
Paget Parish (Central)
Telephone: 441 236 5235
Email: oleander@ibl.bm
Website: http://www.oleandercycles.bm
Hours: Open 7 days a week
Oleander Cycles Ltd.
15 Gorham Road
Pembroke Parish (Central)
Telephone: 441 295 0919
Email: oleander@ibl.bm
Website: http://www.oleandercycles.bm
Hours: Open 7 days a week
Oleander Cycles Ltd.
8 Middle Road
Southampton Parish (West End)
Telephone: 441 234 0629
Email: oleander@ibl.bm
Website: http://www.oleandercycles.bm
Hours: Open 7 days a week
Oleander Cycles Ltd.
The Reefs Hotel
Southampton Parish (West End)
Telephone: 441 238 0222
Email: oleander@ibl.bm
Website: http://www.oleandercycles.bm
Hours: Open 7 days a week
Oleander Cycles Ltd.
King's Wharf
Royal Naval Dockyard
Sandys Parish (West End)
Telephone: 441 234 2764
Email: oleander@ibl.bm
Website: http://www.oleandercycles.bm
Hours: Open 7 days a week
Oleander Cycles Ltd.
26 York Street
St George's Parish (East End)
Telephone: 441 297 0748
Email: oleander@ibl.bm
Website: http://www.oleandercycles.bm
Hours: Open 7 days a week
Smatt's Cycle Livery Ltd.
The Fairmont Hamilton Princess
74 Pitt's Bay Road
Pembroke Parish (Central)
Telephone: 441 295 1180
Email: msmatt@northrock.bm
Website: http://www.smattscyclelivery.com
Hours: Open 7 days a week
Smatt's Cycle Livery Ltd.
The Fairmont Southampton
South Road
Southampton Parish (West End)
Telephone: 441 238 7800
Email: msmatt@northrock.bm
Website: http://www.smattscyclelivery.com
Hours: Open 7 days a week
Smatt's Cycle Livery Ltd.
Tucker's Point Hotel and Spa
60 Tucker's Point Drive
Hamilton Parish (East End)
Telephone: 441 297 1180
Email: msmatts@northrock.bm
Website: http://www.smattscyclelivery.com
Hours: Open 7 days a week
Comments
comments