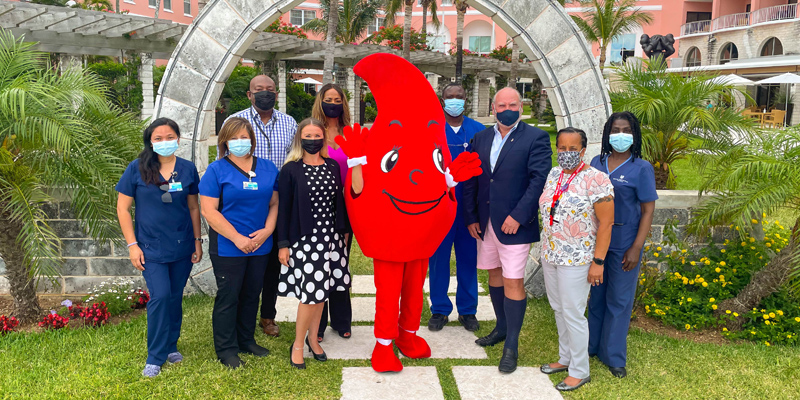 The Bermuda Hospitals Board and Bermuda Blood Donor Centre today thanked Hamilton Princess & Beach Club for their support on encouraging more blood and apheresis donors in Bermuda.
In support of World Blood Donor Day 2021, which is celebrated on 14 June, Hamilton Princess has donated a weekend stay at the hotel and champagne brunch which will be offered as raffle prizes to Bermuda's most active and also new donors, as well as sponsoring an online advertisement to encourage blood donation.
The Bermuda Blood Donor Centre will be putting the most active current regular donors who have donated blood or apheresis into a raffled for the stay at Hamilton Princess. New donors from the past 12 months, from today up until 18 June will be included in a raffle for the champagne lunch. Winners will be drawn and announced on 18 June.
Dr Eyitayo Fakunle, Consultant Haematologist at BHB, comments: "We are very grateful for this generous support with the goal of encouraging more blood donation in Bermuda. Hamilton Princess has been a regular participant of the Corporate Blood Donor Competition and so they are not only helping us encourage donation in Bermuda with their generous support, but they encourage their staff to give blood too. It is wonderful that we can thank our most active regular donors and celebrate the new donors this year. They are all helping save lives."
Tim Morrison, General Manager of Hamilton Princess, comments: "No one knows when they might need a lifesaving blood donation and so it's incredibly important for the public to be generous: you never know whose life you might save.
"As such, Hamilton Princess & Beach Club is proud to be able to do its part to support the Bermuda Hospitals Board in their drive to get as many people out ahead of World Donor Day on June 14th, with a weekend stay and a champagne brunch up for grabs."
Comments
comments