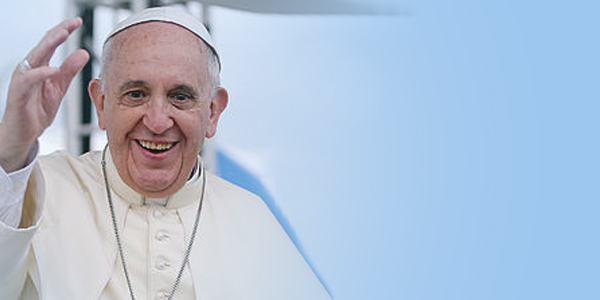 Bermuda and its people recently caught the attention of Pope Francis as he flew over the island on his historic journey to Cuba, leading the Pontiff to offer a blessing to the Island and its inhabitants via a message sent to Bermuda Air Traffic Control.
On the afternoon of Saturday, September 19, 2015, Flight Crew members from Alitalia Flight 4000] en route to Havana, Cuba, from Rome, Italy, contacted the Bermuda Air Traffic Control Tower, allowing the Pope to send his message as he extended his blessings, asking God to grant "well-being and peace" to those below.
The full radio transcript of the Pope's message to Bermuda reads, "I send cordial greetings [to] your Excellency and your fellow citizens.
"As I fly over your country [Bermuda] on my way to Cuba for a pastoral visit; evoking these blessings upon you all. I ask Almighty God to grant to the nation; well-being and peace. From a peaceful Pope."
The Bermuda Air Traffic Controller on duty at the time thanked the Pope on behalf of Bermuda and wished him God's blessings on his flight, to which the Pope responded, "thank you."
Bermuda's Premier Michael Dunkley said he was very "delighted and appreciative" of the Pope's gracious gesture to the people of Bermuda on Saturday, while the Island's Governor Governor George Fergusson said, "I greatly appreciate His Holiness's kind greetings to the people of Bermuda as he flew over us on Saturday."
Bermuda has once had an actual visit from a sitting Pope, which occurred back on August 24, 1968, with almost ten percent of the island's population descended on the airport to greet Pope Paul VI when he made a brief stopover here.
Between four and five thousand locals jammed the airport to greet the former Italian cardinal who reigned as Pope of the Roman Catholic Church from June, 21 1963 until his death on August 6, 1978.
In his welcoming speech, Bermuda Governor Lord Martonmere said, "There are days in the life of every country when history is made — this is such a day. People of many faiths have come here tonight to pay tribute to a Pope who is not only a great religious leader but also a great apostle of world peace and human understanding."
Pope Paul replied, "How strange it would have seemed until recently that the Successor of St. Peter would find sufficient a few hours to cross broad continents and mighty seas, and visit distant lands whose very existence was unknown to the first Pope.
"Yet such journeys are but the continuation into this century of the apostolic wanderings of the first who held the high office of representing Christ for men of all continents and races.
"We therefore thank God, Who has given man dominion over creation and the wisdom to use it, that We are thus enabled to visit some of the most distant parts of that universal flock which He has committed to our care.
"We are well pleased that our return journey from the Eucharistic Congress at Bogotá permits Us to visit, though it be for a few brief moments only, these islands so justly famed for their beauty, and so find ourself among you and greet you all.
"May God bless all of you who have come to meet Us. May He bless your homes and all whom you hold dear. And before We leave these islands of the Atlantic, so distant on the map, yet so close to our heart, we lovingly impart our special blessing to you and to your spiritual and temporal leaders, praying that God may abundantly bestow on Bermuda the blessings of true peace and prosperity."
Comments
comments