The City of Hamilton will host a block party at City Hall grounds on New Year's Eve featuring a fire show, Twitter Resolution Wall, 3D projection and more.
A spokesperson said, "The City of Hamilton will host a memorable block party at City Hall and grounds on New Year's Eve, saying farewell to 2019 and ushering in the next decade. Shaping up to be quite the spectacle, the free event is open to all and will kick off at 8:00pm.
"Town Crier, Ed Christopher and Bermemes', Qian Dickinson will emcee the evening which will showcase a bevy of local talent – a fire show by Cirqle Circus, Devil's Isle Audio, DJ Chubb, a Twitter Resolution Wall, and so much more.
"Ashley's Lemonade will be on hand and hot chocolate will also be available. Free fish chowder, Johnny Bread and a S'mores stall will delight both adults and kids alike. A City Kids' Zone will feature Laser Tag, free face painting by Sniggles, Inflatables and Zoomables.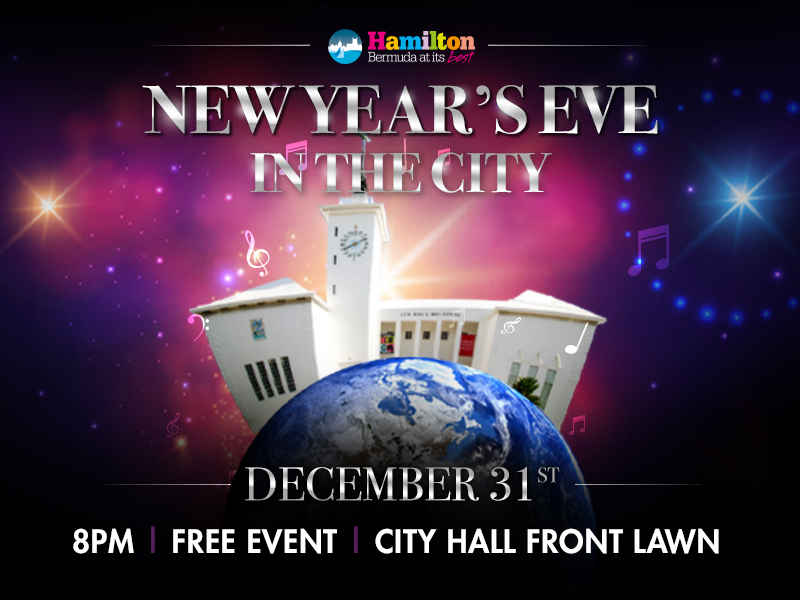 "The main, spectacle will be the 3D projection – mapping show that will see City Hall transformed with augmented reality like never before. A bespoke Bermuda-inspired projection show, by LA-based company, Paintscaping Inc., will both educate and entertain the crowd and leave them in awe, an experience never seen on this scale before in Bermuda.
Phillipe Bergeron, President and CEO of Paintscaping Inc. said of the Bermuda show, "The great thing about 3D-mapping is that it's 'wow' meets 'storytelling'. Expect really cool things about Bermuda. Funny, dramatic, spectacular. But also expect a spectacle for the ages."
City of Hamilton Event Project Manager Jessica Astwood said of the event, "New Year's Eve is one of the only celebrations we share across the globe. No matter what part of the world you're from, there's always much to commemorate together at the close of the 365th go-round of the sun.
"It seemed only natural that at the turn of the decade, that the City Hall building join the ranks of other iconic buildings of the world for a 3D Projection show. We've taken the time to create a Bermuda and City of Hamilton themed show that you'll have to see to believe. Expect a lot of surprise elements that will 'wow' the whole family. It'll be our version of Dick Clark's New Year's Rockin` Eve!"
Comments
comments