One of the island's most iconic beaches is slated to have new offerings, with the Government announcing a new team has been awarded the lease to the Horseshoe Bay Beach House Café.
Horseshoe Bay Live, and the team consisting of Delton Ebbin, Devon Simons, and Carl Vincent, plan to make an investment of over $3 million to upgrade the facilities.
Minister of Public Works Lt/Col David Burch said, "The invitation for RFP was issued on March 2nd, 2020 and closed on July 1st, 2020. A total of 16 proposals were received of which eight were shortlisted and invited to make presentations to a joint committee.
"Following the presentations – the 8 shortlisted applicants were then narrowed down to the two with the highest scores. Both proposals estimate a capital investment of approximately $3,800,000.00 to redevelop the site.
"I am pleased to announce Horseshoe Bay Live, and the team consisting of Mr. Delton Ebbin, Mr. Devon Simons, and Mr. Carl Vincent, as the new entity to be awarded the lease to the Horseshoe Bay Beach House Café.
"Working in partnership with the Government as the landlord, the leaseholder will be granted an initial 5-year development lease with an option for renewal to be negotiated as part of the lease.The Horseshoe Bay Live Team here today, are experienced young Bermudians of the highest caliber in the hospitality industry.
"I am confident they are all up to the task of shouldering the enormous responsibility of offering world-class facilities and services at the most popular and iconic beach in Bermuda."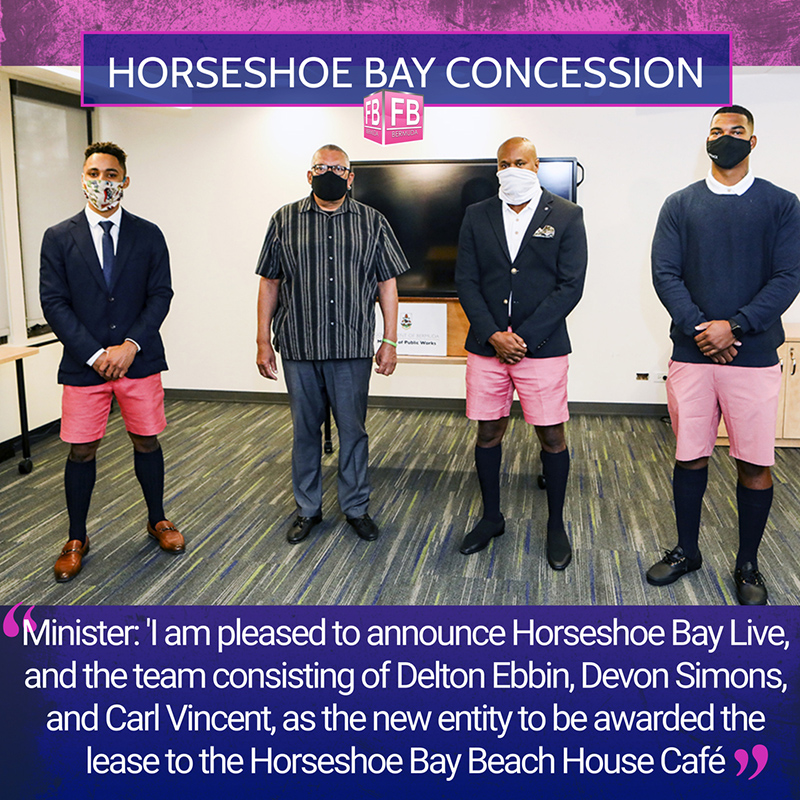 "At the moment, we are preparing to take over the Café and ensure preparations are completed for it to resume providing services next April leading up to tourist arrivals.
"As part of the plan, consultations, designs, and the Planning & Building Permit process will begin. To that end, a construction team, consisting of representatives from the Department of Public Lands and Buildings and the new leaseholders will be created.
"This team will be responsible for facilitating the construction of the new development which is scheduled to start in Nov 2021 and be completed by April 2022.
"So in conclusion, I'd like to say that Horseshoe Bay Live are an energetic group of young Bermudians have earned this opportunity and I am sure they will make a success of it. I ask the people of Bermuda to support them 100%, especially as Bermuda and the world are still coming to terms with the devastation, death, and financial crisis caused by the COVID-19 pandemic."
Comments
comments