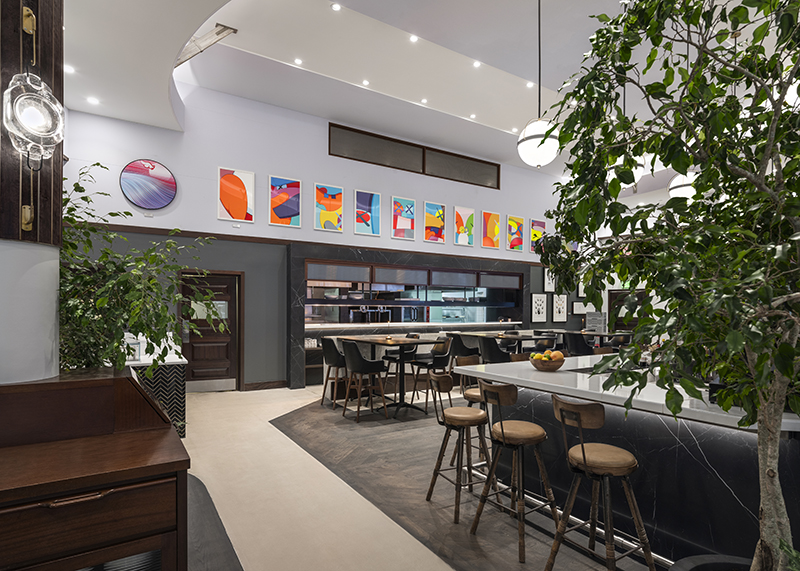 The Hamilton Princess & Beach Club has officially opened the island's premiere new dining experience, Intrepid.
Exclusively serving dinner, Intrepid is an upscale steak, seafood and raw bar restaurant, offering a contemporary twist on the classic American grill for a refined dining experience. The restaurant is spearheaded by the hotel's new Executive Chef de Cuisine, Antwan Ellis.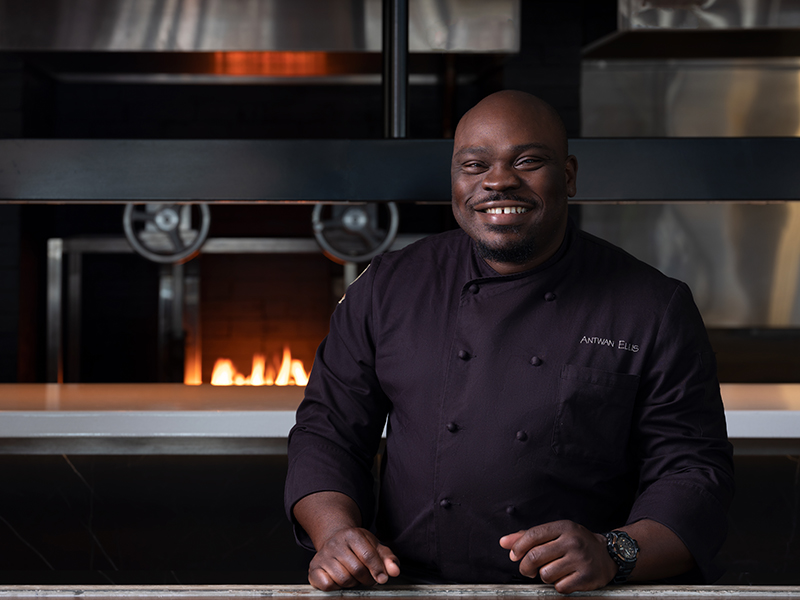 Chef Antwan joins the hotel from Shula's Steakhouse in Orlando Florida – at Dolphin Resort – where he was Executive Chef for the restaurant. Prior to this, Chef Antwan was Chef de Cuisine at Todd English's Bluezoo Restaurant, where he had worked his way up after ten years with Walt Disney World hospitality. The Barbadian chef began his career interested in nutrition before discovering a passion and talent for creating exciting and delicious dishes which combine the flavours of his Caribbean childhood with international cuisine.
Steak is at the heart of the new menu and meat lovers can avail themselves of prime cuts of beef, including select steak cuts expertly dry-aged by Niman Ranch and Debragga & Spitler in New Jersey, while seafood fans will enjoy the temaki sushi station and raw bar which specialises in oysters, caviar and freshly caught local fish. Menu highlights include Lump Crab Cake with Cajun Remoulade; the Intrepid Maki Roll with Lobster, Shrimp Tempura, Lemon Butter; Oysters Rockefeller and, to finish, the Goldeneye Baked Apple Galette.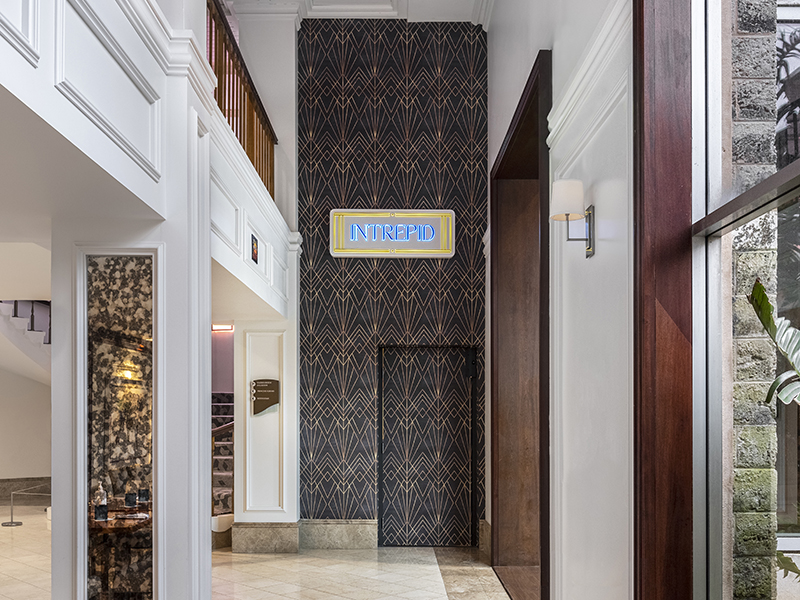 For those looking to enjoy an aperitif before their meal or a nightcap at the end of the day, a new cocktail menu and wine list has been developed for the restaurant, including soon-to-be classics such as the Princess 75 with The Botanist Gin, Guava, Fresh Lemon, Moët Chandon Rosé and the Intrepid Martini with Absolut Elyx Vodka, Lemon Peppercorn Lillet, Castelvetrano Olive – served 'Shaken Not Stirred'.
The name for the new restaurant has been taken from the codename of real-life super spy, Sir William Stephenson, who headed up the censorship station based out of the Hamilton Princess during the Second World War. He was a friend and inspiration to Ian Fleming, author of the world-famous fictional super spy, James Bond – the author cited Stephenson as the 'real thing'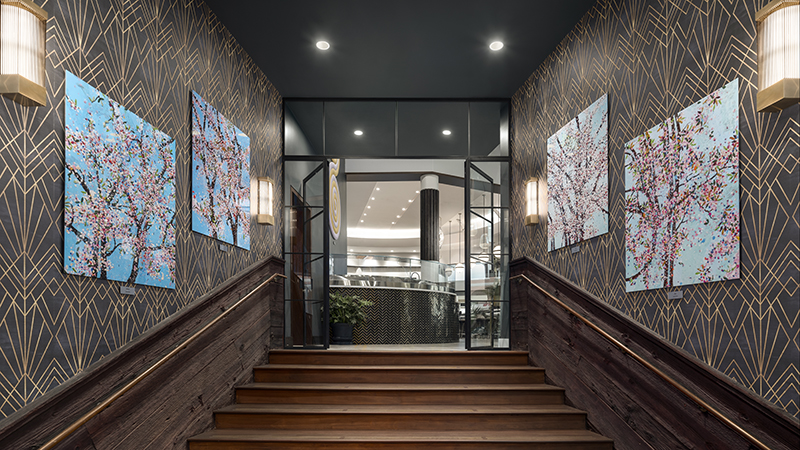 The new restaurant occupies the flagship dining space in the hotel's Gazebo Wing, offering a refined steakhouse atmosphere with panoramic harbour views and stylish Late Art Deco surroundings, complete with carefully selected local greenery. The space was designed by Botelho Wood Architects with Greymane serving as the principal contractors. Other local companies involved in the project were Abbott Decorating, Aberfeldy Nurseries, BAC, Eminence, P&M Electrical, Immage Upholstery, Stafford Surfaces and Sash & Trim.
Art afficionados will also appreciate the new additions to the hotel's collection: a larger-than-life canvas original by KAWS – whose At This Time statue looms over the hotel's Flagpole Terrace – entitled The Great Below, overlooking the revamped private dining room space. The grandiosity continues above the state-of-the-art raw bar where there hangs a two and a half metre high creation from artist Josh Sperling, depicting swirls of pink and gold in his canvas creation entitled Tutti Volutti. As guests climb the staircase to the restaurant, they can take in four new pieces from Damien Hirst's recent series, The Virtues, which depicts cherry blossoms on aluminium composite panels.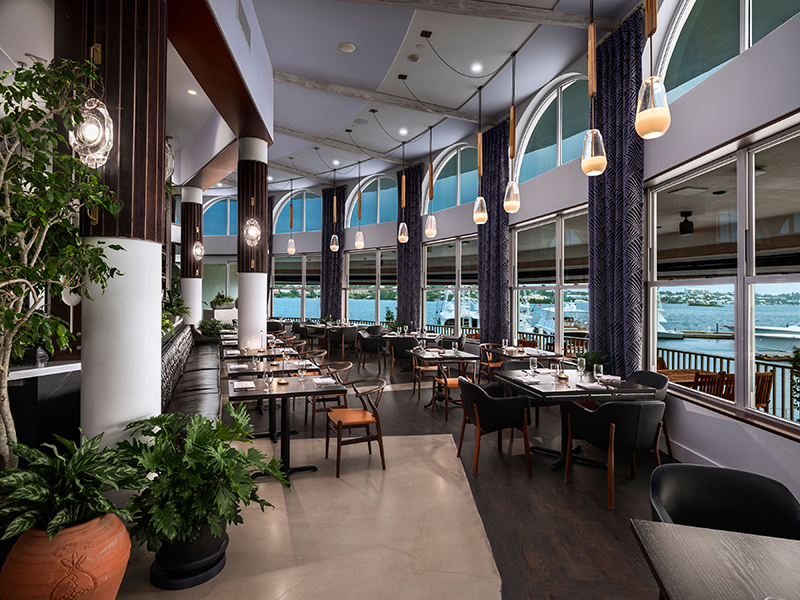 Antwan Ellis, Executive Chef de Cuisine of Intrepid at Hamilton Princess & Beach Club, said: 'I am very proud to have joined the Hamilton Princess & Beach Club at such an exciting time, as the head chef at Intrepid. The new restaurant is an amazing space with stunning views of the water and incredible artwork on its walls – I look forward to sharing a menu with our diners to create a complete feast for the senses.
'On a personal level, I am really excited to be here in beautiful Bermuda, a place I have dreamed of living. The people have been incredibly warm and welcoming, and I look forward to becoming a part of the local community.'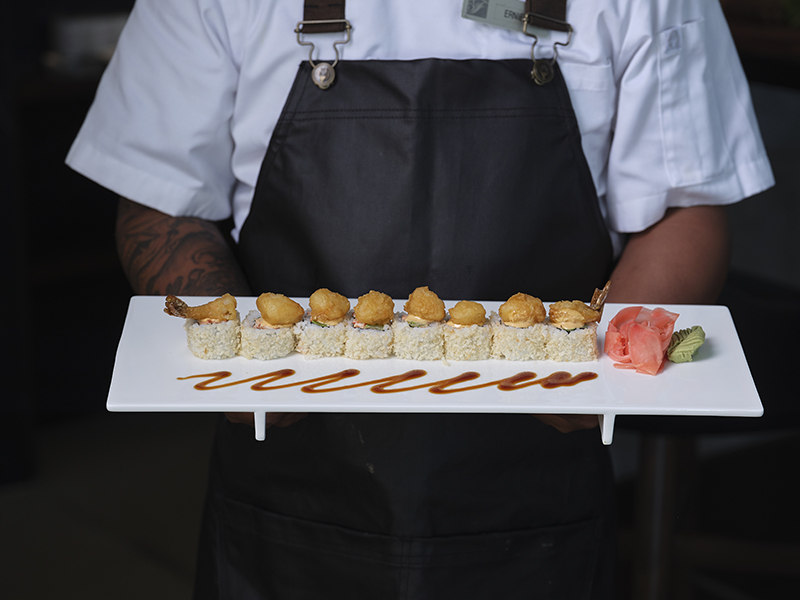 Tim Morrison, General Manager at Hamilton Princess & Beach Club, said: 'We are incredibly pleased to open the island's newest dining establishment, Intrepid. This restaurant offers fine dining on a new level in Bermuda, in luxurious and glamorous surroundings which pay tribute to the rich history of the hotel. We want to give a huge "thank you" to everyone who helped us in the opening of Intrepid.
'We are also extremely pleased to welcome Antwan Ellis to the Hamilton Princess family as the Executive Chef de Cuisine. Chef Antwan is an incredibly creative chef, bringing a perfect blend of comfort and ingenuity to all of his cooking and we cannot wait for everyone to experience his and his team's culinary talents.'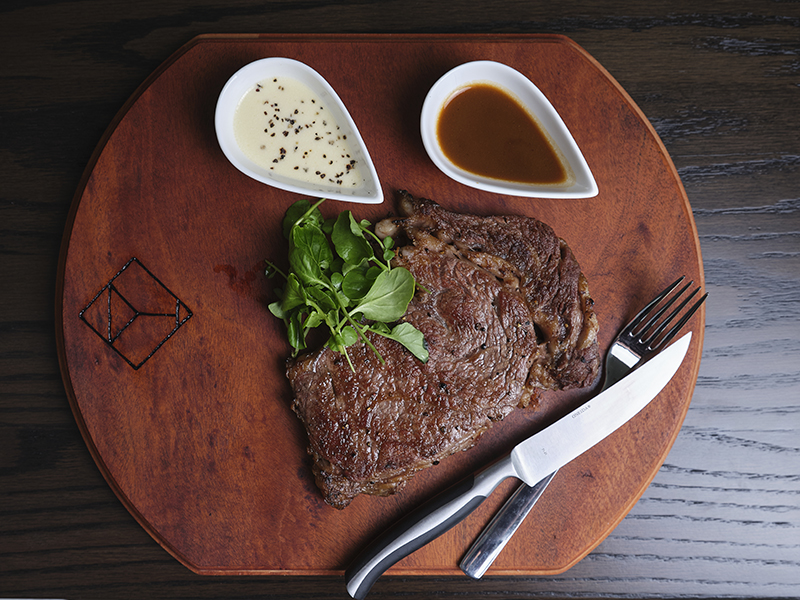 Intrepid is open six days a week, Monday through Saturday, Reservations are strongly encouraged and can be made by emailing Ham.DiningReservations@Fairmont.com or calling 298-2028. The restaurant's menus can be viewed at www.thehamiltonprincess.com/dining/intrepid-steak-seafood-raw-bar and for the latest updates, guests are encouraged to follow @HappeningsAtThePrincess on Facebook and Instagram.
Comments
comments