Cambridge Beaches Executive Chef Keith De Shields, in collaboration with Goslings Ltd, has just announced the opening of a new pop-up restaurant and a new cuisine at Cambridge Beaches Resort & Spa.
"The indoor-outdoor temporary eatery is called De Shields' Bistro and will be open from November through March, serving dinner from 6:30 p.m. to 9:30 p.m," a spokesperson said.
"A first of its kind in Bermuda, "Roots Cuisine" is a contemporary, from scratch, diverse expression of regional foods and flavors of Bermuda. Inspired from recipes that have been passed down from generation to generation that reflect the Bermuda, Caribbean and Portuguese influence.
"Chef De Shields has thoughtfully crafted a vibrant multicultural menu where every dish has a story behind it, like Chef's own garden picked paw paw for his Baked Paw Paw with Bacon-Banana Flan to his Westover Farm's Bone-In Lamb Loin.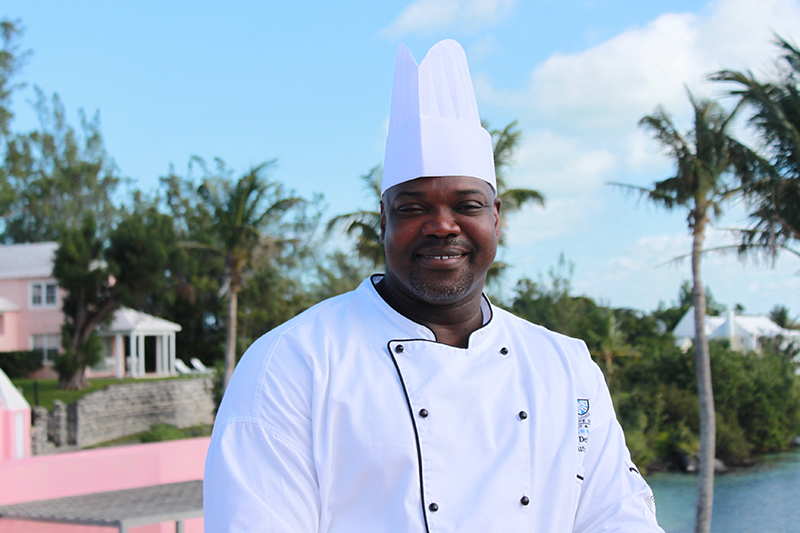 "I'm excited to create new flavors, inspired by my multi-cultural heritage," said Chef Keith De Shields. "From fresh-caught reef fish to an array of Caribbean and Portuguese ingredients and traditions, there is such a wealth of inspiration to bring to the table."
A spokesperson added, "There will be several small plate appetizers like housemade Callaloo Pasta with a Jamaican Style Ackee or you can try the Chef's Warm Pressed Oxtail Terrine with Herb Butter Poached Crab Leg. Large plates will include Coconut Milk Poached Reef Fish with Brown Butter, Root Vegetables or the specialty of the house, a Baked Whole Reef Fish with Bermuda Orange and Butter Sauce.
"Desserts take on an island theme with offerings like Goslings Rum Baba with Whipped Orange and Brulé Pineapple, a Stout Spice Cake with Brown Butter Ice Cream or an Autumn Berry Trio Cake with Whole Berries, Housemade Forest Berry Jam and Freshly Made Strawberry Sorbet."
"For those looking for an enhanced dessert experience, we will be offering a wine tasting trio with either a Selection of Cheeses or a Twice Baked Roquefort Souffle with Confit Baby Pear in Bermuda Honey."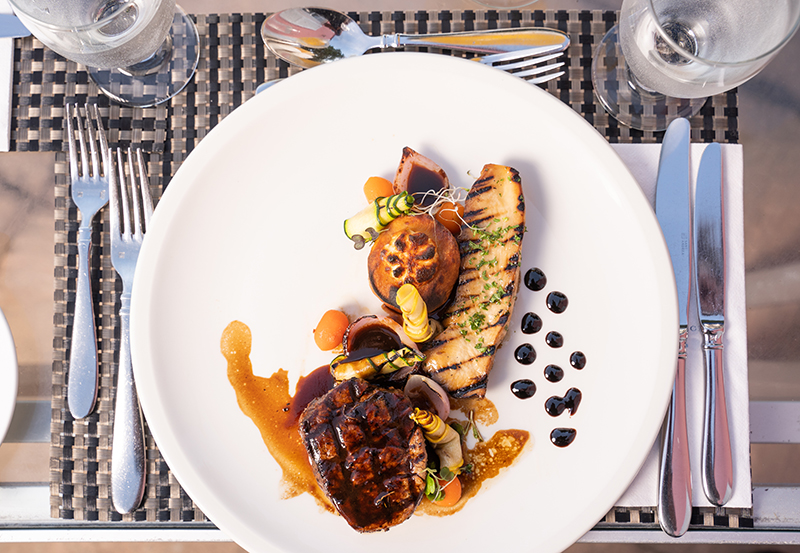 "You will notice throughout the menu several pairings with Goslings Rum. I have been a Goslings fan for years, and I am inspired by the many synergies between my craft and the brand's history. Our collaboration brings the brand's values of craftsmanship, family and authenticity to life, alongside my story and the passions that drive my love for cooking," he said.
"I am very excited about this menu, and I am really looking forward to receiving feedback from our local dining community. The new owners of Cambridge Beaches, Dovetail + Co, are committed to providing truly authentic Bermudian experiences which will be reflected in the new renovations but most importantly with our food and beverage offerings. There will be more information forthcoming about the new changes."
A spokesperson added, "Please visit www.cambridgebeaches.com/dining for more information and to see the menu. To make dinner reservations, please email maitred@cambeach.bm or call 234-0331. Those interested in arriving by boat, please email us as we have a limited number of berths."
Comments
comments