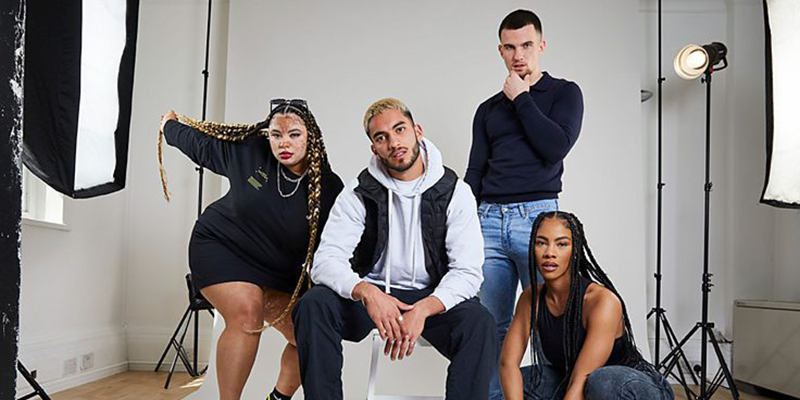 Bermudian model Kyra-Jaye Hinds has been named as part of the cast for the second series of BBC Three's "Models: Street To Catwalk."
The announcement from the BBC said, "The world of modelling is changing, and Manchester is its new beating heart. Northern fashion power houses are taking over and redefining what it means to be a model today.
"It's about more than just pretty boys, and the need for girls to be skinny and over 6ft tall. As Models: Street To Catwalk returns for a second series the programme returns to Nemesis, one of Manchester's leading agencies, under the all-seeing eye of city legend Nigel Martin-Smith, as they search for the next generation of top models.
Kyra-Jaye Hinds models for Pretty Little Thing, Dec 1 2020
"Watch as young hopefuls, each facing their own unique challenges, try to make it in the glamorous but uber-competitive world of fashion.
In mentioning Ms Hinds, the BBC said, "Could Kyra be the game-changer that Nemesis is after? A size 18 model with Vitiligo, a condition where patches of skin lose their pigment, the shy teen has overcome much in her life already."
Fiona Campbell, Controller, BBC Three, says: "It's fantastic to have Models: Street To Catwalk back once again, with a fascinating glimpse into the new world of fashion modelling. The stories and characters in this second series are so compelling.
"Working with under-represented voices right across the UK and introducing new, untold, stories is something we're hugely passionate about at BBC Three. Co-commissions with BBC England have been so beneficial to the channel and are so helpful in enabling us to attract new, younger and more diverse audiences to the BBC."
Aisling O'Connor, Head of TV Commissioning BBC England, says: "We are working with a range of independent production companies ensuring our audience sees itself reflected on screen and Models: Street To Catwalk is a perfect example of this.
"I'm also pleased to be working closely with the channel and genre commissioners. We are committed to nurturing fresh, young and diverse talent and to truly reflecting communities across England."
Comments
comments