Appleby announced that Kaisha Wilson and Zantae Dill were called to the Bermuda Bar on October 15 before Chief Justice Narinder Hargun.
Kaisha Wilson
A spokesperson said, "Kaisha, a Trainee in Appleby's two-year Bermuda legal trainee programme, was a recipient of an Appleby Legal Education Bursary, in 2018 and 2019. Kaisha obtained a Bachelor of Laws [LLB] at De Montfort University in Leicester in 2019, graduating with First Class Honours. After receiving her LLB, she completed the Legal Practice Course [LPC] at BPP University in Manchester with a Distinction.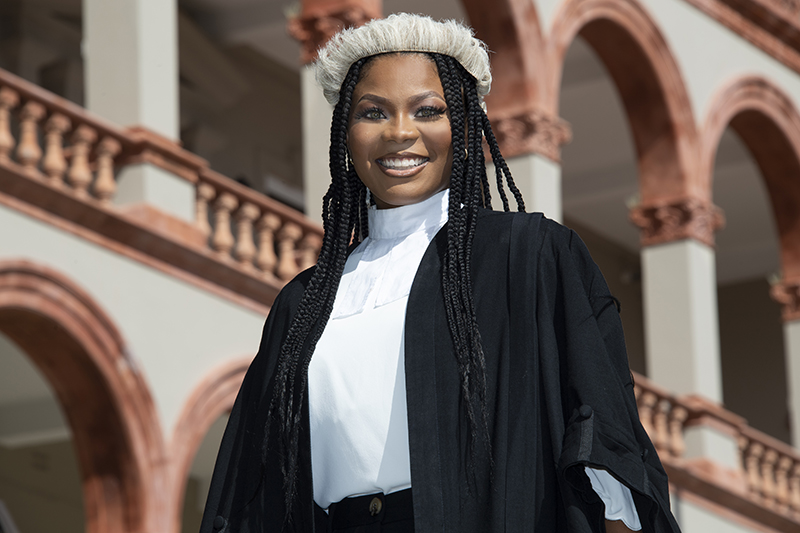 "Kaisha undertook her pupillage with Appleby from September 2020 to September 2021. Her first seat was in the Corporate team under the mentorship of partner David Clark. In her first seat she assisted on a range of matters including drafting company resolutions, legal opinions, letters to the Bermuda Monetary Authority and submitting charge registration and deregistration applications to the Registrar of Companies.
"Kaisha's second seat was under the mentorship of partner Jerome Wilson, where she continued to undertake similar tasks to the above, as well as assisting on a range of new matters which involved assisting in reviewing a digital asset business application, prospectus supplement, carrying out legislative reviews and updates and reviewing amalgamation agreements, bye-laws and various agreements relating to ship financing.
"In addition, she has conducted legal research and has written and has published three articles in the Royal Gazette on topics of company law and digital asset business. Kaisha began her third seat on 1 September 2021 in the Dispute Resolution department."
Jerome Wilson said, "It has been a joy to work with Kaisha over the last twelve months. She and her cohort started at the firm during a very difficult period in Bermuda [and the world] – in 2020 at the height of the COVID-19 pandemic.
"Whilst it may seem like a small thing, the dedication that Kaisha has shown to learning and understanding her craft has been remarkable – even more so given in inauspicious times during which she started. The fruits of her labor are evident for all to see, a successful call to the Bermuda Bar.
"On behalf of the partners and staff of Appleby I would like to congratulate Kaisha on her call, may she never lose the desire and dedication she has shown to the perfection of her profession. I cannot wait to see what achievement comes next from her."
David Clark said, "I wholeheartedly echo Jerome's comments. It has been an absolute delight working with Kaisha. We have all been impressed by her enthusiasm, diligence and commitment and wish her every success in her career."
Ms. Wilson said, "Thank you to Appleby for the continuous support and mentoring. It was an honor to be a recipient of one of Appleby's legal education monetary awards in 2018 and 2019. I started as a summer student with Appleby in 2019 and was awarded a training contract with monetary award for the following year that same summer.
"I am truly thankful for Appleby for being there every step of the way; from a law student to now a lawyer. I am excited to be a part of this esteemed profession as well as hopeful that I will be able to contribute significantly to the profession."
Zantae Dill
A spokesperson said, "Zantae received her Bachelor of Law and Psychology from the University of the West of England in 2019 and completed the Legal Practice Course at the University of Law in Bristol. Zantae was a summer student at Appleby in 2018 and 2019, before starting Appleby's 2-year legal trainee programme in 2020. She was also a two-time recipient of an Appleby Legal Education Bursary.
"Zantae's first seat was in the Corporate department and her second in the Dispute Resolution Department. Zantae is presently continuing her training in the Insurance team where she will remain until March 2022.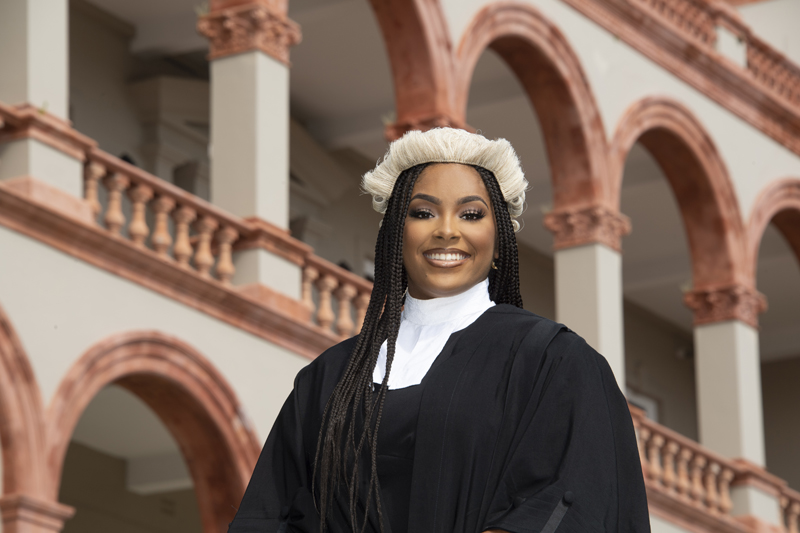 "While in the Corporate department, under the mentorship of partner Jerome Wilson, Zantae assisted with various matters such as drafting legal opinions, the registration and deregistration of charges with the Registrar of Companies [including drafting registration and deregistration documents], drafting resolutions, reviewing various documents and drafting a non-compete agreement.
"Zantae also assisted with a number of large transactions, including in relation to amalgamations, refinancing, restructuring and bond issuances."
Jerome Wilson said, "Zantae is a wonderful and welcomed addition to our local fraternity of legal practitioners. I am delighted to have had a front row seat to her growth and development as a professional over the last 12 months. There are many more wonderful moments to come from Zantae!
"On behalf of the partners and entire family of Appleby I'd like to congratulate Zantae on being called to the Bermuda Bar. This is but the beginning of her journey and I am glad that she has chosen to chart the path of her success with us."
The spokesperson said, "While in the Dispute Resolution department, under the mentorship of Senior Associate Lalita Vaswani, Zantae assisted in a variety of matters in relation to insolvency and restructuring. Her tasks ranged from drafting affidavits and filing documents at Court, to reviewing schemes of arrangement and drafting liquidation documents.
"Her time in the Dispute Resolution department also involved heavy amounts of legal research in relation to an array of legal issues as well as attending the Supreme Court. Zantae has greatly assisted in two privatisation schemes of arrangement and numerous members' voluntary liquidations."
Lalita Vaswani said, "Zantae is an extremely dedicated and dynamic professional. She is passionate about realizing her potential in the practise of law and demonstrates a truly inspiring level of resilience and integrity in any task which she undertakes.
"She has all of the hallmarks of a true team player and I am so excited to witness her journey in this profession."
Ms. Dill said, "I am more than grateful to Appleby for providing me with this opportunity. I have been a summer student here since 2018 and have built invaluable relationships within the firm.
"I was honored to have received a legal bursary from the firm and subsequent training contract. I would like to take the opportunity to thank Jerome and Lalita for challenging me and building my confidence as a lawyer, as I wouldn't be where I am without their kind mentorship."
Comments
comments