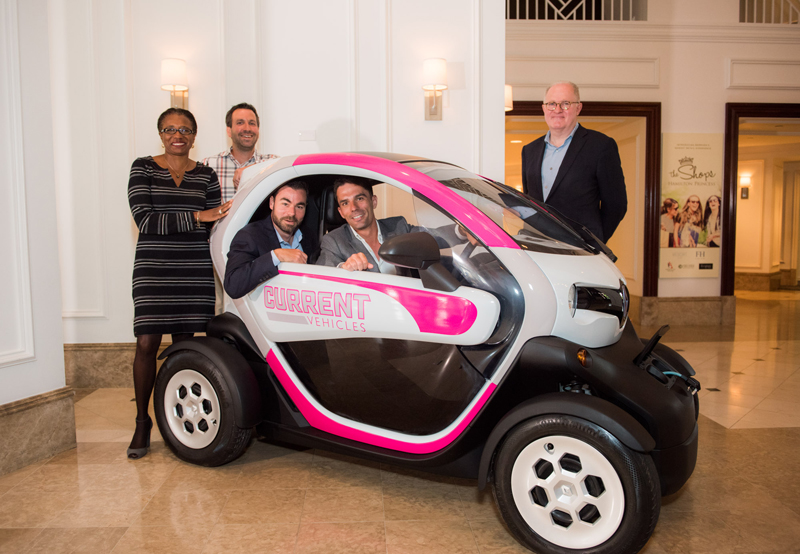 Hamilton Princess & Beach Club will be the first hotel in Bermuda to provide their guests with the option to rent a Renault Twizy minicar, with the new transportation option available following a recent change to the island's laws.
'Twizy' which stands for Twin + Easy, because it sits two passengers in pillion [one behind the other], is very straightforward to operate, and will give visitors the ability to explore Bermuda, while providing a fun and unique driving experience.
The four-wheeled vehicle, which was designed by Renault's Formula 1 racing team, has seat belts, an airbag, side impact protection and a tubular chassis to further protect its occupants.
Charged in just three hours, the Twizy has a range of 80+km making the whole island accessible on a single charge, and, being under four foot in width, is ideal for Bermuda's narrow roads.
The steering wheel is also centrally located making it easier for those used to driving on the right-hand side of the road. There is a lockable glove compartment as well as additional storage behind the passenger seat for larger items.
The digital screen on the dashboard shows the driver the speed, the remaining driving range and the energy consumption. As it is fully electric it produces zero emissions meaning it is much better for the environment than traditional gas power.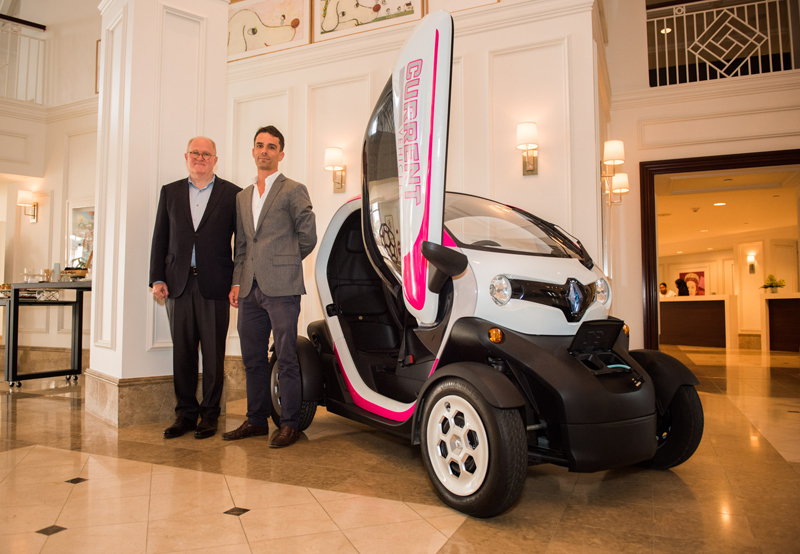 Twenty-five of the vehicles will be available to rent at the Hamilton Princess & Beach Club for $79 per day.
Drivers must be 18 years or older and hold an international drivers' licence. Dedicated parking and charging stations will be installed at the hotel so that guests can power their vehicle overnight and electricity will be included in the rental cost.
"We are excited to offer visitors the safest, greenest and most enjoyable way to travel around Bermuda," said John-Paul Doughty, Director of Operations, Current Vehicles.
"Bermuda's transportation options for tourists have been limited. These vehicles are safe and accessible and a good choice for those who are not comfortable on a scooter, but still want the freedom to explore the island on their own itinerary. And they are a lot of fun to drive!"
The new offering follows the passing of the Motor Car Amendment [No 2] Act last year that allows for provisions for a 'minicar livery'.
Twizy will be available to rent to hotel guests as soon as Current Vehicles receives a licence from the Bermuda Government.
"We are thrilled to be able to offer this new amenity," said Allan Federer, General Manager, Hamilton Princess & Beach Club.
"Our aim is to provide our guests with the best amenities possible during their stay on the island, however, transportation has been a challenge for those who are not comfortable with riding a scooter.
"Twizy allows all of our guests to explore the island on their own. We think it is a superb addition to the hotel and to Bermuda."
Current Vehicles rental facility and charging stations at the Hamilton Princess & Beach Club will be located in the hotel car park.
Comments
comments