42 years ago — back on November 15th, 1979 — Bermudian Gina Swainson won the Miss World contest, and the organisers recently provided the message she wrote as she passed the Miss World crown to her successor the following year.
The Miss World organisation posted the photo online below, and said, "The message below was written by Gina Swainson Miss World 1979 as she passed the Miss World crown to her successor!
Ms. Swainson said, "The past year has surely been the most dramatic, to date, in my life. It has also been the most revealing and educational. I give up the Miss World crown with a sense of humility and gratitude, I also look forward with excitement and anticipation to the opportunity of taking the fullest possible advantage of the avenues which have been opened for me over the past year.
"It will be difficult, if not impossible, to itemise each and every significant activity in which I have engaged as Miss World. However, I know it would be wrong if I did not share some of my experiences in writing at this stage.
"I visited Portugal and deeply enjoyed the opportunity to explore one or two villages. During one of my walks I met a man who was reaching the end of his life – he was at least 75 years old. He was sitting quietly around a pond and at first I felt a tinge of sadness at what I thought was his obvious loneliness.
"I wanted to take a picture of him, largely to record that one brief moment when, with his smile, I felt a strong sense of identification with the mixed joys and sadness of solitude. Suddenly, he withdrew a live sparrow from the inside of his shirt and introduced me to this bird as his companion. He was not lonely after all. Does the bird, I asked myself, enjoy this companionship, or does it want to escape from this captivity?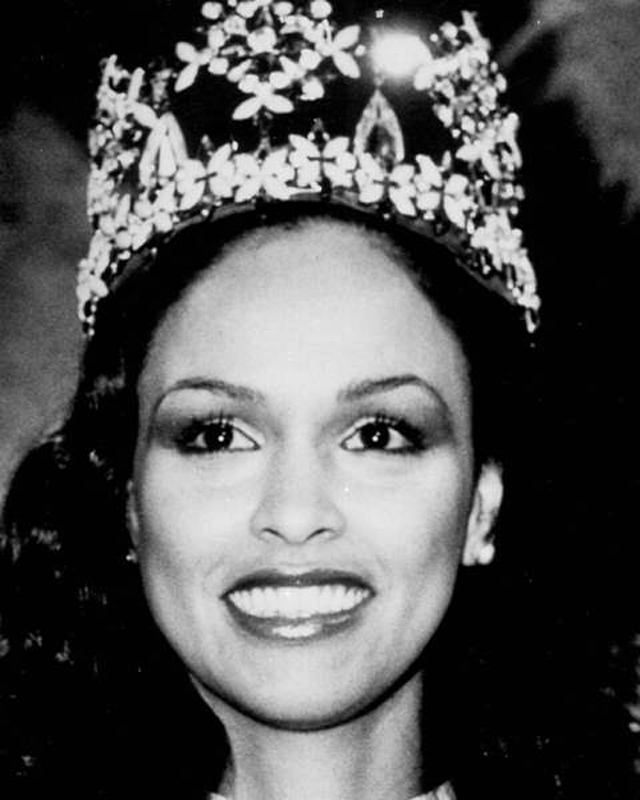 "The brief moment that I have just described can sum up so much of the past year. This has been a year during which I have made many friends in many diverse places far removed from my island home, Bermuda. It has been a year of new companions.
"Like that bird, however, I have had to fly away – not so much to escape "captivity" – but because flying to diverse places has been such an essential part of my functioning as Miss World. Every encounter which I have made, every brief companionship which I have enjoyed and every moment of tender care which has been given to me will be remembered and treasured deeply for the rest of my days.
"I come from Bermuda, a tiny bi-racial island which had enjoyed tremendous success in tourism and international business. Bermuda is a small community, closely knit by many interweaving relationships and my people, despite occasional political differences, are united in their desire to further, internationally, the interests of that island.
"The one aspect of my career as Miss World which has been of deep and abiding significance to me has been the opportunity to be an ambassador of goodwill for Bermuda. I visited Germany and represented the Miss World Organisation and Bermuda at the International Tourism Bourse. In Ireland, I marvelled at the lush green beauty of the countryside. It was another beauty, not necessarily like Bermuda but a beauty none the less.
"At the same time, the humour and wit of the Irish people and the wondrous magic of that countryside were further reminders that this is a world which can and will someday come together in common cause for the benefit of all.

"Kuala Lumpur, the capital of Malaysia, presented an opportunity for me to spend time with young children, with all their visible promise and hope of a better and less complicated world. In Singapore, I saw yet another culture to which I hope to return someday so as to relive its own magic. In Australia – where I visited the cities of Sydney, Melbourne and Brisbane – I was treated magnificently by a host of wonderful people, whose mentality and liveliness was anything but "down under".
"I visited several places in New Zealand and enjoyed the singular honour of being given an "Official Maori" welcome. This was a procession in which the Maori warrior, carrying a threatening spear and hurling abuse at me, challenged any possible negative emotion which I could have. At the end of his taunts, a leaf was placed before my feet as a peace offering. It was a leaf which, all the ceremony aside, I was happy to accept.
"The Miss World organisation has over the past two decades raised millions of pounds to aid charity, principally for deprived and handicapped children in association with those great children 's charities, Variety Club International and the Variety Club of Great Britain. I, together with the contestants in Miss World 1980 attended a lunch which raised in excess of $100,000 towards building a Variety Club Children 's Hospital at Kings College Hospital, London.
"There is humility when I say that I have been given, for a time, the gift of beauty.. If it can be said that I have actually used my gift in raising any resources for these children in need, mine will have been a gift well received and well used. It is the sense of direction and purpose in contests such as the Miss World which above all the glitter and ceremony make it the worthwhile enterprise which it is and deserves continued and full hearted support. Beauty by itself means nothing, unless it can add to the necessary pool of positive resources used for positive good.
"Though I cease to be Miss World, I have not ceased to be Gina Swainson of Bermuda, and from time to time, you will hear of me and you will see me. I know that I give up this crown with all of your support for my own personal future.
"I want to express my feelings of companionship and joy for the next Miss World who like the sparrow in Portugal, will fly and will touch many hearts and be touched by many others. I want to encourage and thank, from the bottom of my heart, hardworking public spirited individuals like Julia Morley, and the tireless staff at the Miss World Office.
"I know that they will continue in their efforts to make the Miss World contest more than a beauty contest and to groom future holders of this title towards taking their own individual places in a world which can only survive if there is hope."
Comments
comments