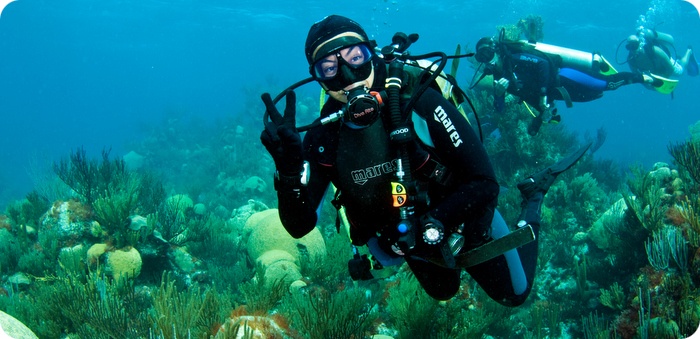 Bermuda has been honoured by the readers of Scuba Diving magazine as the No. 1 Wreck Diving destination in the Caribbean and Atlantic, as part of the publication's 2014 Reader's Choice Awards.
"We'd like to thank the readers of Scuba Diving for this tremendous recognition," said Bermuda Tourism Authority CEO Bill Hanbury. "We know that divers are always searching for locations that provide them with the opportunity to discover something special. We offer them an incredible variety of opportunities to explore our famous reefs and marvel at the beauty and history on display."
In addition to being recognized as the Best Wreck Diving destination, the popular Cristobal Colon wreck was named the Best Wreck Dive as part of the magazine's Top 100 Gold List.
This transatlantic luxury liner, which sank in 1936, is Bermuda's largest shipwreck, measuring 499 feet in length. The ship's remains are scattered across nearly 100,000 square feet of ocean floor, which provides divers with hours of endless exploration.
"Bermuda with its more than 300 wreck diving sites, each with a diverse array of marine wildlife and fish, many of which are unique to Bermudian waters, is a perfect dive location and offers another area of potential growth," says Bill Hanbury.
He adds: "With more than 400 years of underwater maritime history, the huge variety of our wrecks that range from famous Spanish galleons to freighters and war ships from the late 1900's and with most of these dive sites within a short boat ride of the shore, sometimes as close as five minutes away from the docks of popular resorts and diving excursion starting points, we offer quite unique opportunities."
Established in 1992, Scuba Diving is the magazine divers trust for gear reviews, cutting-edge scuba training articles, underwater photography and video tips, and dive travel information.
Shipwrecks can be observed via any one of the many scuba diving services available on the island, giving you access to historical gems such as the Constellation, which served as an impromptu cargo ship during World War II, and the King George, Bermuda's largest fully intact wreck.
Our island also boasts a number of watersports and boating opportunities that will bring you closer to our marine history than is possible on land, ranging from unique experiences like helmet diving to snorkeling along our exquisite coral reefs.
For a list of scuba diving providers click here, for information on general watersports and boating click here, to see our shipwreck sites using a Google Earth map, click here, for more information on the many activities to take part in while visiting Bermuda, click here.
Comments
comments