BELCO — Bermuda's electricity provider — has been awarded an Edison Electric Institute [EEI] Emergency Response Award for restoration efforts following Hurricane Fiona.
Presented to EEI member companies twice a year, the Emergency Response Awards recognise recovery and assistance efforts of electric companies following service disruptions caused by extreme weather or other natural events. The winners were chosen by a panel of judges following an international nomination process, and the awards were presented during EEI's winter Board of Directors and CEO meeting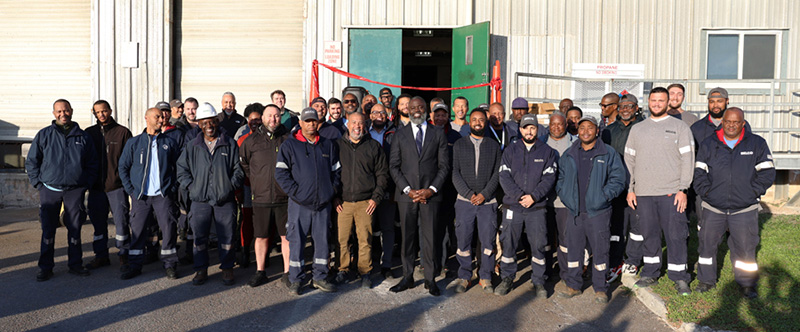 Hurricane Fiona made its closest point of approach to Bermuda on Friday 23rd September 2022 at around 5am, two weeks after Hurricane Earl impacted the island. Sustained winds of 49-59 knots were recorded at the LF Wade International Airport with gusts to 81 knots. The western end of the island saw sustained winds of 73 knots with a peak gust of 101 knots recorded.
Notwithstanding the storm passing 120nm to the NW of the island, Bermuda was still impacted by hurricane force winds for a 12-hour period. The storm knocked out 83% of BELCO's total customers at 11:00 am on Friday, September 23, 2022.
In response to the hurricane, BELCO stood up its Incident Command Structure to manage its hurricane response and to coordinate restoration efforts in a safe and efficient manner. Following the first 12-hour operational period BELCO was able to restore power to 66% of its customers.
Power was restored for all island residents 5 days after Hurricane Fiona. Restoration involved replacing 18 distribution poles and 13 transformers as well as repairing overhead lines across the island. BELCO recorded no safety incidents or accidents during restoration efforts.
BELCO President Wayne Caines said: "Our entire team at BELCO is honoured by this award which is a testament to the hard work and professionalism of our staff. Hurricanes are always a challenging time for BELCO but our team have well-established protocols for all aspects of preparing for and then restoring power once a storm has passed. On behalf of all our staff at BELCO, I would like to thank EEI for their recognition of our efforts to restore power to our valued customers quickly and safely."
"Throughout the past six months, electric companies faced devastating hurricanes, unprecedented heat waves, and many other extreme weather events that impacted the customers and communities we serve," said EEI President Tom Kuhn. "I commend BELCO's commitment to restore service for its customers safely and quickly under challenging conditions. BELCO and its storm response team undoubtedly are deserving of this national recognition, and I am honored to present them with this well-deserved award."
Comments
comments