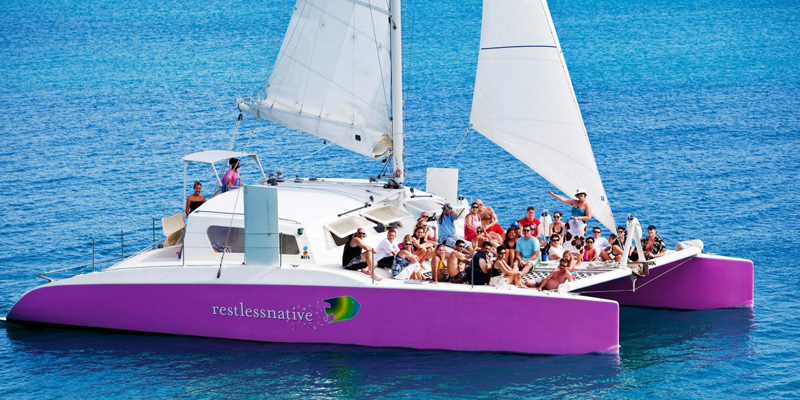 There is a range of spectator experiences available for the 35th America's Cup in Bermuda, on land in the America's Cup Village, and on the water where Spectator Boat experiences are proving popular with America's Cup fans.
"In May and June, when the 35th America's Cup action will be taking place on the Great Sound, the weather in Bermuda is likely to be perfect for watching spectacular race action from the water," the organisers said.
"All the Spectator Boats will have a prime viewing location reserved for them with optimal views from the front row of the public viewing area on the edge of the racecourse – as with all sporting events, front row seats are among the best available, so Spectator Boat ticket holders really will be experiencing the 35th America's Cup in world class style. In addition, all the boats will be have radio commentary playing during the on-water action, so passengers on board will know exactly how each race is playing out.
"There are more than 20 Spectator Boats in the official America's Cup fleet with a range of sizes to fit all requirements, for children and adults. Some boats will accommodate up to 10 people while others can take up to 100, and every boat in the fleet will have a cash bar and snacks to buy on board.
"Departures for the racecourse viewing locations will take place from either Albuoy's Point in Hamilton or the Dockyard Watersports Centre, making pick up / dropoffs incredibly easy and convenient for ticket holders.
"The facilities available on board each Spectator Boat will be perfect for watching the fastest boats in America's Cup history, and the viewing locations will be unbeatable.
"All Spectator Boats will be closer to the action on the water than private boats with a reserved spot for each and departures setting off 60 minutes before race time and will be in position half an hour before the day's racing begins.
"Official Spectator Boats have already sold out for the final weekend of the America's Cup Match presented by Louis Vuitton, however, purchasing tickets for an Official Spectator Boat on all available dates could not be easier. To secure your preferred date now go here where prices start from just $150."
According to the AC website, price range from $150 to $200 for an adult ticket and the fleet of boats include:
'Sun Deck' – 120 person, 65 foot Power Catamaran
'Aristocat' – 50 person, 55 foot Sailing Catamaran
'Excellence' – 50 person, 48 foot Motor Cruiser
'Reefcomber' – 40 person, 40 foot Motor Cruiser
'Restless Native' – 50 person, 48 foot Catamaran
'Reef Explorer' – 100 person, 75 foot Motor Cruiser
'Eco Express' – 30 person, 35 foot Power Catamaran
'Coral Princess' – 80 person, 63 foot Glass Bottom Motor Cruiser
'Calico Jack's' – 150 person, 75 foot Motor Cruise
Comments
comments