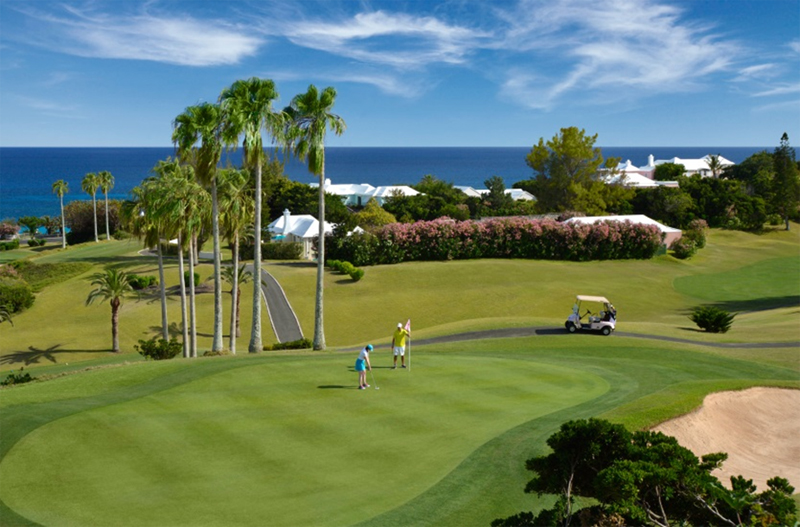 Players in this year's Grey Goose World Par 3 Championship in Bermuda will now have an opportunity to win a $1-million prize, serving as what one can only call a very strong incentive!
Sponsored by Greg Norman Apparel and Fairmont Southampton, the $1-million hole-in-one shootout will feature two professional and two amateur golfers.
"Adding this exciting element to the Grey Goose World Par 3 Championship rounds out one of the best—and most fun—tournaments in Bermuda," says Turtle Hill Golf Club's Director of Golf, Paul Adams.
"The possibility of someone becoming an instant millionaire with just one swing of the club is electrifying."
Professional and amateur participants will compete in two closest-to-hole games [on Nos. 9 and 18] during Friday's first round, with the four winners [two professionals and two amateurs] participating in the $1-million shootout later that evening on No. 18.
The $1-million shootout will be live streamed through the PGA of Canada's Facebook page.
The Grey Goose® World Par 3 Championship takes place March 16-19. With a total purse of $75,000 [USD], entry into championship is still available. Both professional and amateur golfers can register here.
The $300 entry fee includes a myriad of experiences, including:
Welcome Reception at Bacardi Headquarters [evening of Thursday, March 16, 2017]
Lunch at Italian resort restaurant Bacci on Tournament Days [Friday, March 17, 2017 and Saturday March 18, 2017]
Prize Giving Reception at the 10th Tee at Turtle Hill Golf Club [evening of Saturday, March 18, 2017]
Golf Practice Round, complimentary access to the new golf practice area and an amenity bag
Opportunity to win $1-million in hole-in-one shootout
Past champions of the Grey Goose® World Par 3 Championship include Bermudian Daniel Augustus, PGA Tour winner Nick Taylor, PGA of Canada member Ian Doig, American Jordan Mitchell, Mark Mouland of the European Senior Tour and last year's winner Rafael Becker.
Both golf tournaments will benefit the Bermuda Sea Turtle Project, the official charity partner of the Turtle Hill Golf Club.
The Turtle Hill Golf Club has been recognized by Golf Magazine as one of the "Top 5 Par 3 Courses in the World" and is a recipient of Golf Digest's "Best Places to Play Golf Award."
For information on the Grey Goose® World Par 3 Championship, please email Adam LeBrun at the PGA of Canada atadam@pgaofcanada.com, Paul Adams at Fairmont Southampton at paul.adams@fairmont.com or visit www.fairmont.com/golf-bermuda.
Comments
comments