Renowned photographer Horst P. Horst captured this surreal portrait of American author Alice-Leone Moats wearing a striped, floor-length diaphanous tea gown with billowing butterfly sleeves standing on a Bermuda roof in 1938 for Vogue magazine.
Ms Moats [1908–1989] was an American journalist and author who was born in Mexico to wealthy and socially prominent American parents.
She was best known for No Nice Girl Swears, a tongue-in-cheek book of etiquette which was a runaway bestseller when it was published in 1933.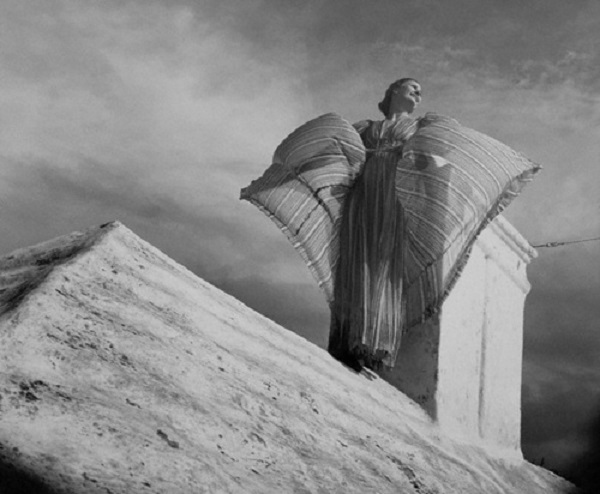 Beginning in the early 1930s, Mr. Horst [1906-1999] — "photography's alchemist" as Vogue called him — both captured and helped to define the glamour of the pre- and post-World War Two period with his dramatic portraits of the the literati, the glitterati and the wealthy.
Among other celebrities of the day, Mr. Horst photographed Bette Davis, Noël Coward, Salvador Dali, the Duchess of Windsor, Cole Porter and Elsa Schiaparelli.
German-born Mr. Horst's aesthetic range throughout the 1930s and 1940s was vast, encompassing elements of Greek classicism, Baroque romanticism, Hollywood studio photography, trompe l'oeil, and film noir; he also ventured into the avant-garde, revealing such influences as the Bauhaus and Surrealism.
As The New York Times observed, "Horst tamed the avant-garde to serve fashion."
In 1990 Madonna paid a fitting postmodern tribute to the photographer when she re-created many of his most enduring images in her music video "Vogue."
Comments
comments