In partnership with the US Open, on September 8, Bermuda will take centre stage at one of the world's premier tennis tournaments taking place in New York with an immersive "Bermuda Night" activation, including a US Open Facebook Live segment straight from the stadium with Bermuda's 2021 Olympic gold medallist triathlete, Flora Duffy.
The Bermuda Tourism Authority [BTA], in tandem with local establishments, encourages Bermudians and visitors to watch the featured tennis matches at several restaurants and sports bars island wide.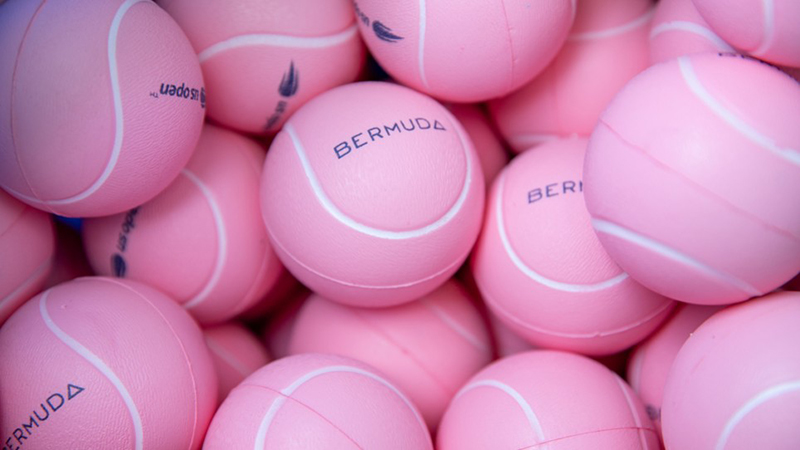 "Bermuda will enjoy major international spotlight during the US Open this year," said BTA CEO, Charles Jeffers II. "Even if you can't be in New York to celebrate in person, the island is going to turn out to enjoy the festivities from afar, and to cheer on local hero Flora Duffy."
Participating local bars include:
Boundary Sports Bar & Grille | Southampton
Outback Sports Bar | City of Hamilton
The Front Yard | City of Hamilton
Crown & Anchor at Hamilton Princess & Beach Club | City of Hamilton
White Horse Pub & Restaurant | St. George's
Additionally, BTA has teamed up with Bacardi to bring the US Open's official drink, the GREY GOOSE ® vodka Honey Deuce cocktail, to Bermuda. The first 30 individuals wearing a branded Bermuda or Flora t-shirt at participating establishments will get a complimentary Honey Deuce cocktail. Named after an equal 40/40 tennis score, the cocktail is comprised of GREY GOOSE vodka, lemonade, raspberry liqueur, and topped with tennis-inspired honeydew melon balls.
"Bacardi and our on-island partners have pulled-out the stops to ensure that Bermuda's US Open celebration in New York is mirrored in sports bars and restaurants across the island. Visitors and locals will enjoy the thrill of the competition while feting Bermuda and our homegrown Olympic champion, said Tashae Thompson, Assistant Director, Experience Development.
During the US Open's "Bermuda Night" on September 8, viewers and attendees will be immersed in all things Bermuda via commercial advertising, on-site video messaging, promotional give-a-ways, court branding, and a hosted partner experience. As a result, Bermuda's story will be widely shared, while the destination will be visibly prominent and promoted to the island's key target segments.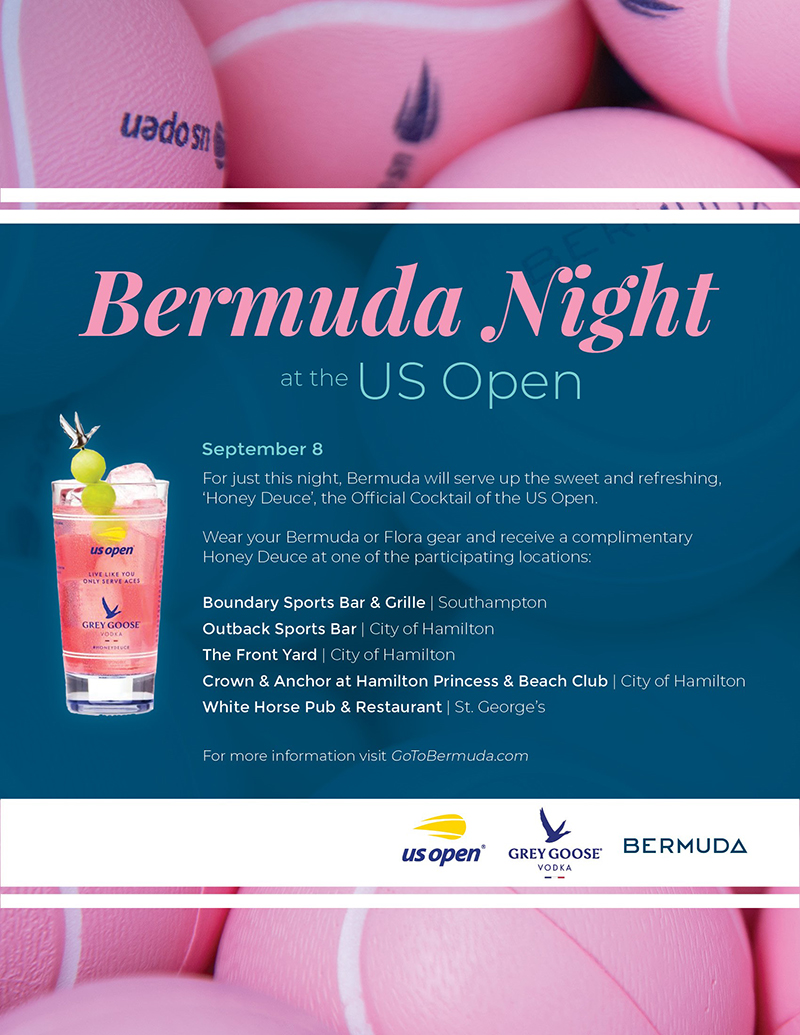 Comments
comments