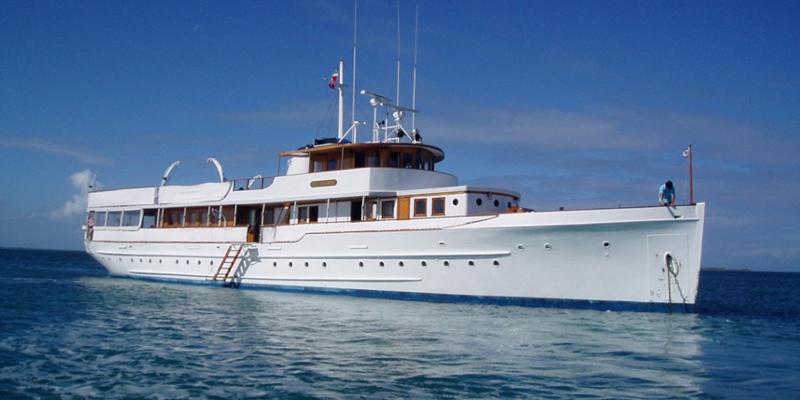 Beginning on May 26th, Bermuda will host the 35th America's Cup and to ensure that guests of Rosewood Tucker's Point can fully enjoy the experience, the property has chartered the 122 foot-long Mariner III Spectator Yacht each race day.
"Guests of the resort can spend the day enjoying exclusive access to the race course while enjoying sunshine, cocktails and cuisine by the hotel's Executive Chef Gerry Adams," a hotel spokesperson said.
"Each morning, the yacht will depart from the Harbour Beach dock and return in the late afternoon following the completion of the races."
According to their website, Mariner III's first event when it was newly certified as a charter vessel was a birthday celebration for actress Brooke Shields.
Celebrities such as Madonna and Harrison Ford have also chartered the boat, and Mariner III used as the backdrop for photo shoots for businesses like Victoria's Secret, Tommy Hilfiger, and Bride Magazine.
The boat was featured in TV series "Law and Order" and "Revenge", and also appeared in the movies "Wall Street" with Michael Douglas and "Wind" with Matthew Modine and Jennifer Grey.
The motor yacht is generally available for charter from New York in the summer and from Florida in the winter months and Captain Sean Kennedy told Bernews that he looking forward to coming to Bermuda.
"Guests of Rosewood Tucker's Point will have exclusive access to purchase tickets for the spectator yacht," the hotel said.
"Ticket prices range from $295 to $695 per person, per day and will include viewing from the exclusive Superyacht area in Bermuda's Great Sound, along with complimentary lunch, snacks, wine, prosecco and beer. Space is exclusively limited to 80 guests per day.
"Guest rooms are also available starting at $1395, plus taxes and gratuities, per night over the 2017 America's Cup and can be booked through www.rosewoodhotels.com."
Comments
comments