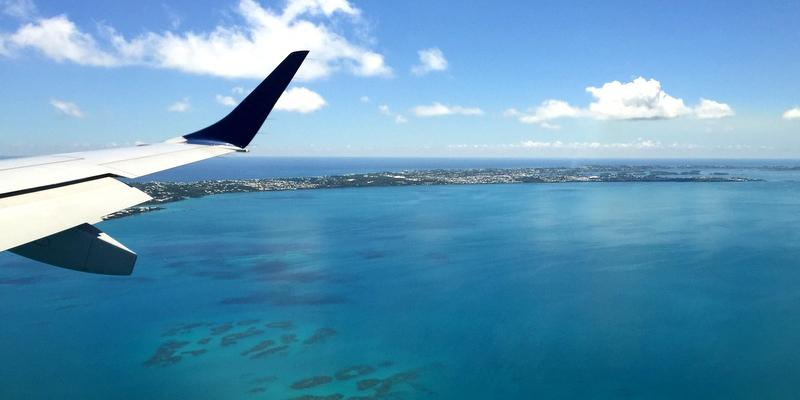 With commercial flights in and out of Bermuda set to resume next month, the island can expect daily Delta flights effective July 6, once a week Air Canada flights from July 2, and twice a week flights from British Airways effective July 17.
This is according to a flight schedule on the Skyport website, which notes that the schedule is subject to change.
The Government had previously announced that the decision has been made to resume commercial flights on 1 July 2020 and there will be a number of "protocols and requirements that will be put in place to secure Bermuda and her people from the spread of Covid-19."
The Government also previously stated that all of the airlines serving our country before Covid-19 say they are ready to return to Bermuda once the crisis passes, however "the mix of gateway cities, the time of year, and the frequency of flights may not be what we have become used to in years past at least not initially."
"We should anticipate a gradual resumption of the regularly scheduled air services. We should certainly not expect everything to return to normal immediately."
Speaking about the safety protocols, Bermuda Premier David Burt said, "Now it is vital that we open the airport and allow visitors to arrive. This is a critical step required to get hundreds of hospitality workers back to work. Our testing requirements for visitors are the most stringent in the world and are designed to keep our residents and visitors safe. The guidelines we are implementing will be strictly adhered to.
"Visitors are strongly encouraged to get tested three to five days before they come to Bermuda. If their testing results are delayed, they will have the option to come to Bermuda, but they will be tested upon arrival and then tested again on day three of their visit. During those three days, the visitor will be required to quarantine in the room at their accommodation. If the pre-departure test result arrives during the 3-day quarantine it will be counted as a valid pre-departure test and the visitor will be released from quarantine.
"Additionally, all visitors coming to Bermuda who have a negative test result will be required to be tested when they arrive, on day 3, day 7 and day 14 of their stay. The number of tests required obviously depends on the length of stay.
"If at any time their test result is positive they will be fitted with a quarantine bracelet and will be required to isolate in their room. The bracelets will alert the authorities if the person attempts to leave their room.
"All visitors will be required to complete an electronic pre-boarding form before they can board a plane to Bermuda. They cannot have a positive test result and must not be sick or have COVID-19 symptoms. The visitor must demonstrate they have health/medical insurance to cover all medical costs should they get sick while in Bermuda.
"If a visitor becomes ill while in Bermuda, they will be required to isolate for a minimum of 14 days at their own expense or until they can leave the island by private jet or yacht.
"Additionally visitors will be told of the requirement to wear a mask, how to establish physical distancing and the requirement to frequently wash their hands with soap and water or use hand sanitizer."
The Premier concluded, "As we move forward, we will continually examine our protocols and adjust them, as needed. During the COVID-19 pandemic, we have proven to be nimble in our response. All agencies involved have shared information and worked together closely. This will continue. We will do all in our power to make sure people in Bermuda remain safe.
The July flight schedule, via the Skyport website, follows below [PDF here]: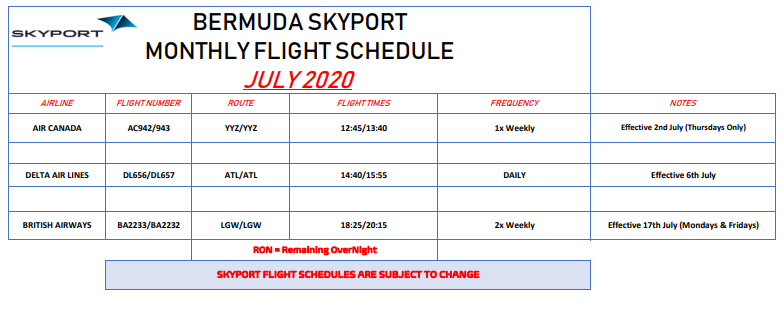 Comments
comments