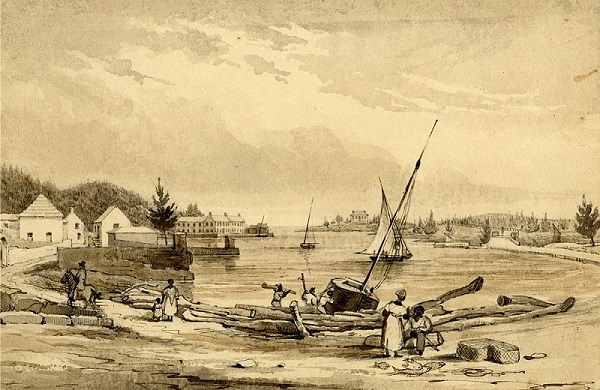 An album containing 39 watercolour and pencil drawings that depict landscapes of Bermuda and local activities from 1833–36 was recently donated to the National Museum of Bermuda in Dockyard.
This exquisite album contains panoramic and harbour views, and scenes of 19th century activities such as whale processing, shipwreck salvage, boat repair, selling fish and produce, tending cattle and collecting firewood.
These paintings are of particular importance because they document local activities in a pre-photography era around the time of Emancipation. There are very few works of art illustrating local life in Bermuda in the 1830s.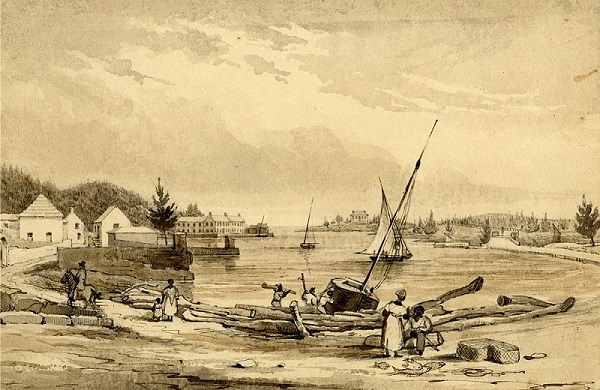 The talented artist is Johnson Savage MD, who was stationed at Bermuda in the mid-1830s as a young surgeon with the Royal Artillery. His paintings were not previously known but stand comparison with the best of the artist Thomas Driver whose work spans the period 1814 to 1836.
In addition to local activities, Savage painted scenes and buildings relating to his medical career in Bermuda, including the Royal Hospital at Ireland Island and the Royal Artillery Officers' Quarters at St. George's. According to Bermudian art historian Jonathan Land Evans, "This album is a major addition to the known corpus of pre-photography paintings of the Island."
Johnson Savage's grandson was also connected with Bermuda: he was Lieutenant Arthur Johnson Savage RE, a surveyor for the Royal Engineers who was stationed at Bermuda to carry out the first Ordnance Survey of the island in 1897, a task that was completed a few years later and published in 1901 in six sheets. The detailed large-scale survey is still in use and can be seen in the Bermuda's Architectural Heritage series by the Bermuda National Trust.
The great-great grand children of Johnson Savage— Major [RE Retd.] Peter Savage and his siblings Major [RE Retd.] William Savage and Mrs. Jenifer Hancock— have now donated his album to the National Museum through the assistance of museum member Dr. Adrian Webb.
After 179 years in the possession of the Savage family, they felt that the album of paintings and sketches should permanently reside in Bermuda, continuing the historic Savage family connection to the island. It is a major addition to the Museum collections, and a significant cultural asset to Bermuda, given its early date and the content of the images.
An exhibition on the album in 2015 will coincide with the publication of a book on the Johnson Savage MD Collection and the longstanding connections of the Savage Family with Bermuda.
Comments
comments