A couple that met five years ago in Bermuda – Beth Neale and Miles Cloutier – celebrated Valentine's Day by setting a world record for the longest underwater kiss.
Ms. Neale has an additional special connection with Bermuda, having previously broken her no fins freediving record on the island in 2019.
The Guinness World Records website said, "A loved-up couple celebrated Valentine's Day in a rather unique way – with the longest underwater kiss.
"Beth Neale [South Africa] and Miles Cloutier [Canada] smooched for a whopping 4 minutes 6 seconds beneath the water in an infinity pool.
"Their make-out session smashed through the previous record of 3 minutes 24 seconds, which was set 13 years ago on Guinness World Records' Italian TV show Lo Show dei Record.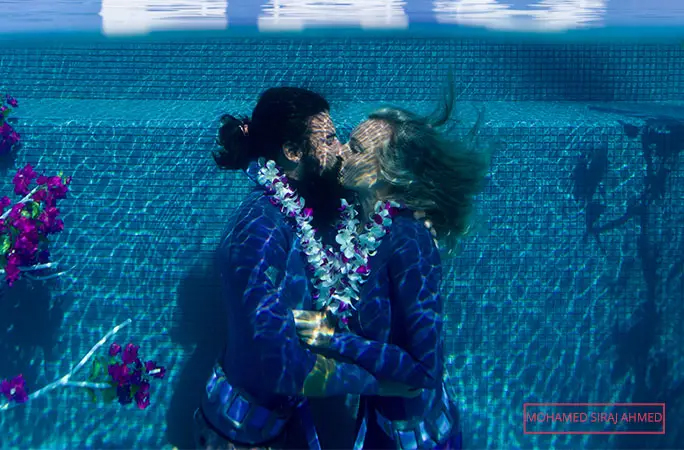 "The engaged couple, who are both divers and live in South Africa with their one-and-a-half-year-old daughter Neve, travelled to the Maldives to attempt the record at the LUX* South Ari Atoll resort.
"They began their attempt at 7.30 am, starting off with some breath hold warm ups and two trial underwater kisses of two and three minutes, before going in for the gold.
"And despite all their practise since first coming up with the idea three years ago, underwater filmmakers Beth and Miles admit the whole thing was a lot more challenging than they anticipated.
Beth told us: "Three days before the record I could just not hold my breath."
Miles added: "We couldn't even reach the existing record – we weren't even close."
"They started really training for the record attempt a few weeks before heading to the Maldives, and when they got to the stunning location, the nerves really kicked in.
"It was very interesting for me because I'm a freedive instructor," Beth said. "And all the things I tell my students, I wasn't able to follow myself for the first time in my life."
"Beth is a four-times South African Freedive Champion and has set a number of South African National Freediving records and African Continental Records.
"Miles and Beth have been together for almost five years after meeting in Bermuda – and it was love at first sight.
"Beth, who can freedive to 60 m [196.85 ft], was running a programme called "Kids on the Reef" to teach children how to freedive and why the underwater world needs to be protected."
You can read the full story here on Guinness World Records.
Comments
comments