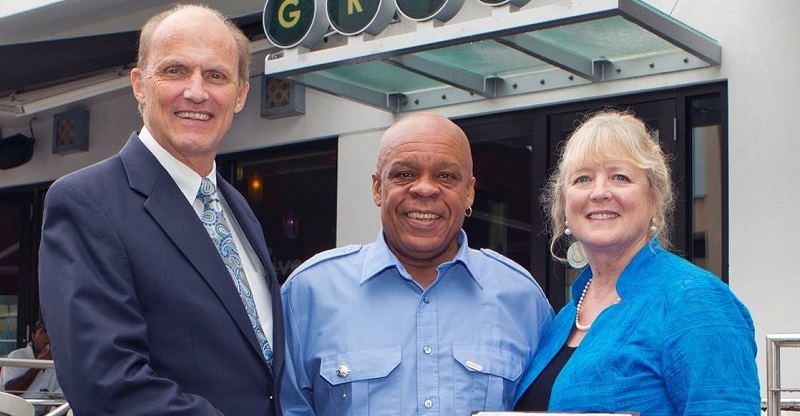 Bermuda's Visitor Industry Partnership [VIP] announced that the first winner of the VIP Sunshine Award programme is bus operator James G. Tweed, who was nominated by Mrs. JoAnn Brown of New York.
This quarterly programme is designed to highlight a Bermuda resident who has gone 'above and beyond' to make a visitor's stay in Bermuda 'one to remember'.
Mr. David Dodwell, Mr. Tweed and Dr. Barbara O'Shaughnessy: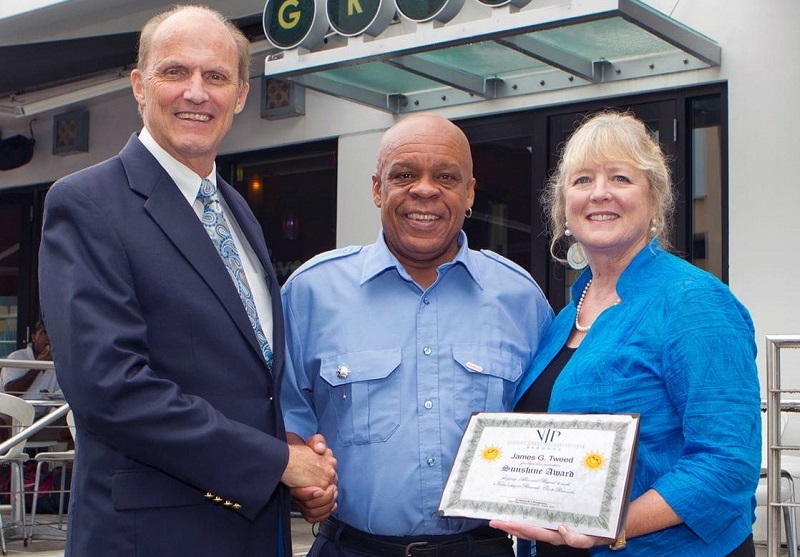 When Mrs. Brown's family visited Bermuda, they felt that Mr. Tweed went above and beyond his duty as a public transportation bus driver.
She explained, "Our family had the pleasure of being passengers on his bus twice in the 3 days while we were docked in Bermuda. Mr. Tweed greeted all his passengers with a big smile and friendly demeanor. He obviously enjoyed his job and was proud to call Bermuda his home. He didn't only drive us to our destination, but he also proudly explained the sites and culture of Bermuda.
"At one point he stopped the bus so the passengers could take a picture of one of the many beautiful beaches of Bermuda. Mr. Tweed represented all the people of Bermuda, very kind and friendly. We have traveled to many islands in the past, and Bermuda is our top pick! We are looking forward to returning to Bermuda someday and we will proudly recommend family and friends to visit Bermuda for vacation".
The Chair of Visitor Industry Partnership, Dr. Barbara O'Shaughnessy said she proud to congratulate and thank Mr. Tweed for making the Brown family's Bermuda holiday such a special memory and for "spreading some wonderful Bermuda sunshine."
Mr. Tweed received a VIP Sunshine Award Pin and a congratulatory lunch, compliments of the Island Restaurant Group, with the Minister of Tourism Shawn Crockwell, the Chairman of the Tourism Board David Dodwell and the Chair of the Visitor Industry Partnership Dr. Barbara O'Shaughnessy.
Mr Dodwell remarked, "It is absolutely imperative that every man woman and child in Bermuda is gracious and welcoming to each and every one of our valued visitors. Walking the extra mile, doing that little bit extra is in the character and history of Bermudians from all walks of life.
"This heritage of warmth and caring personality continues to be epitomized by Mr. Tweed. If everyone took a leaf out of his book Bermuda tourism will soon be on the road to recovery."
After hearing about this programme, the General Manager of The Fairmont Southampton, Mr. George Terpilowski awarded Mr. Tweed a complimentary hotel stay with dinner and breakfast. "Everyone in Bermuda is key to our visitors having a positive, memorable, vacation experience: from the child in their smart school uniform giving a smile and a wave; to the shop assistant, bus operator, the waitress and waiter and even the jogger on the railway trail taking their time to say hello with a happy face.
"These are the positives our guests take away as precious memories. The Fairmont Southampton is thrilled to participate in the Sunshine Award initiative. It is our way of saying thank you to those who make Bermuda so much more and Mr. Tweed is a shining example of going the extra mile."
Comments
comments