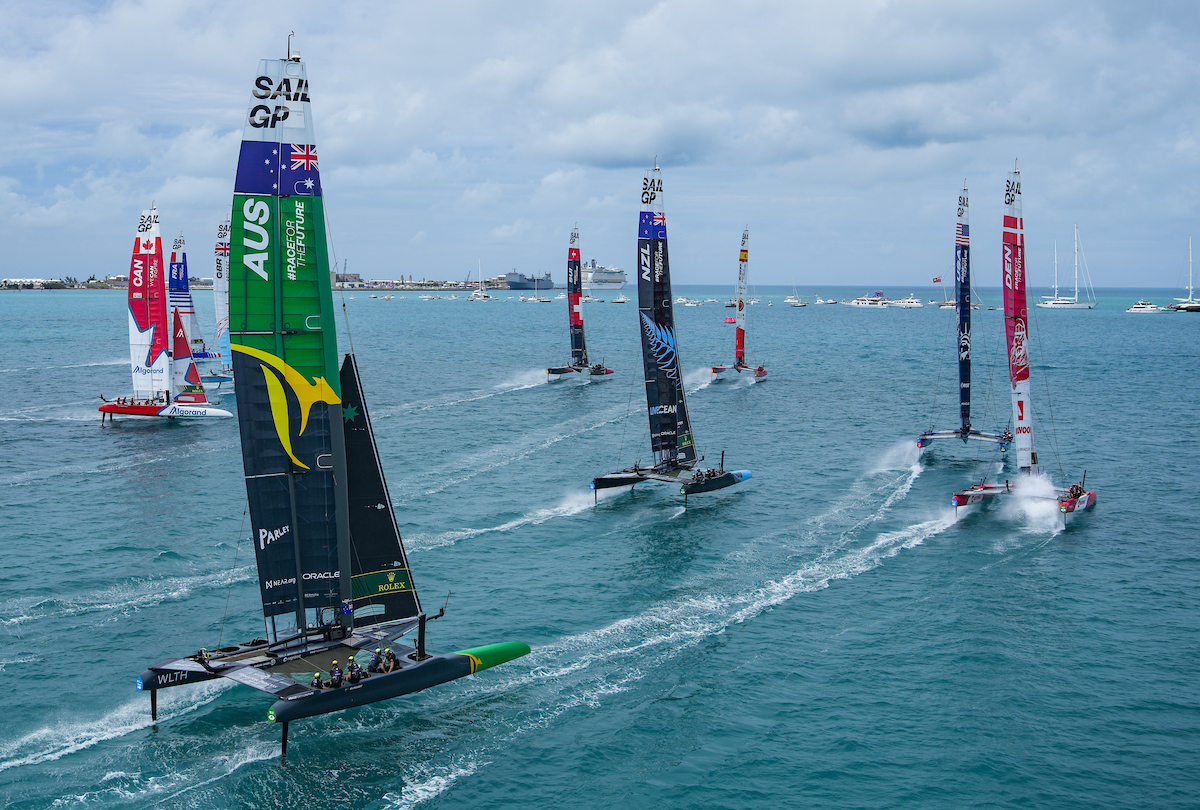 A picture-perfect weekend on Bermuda's Great Sound provided the ideal stage for the thrilling kick-off for SailGP Season 3. Thursday night's SailGP Street Fest launched the event, bringing the City's Front Street to life with live music, dancing, food, and fun for the entire family. The event saw hundreds of visitors and residents pack the streets for the return of the island's pinnacle sailing event.
Participating restaurants, bars as well as local retail and food vendors indicated a significant uptick in revenues for the special street fair.
"It was gratifying to see thousands of visitors and locals alike come out to enjoy the excitement and fun of this spectacular sporting event," said Charles Jeffers, II, CEO of Bermuda Tourism Authority [BTA]. "Bermuda's Great Sound provided an ideal racetrack for sailing's premier event, while the welcoming spirit of Bermudians provided the festive atmosphere that was shared with millions of spectators from around the world."
Activities on and off the water provided a variety of events and experiences for islanders of all ages to enjoy, from engaging youth programs to behind-the-scenes technical tours and an inspirational conference on sustainability. SailGP brought much more than spectacular competition to Bermuda's shores.
True to its mission to use the power of sport to change the world and accelerate the transition to clean energy, and drive social impact initiatives, SailGP organisers held the Champions of Change forum. The programme included a series of panel discussions exploring environmental sustainability, gender and racial diversity. The first panel discussion focused on approaches to empower the sports community to eliminate racial discrimination and champion social justice and featured CJ Perez who talked about her journey as a Latinx woman sailor in the SailGP. Hazel Clark, OLY, global director of sales at BTA facilitated a session on gender diversity alongside panelists, Branwen King-Smith, Dr. Alicia Hancock, and Corey Cross. The morning session included a conversation on environmental sustainability and featured Eugene Dean, executive director, Greenock and Stratton Hatfield, director of development at Be Solar.
SailGP seeks to inspire our next generation of sailors, which certainly proved true in Bermuda through SailGP's Inspire partnership with Endeavor that engaged 426 youth from across the island in hands-on learning, career exploration and encouraging a future generation of sailors and maritime professionals. Sixteen young Bermudians were named Endeavour Maritime Career Springboard Graduates and Endeavour Assistant Instructors, serving as interns for the SailGP teams.
Hosting this world-class sailing event is fitting with Bermuda's rich maritime heritage. Amidst the activities, the Cedar & Sail campaign, developed in partnership with the BTA, and the SailGP Local Steering Committee, introduced its new Seafarers Tour app to unlock Bermuda's seafaring history and share stories of resilience. The app takes participants on a journey to historical landmarks across the island and highlights interactive stories to encourage knowledge-sharing, showcase innovation, and reignite a sense of pride across Bermuda and its maritime history.
Following the recent success of the inaugural USATF competition, Bermuda SailGP is another example of Bermuda's position as a world-class sporting destination, and a positive step towards reestablishing Bermuda's global profile as we rebuild pre-pandemic tourism industry.
Comments
comments