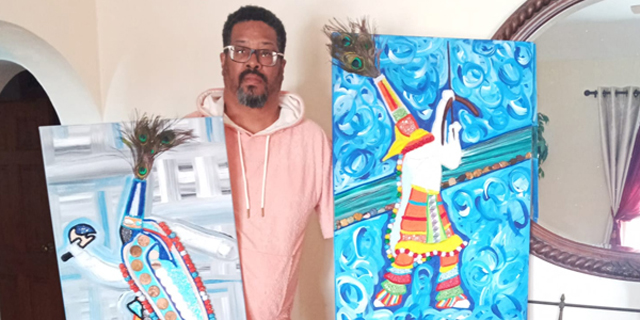 When Lance Tucker creates his Gombey Warrior inspired artwork, he feels as though he is facing his childhood fears.
Mr Tucker remembers watching the Gombeys perform as a youngster and being terrified by the intricate masquerade of dancing and drumming, particularly the captains who would crack their whip.
Now 52 years old, Mr Tucker is passionate about celebrating the folk tradition by using different materials to bring the magic and majesty of the island's iconic warriors to life on canvas.
"Painting the Gombey Warriors makes me feel closer to something I was afraid of as a child," Mr Tucker told Bernews. "I remember watching them and they would hit the whip on the ground and come right up to you.
"I was scared of the Gombey Warriors right up until my teens!
"When I got older, I started following the Warwick Gombeys all around the neighbourhood. They're part of Bermuda's heritage. It brings me joy to know no one else is doing what I'm doing."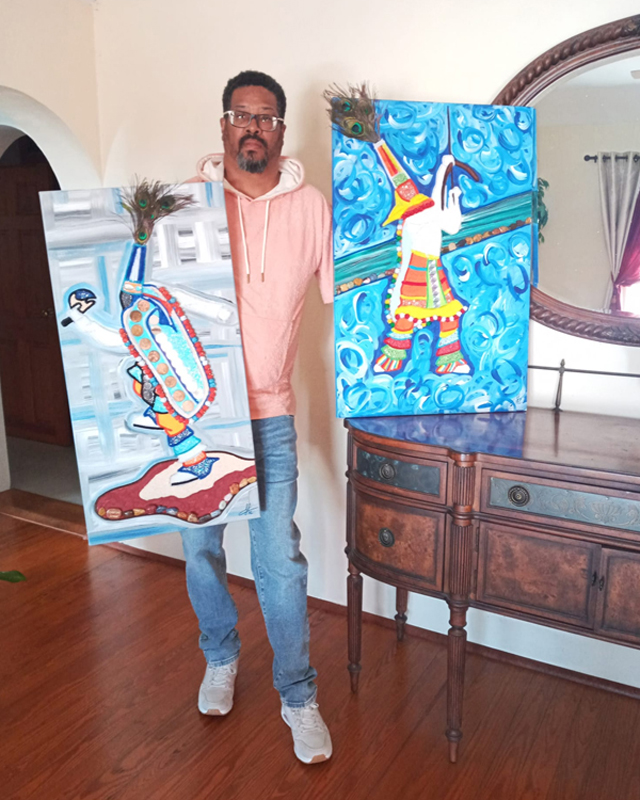 Mr Tucker is no stranger to facing his fears.
He started abusing alcohol when he was very young and became hooked on cocaine when he was 29.
Ten years later, he found himself at the King Edward VII Memorial Hospital, fearing for his life, and immediately started a 12-step programme to recover from substance addictions when he was released.
He has been clean ever since.
"I was always into sketches as a kid," added Mr Tucker, who grew up on Ord Road, Paget. "I remember my mom moving the furniture and putting a table at the end of the room. All the children had to run and draw what was in the comic books. I always seemed to win!
"However, I lost interest in art because of my addictions. I got caught in alcohol and crack cocaine. I thought I was smoking marijuana, but it was laced with crack.
"I also suffer from bipolar disorder. Since I've been clean, it hasn't been that bad. When I'm in that state of mind, I can't even pick up a paintbrush. I'll trash [the artwork] straight afterwards."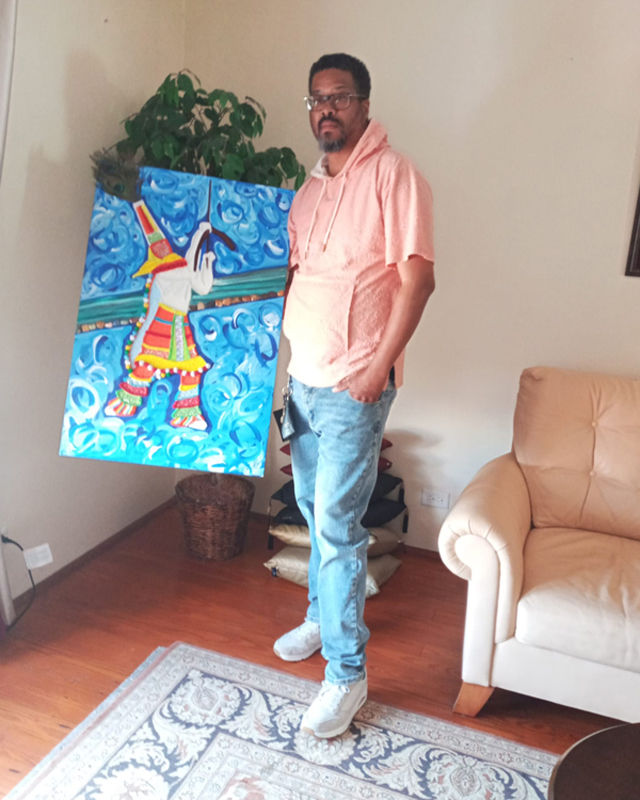 Mr Tucker rediscovered his zeal for art during the height of the Covid-19 pandemic in 2020 when he needed a creative release.
Inspired by short art videos on the social networking service TikTok, he began experimenting with mixed media to piece together his elaborate Gombey Warrior creations.
"I had no intention of drawing, but when the pandemic hit in 2020, I had to find something to do," Mr Tucker added. "I just started drawing again.
"I was watching people on TikTok doing all different types of art, not just straight-up painting.
"I started looking around and found different materials I could put around the acrylic paints.
"I don't just use paint. I use actual feathers, pompom balls, and mirrors, just like what you see on a Gombey outfit. I also use Bermuda sand in my art."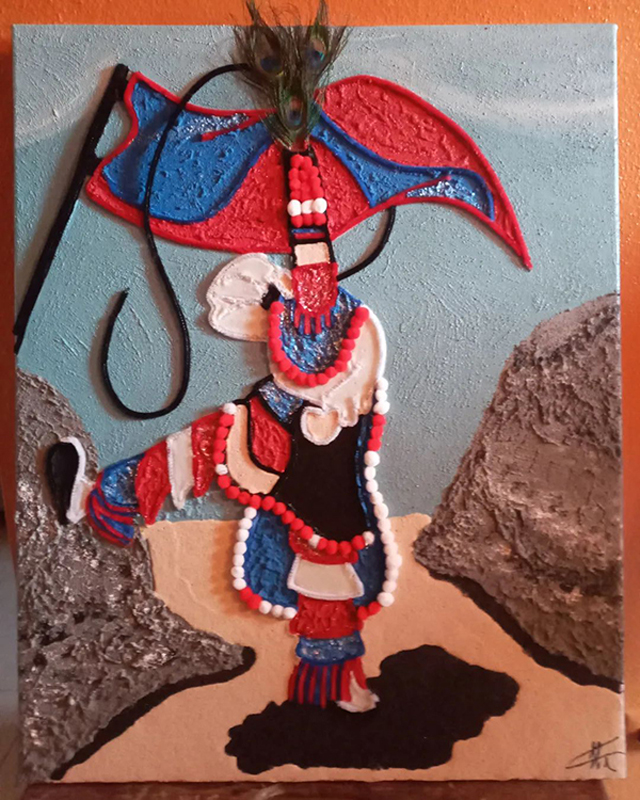 Last summer, Mr Tucker achieved a life-long ambition of having artwork exhibited at City Hall in Hamilton.
He admits he was so overwhelmed by the thought of having his work on display that he almost did not attend his show.
"When I was young, I always wanted to be a member of City Hall," Mr Tucker said, "And once I became a member, I wanted to have a show at City Hall.
"I didn't think that would be possible, so I started giving away my paintings on Facebook and to friends.
"However, after talking to the Bermuda Society of Arts, I realised I was able to have a show and rented a space for 32 canvases.
"When I had my show, I was struggling, thinking 'Am I worthy of being a Bermuda artist, am I worthy of having a membership at City Hall, are people going to like my work?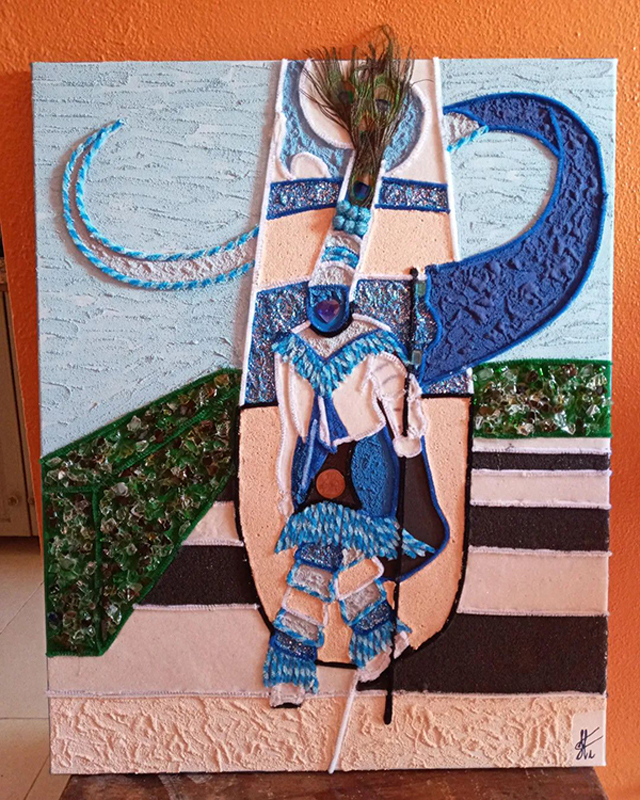 "I even had to go and hide my work upstairs at my momma's house, else I might destroy it. Now it's different. I'm surrounded at home by my artwork."
This summer, Mr Tucker will be among the local artists contributing artwork to the Bermuda Society of Arts Spring Members exhibition.
'Refresh' runs from June 3 to 21 and is a call to all visual artists to compete for an opportunity to have their work featured on the BSOA website and social media.
Such is his pride in Bermudian heritage and culture, Mr Tucker has decided to merge his love of Gombey Warriors with Cup Match, creating troupe members in Somerset and St George's colours.
"I like to do all sorts of other artwork, but if people want more Gombey Warriors, I will keep doing them.
"There was a time in my life I thought I would be dead at the age of 30. I'm just grateful to be 52 and doing something I love."
Comments
comments