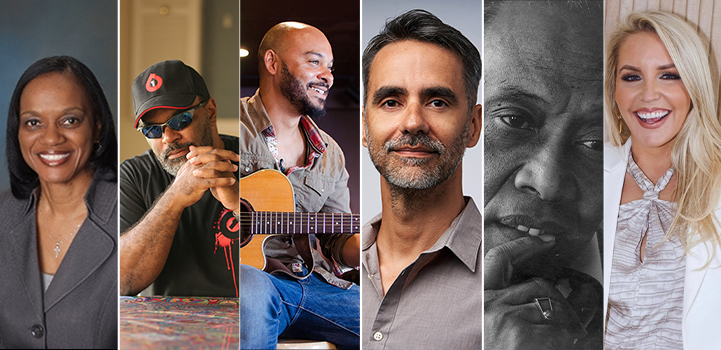 The Department of Culture has announced this year's Grand Marshals, with Dr. Duranda Greene, Gavin "Djata" Smith, Christie Hunter Arscott, Milton Raposo, Ras Mykkal and the late Choy Aming Sr all receiving the recognition.
A Government spokesperson said, "Today the Department of Culture formally shared the Grand Marshals of this year's Bermuda Day Parade. This year's six [6] Grand Marshals are being celebrated and recognized for their artistic, creative and innovative contributions to our heritage and culture. They are Dr. Duranda Greene, Gavin "Djata" Smith, Christie Hunter Arscott, Milton Raposo, Posthumous Recognition: Choy Aming Sr. and Ras Mykkal."
Dr. Duranda Greene
"After faithfully serving at Bermuda College for 37 years – it's safe to say that Dr. Duranda Greene has devoted her life to education. The first female to be appointed President of the College in 2007, Dr. Greene is also the first alumna of Bermuda College to be named President.
"Under her leadership, she has led the College through international accreditation and re-accreditation with the New England Commission of Higher Education, as well as through the development and implementation of two strategic plans. The College's culinary arts programme has also been accredited and re-accredited by the American Culinary Federation. She has also led the introduction of various new programmes including: nursing, diagnostic imaging technology, marine science and compliance; along with the establishment of the Bermuda College Foundation to raise money on behalf of the College. As a result of the Foundation's fundraising efforts, a new Career Development Centre was built on the campus in 2021.
"In addition to supporting countless young Bermudians in their pursuit of higher education, Dr. Greene has personally reached the highest levels of academic achievement. In addition to a Doctorate in Educational Leadership with a concentration in Higher Education from Argosy University, Sarasota, she also holds a Master's Degree in Business Management from Boston University, as well as a Master's Degree in Education from Mount St. Vincent University.
"A Trustee of the Bermuda Foundation for Insurance Studies, Dr Greene is also a member of the Board of Education. Internationally, she has served as the 1st Vice President for the Association of Caribbean Tertiary Institutions [ACTI] and as a member of the American Association of Community College's [AACC] Commission on College Readiness.
"She is a founding member of the International Women's Forum Bermuda Chapter and also holds several facilitator certifications including Strategic Planning, Appreciative Inquiry, Achieve Global Trainer, and Diversity Skills. She is also a Fellow Certified Administrative Manager from the Canadian Institute of Certified Administrative Managers.
"In 2013, she received the 'Women of Great Esteem Emerald Award' from New York-based QKingdom Ministries, Inc. for her contributions to education. Recently, she was honoured by the Hamilton Princess Hotel as part of its Black History Month Celebrations for her service to the local community. Dr. Greene is an active member of Mount Zion AME Church and currently serves as Treasurer. She is married to Terry Greene, one of her biggest supporters, and is due to retire in July 2023.
Gavin "Djata" Smith
"Gavin Djata Smith began working in the arts and entertainment industry as a child. He first started helping his father to organise local Steel Pan revues in hotels and later helped to produce large concerts with global artists including Bermuda's first ever hip-hop concert featuring Busta Rhymes and Naughty By Nature.
"This early exposure to the arts had a lasting impression on Mr. Smith, who would go on to pick up music himself as a musician and singer/songwriter while studying Graphic Design at Savannah College of Art & Design.
"Upon returning to Bermuda, he immediately jumped into using his new design & marketing skills to help grassroots initiatives to promote peace and love through concerts, fundraisers, and forums designed to help heal and empower the Black community. In the 2002 general election, he and his team introduced the Gombey Liberation Party, a campaign to show the power of one, and the need for a new voice of change to be heard.
"With the birth of his daughter Eden in 2004, Mr. Smith joined The Phoenix Group of Companies as Senior Designer. While there, he helped reintroduce The Phoenix Stores brand to the public, helping to strengthen the design, web and social media platforms of Bermuda's leading pharmaceutical chain. He also led the brand development of new businesses and acquisitions including Brown & Co., P-Tech, Phoenix Kidz and a rebranding of SAL Ltd., Bermuda's largest building materials supplier.
"During this time, he also founded what would become his life's work to date, The Chewstick Foundation. Under his leadership, what began as a bi-weekly local open-mic in 2002, turned into Bermuda's leading cultural arts charity by 2009, becoming known locally and globally as Bermuda's hub of culture and expression. His time at Chewstick has changed the fabric of local society, creating countless opportunities for artistic development; helping people to find their creativity, supporting creatives in developing careers, and helping the world to recognise there is more to Bermuda than beaches, golf and yachts. Through Chewstick, Mr. Smith has broken down barriers, created economic stimulus and renewed hope in the grassroots community.
"During its height, Chewstick received rave reviews in global media for signature events such as Bermuda's Good Friday KiteFest and Bermuda's Beachfest Emancipation Celebration. Mr. Smith became known as a major agent of positive change and successfully demonstrated the power of arts to break down walls and build bridges in Bermuda's polarised community.
"Note: Mr. Smith will not appear as an entry in the Bermuda Day Parade as he is a host on the CITV stream on Church Street! Please stop by and wave hello!
Milton Raposo
"Bermudian producer Milton Raposo isn't used to being in the spotlight. He'd rather be using the tools available to him to create work that gets people thinking and talking. He started off his career as a camera operator at Bermuda Broadcasting Company before moving onto local film companies, Panatel Ltd. and later, LookBermuda. In 2008, he decided to dive deeper into digital filmmaking by studying at New York's Digital Film Academy. Afterwards, he wanted a bigger creative challenge and decided to launch his own company, Method Media Bermuda [MMB] in 2011.
"Through MMB, Mr. Raposo has been able to shine a light on diverse topics such as heroin addiction in Bermuda and declining shark populations. MMB's client work ranges from video projects on Bermuda's new hospital redevelopment to the reinsurance industry and much more. In November 2019, Mr. Raposo's produced his biggest project to date, FABRIC: Portuguese History in Bermuda. Ten years in the making, it tells the 170 plus year story of the Portuguese Bermudian community that has helped shape Bermuda into the country it is today. The documentary film debuted to four consecutive sold out screenings and is one of Mr. Raposo's proudest accomplishments.
"It's safe to say Mr. Raposo is passionate about all things creative. His art and video works have been displayed at all three top galleries on the Island – Bermuda Society of the Arts, Bermuda National Gallery and Masterworks.
"Outside of film, Mr. Raposo's first real love is music. His piano and keyboard credits include numerous bands like Time Tunnel and Joy T. Barnum & The Channel. In 2003, he performed at the Glastonbury Festival with the band, SoHep. You can also find Mr. Raposo lending a hand in the community. He is one of the co-founders of local environmental charity Greenrock and sat on the first management committee of the Bermuda Environmental and Sustainability Taskforce [BEST]. He is also a former vice chair of both the Bermuda Arts Council and The Chewstick Foundation and a former member of the Heritage Advisory Council for the Bermuda Government.
"His list of community involvement doesn't stop there. Mr Raposo is a former board member of the Bermuda Society of Arts, a co-founder and former treasurer of the Neil Burnie Foundation and has served as an Adjunct Lecturer for the Bermuda College's Media Arts programme. He has recently re-enrolled at Berklee College of Music to study ethnomusicology.
Ras Mykkal
"From an early age, sports photographer Ras Mykkal [born Garry T. Simons] stood out from the pack. He didn't consider himself particularly academic, but excelled in all things creative and was a self-confessed "free-thinker" and "lover of the great outdoors". He was passionate about sports and participated in cricket, football and later motocross, which opened up a world of opportunity for him.
"His interest in motocross was first sparked in 1979, when he joined the Bermuda Auto-Cycle Union as a course marshal. Soon after, he bought a motocross race license and started competing in the 250cc novice class. The following year, he took on more responsibility as the Union's Public Relations Officer and bought his first camera – an Olympia IS-10. By honing his photography skills, he was able to provide local newspapers with photos to accompany their reviews, interviews and previews of the motocross season.
"Ras Mykkal continued to race for another 18 years – and when he wasn't on the track you could often find him photographing the races. In 1993, he was named President of the Bermuda Auto-Cycle Union.
"In 1997, Ras Mykkal enrolled into the New York Institute of Photography and earned a qualification as professional photographer. He devoted the next 15 years to working for a number of media publications and provided coverage for many sporting clubs, which had never received exposure before. Outside of his photography, Ras Mykkal also served as a writer, poet and the host of a popular radio programme on Wednesday and Thursday evenings, Reggae Vibes. In 1996, while living in Jamaica, he began writing what has been coined as 'the most politically charged poetry in Bermuda's history'. Aiming to challenge the Island's political establishment to do better, Ras Mykkal was often censored and faced pressures from both political sides. Eventually, he pressed pause on that endeavor and decided to delve deeper into photography, turning his focus to creating picture books that would preserve his photos and serve as an archive of Bermuda's history.
"Over the years, he has released a number of books – starting with 'Click, I Got Yah' in 2011 and followed by 'Bermuda's Flying Flower', a book documenting the life cycle of Bermuda's butterflies. He also released a keepsake book entitled 'Nicknames', which documented Bermuda's many characters and personalities and the background stories behind how they got their nicknames. In 2020, he launched Bermuda's first digital sports magazine, The Bermuda Sports Journal; and in 2022, he created a book chronicling the 50-year history of motocross sports in Bermuda.
Christie Hunter Arscott
"Christie Hunter Arscott's research, writing and speaking career has taken her around the world. Still, no matter how big the stage or public platform, she has always remained proud to be born and raised Bermudian. As the author of 'Begin Bodly: How Women Can Reimagine Risk, Embrace Uncertainty, and Launch a Brilliant Career', Ms. Hunter Arscott has walked her talk by taking risks in her own personal and professional life. In her 20s, she left a secure consulting position to become an entrepreneur – part of her work now involves educating and supporting companies in making their organisations more diverse and inclusive.
"Educated at some of the world's most prestigious universities, Ms. Hunter Arscott was selected as the Bermuda Rhodes Scholar and earned two Master's degrees with a focus on gender research from the University of Oxford. Determined to help other Bermudians access the same opportunity, she now serves as National Secretary to the Rhodes Trust for Bermuda [leading selection and outreach of the Rhodes Scholarship]. She also has a Bachelor's degree in Political Science from Brown University.
"Over her career, Ms. Hunter Arscott has spoken to leading organisations and institutions including the World Economic Forum, Harvard Business School, the University of Oxford, and the Global Women's Forum for the Economy and Society. Her corporate clients include Bacardi, Deloitte, PWC, HSBC and more. Additionally, her work has been featured in renowned publications, such as Harvard Business Review, Forbes, Fortune, TIME, Business Insider, and more.
"Ms. Hunter Arscott has been named by Thinkers50 as one of the top management thinkers likely to shape the future of business. Passionate about giving back, she developed and delivered the She Leads programme at her alma matter, Bermuda High School [BHS]. The programme, funded by HSBC, helps female students across public and private schools entering their final year of high school, by teaching and empowering them with real world readiness skills. Today – four years later – the programme is still running strong and a new version has also been implemented for middle schools.
"Ms. Hunter Arscott currently serves on the Women's Leadership Board of the Women and Public Policy Program at Harvard Kennedy School and was selected for Bermuda: Re & ILS' publication on Influential Women of Bermuda in August 2016.
Posthumous Recognition: Choy Aming Sr.
"The late Choy Aming Sr was a fierce champion for the arts and entertainment scene in Bermuda – and is perhaps best known for his role in helping to bring Calypso music to the world. Born in Trinidad, in 1929, the late Choy Aming Sr grew up watching street performances in downtown Port of Spain. After leaving school, he went on to become a musician, band leader and music producer in Trinidad. During his career, he produced albums for some of the first Calypso artists while running the Trinidad office of Columbia Records. In 1967, he was inspired to move to Bermuda after meeting Bermudians such as Richard "Dickie" Green of Green's Guesthouse, at Carnival. At the time, Mr. Aming ran a popular large nightclub in Trinidad and it was agreed that a similar nightclub would work well on Bermuda's shores. In 1968, Mr. Aming brought a steel band to Bermuda for a tour – then officially moved to the Island to start Clayhouse Inn.
"The entertainment venue located on North Shore, Devonshire, became a huge hit, attracting world-class entertainers to the Island. The club hosted international artists such as Julio Inglesias, Englebert Humperdinck, Musical Youth, New Edition, Stevie Wonder, Ziggy Marley, Roberta Flack,The Fugees, Salt-N-Pepa, Shabba Ranks, Sam Cook, Al Green, Kid and Play, and TLC. It also saw performs including Carnival dancers, hypnotists, the Not the Um Um Show and other novelty acts take to the stage. A popular tourist attraction for three decades, the Clayhouse Inn played nightly for around 200 visitors – and prided itself on having something for everyone.
"Years later, Mr Aming became known as one of the main men behind the first Bermuda Day parade in 1979. That year, Mr. Aming Sr hosted a Trinidad-style carnival entry consisting of 150 men, women and children wearing costumes portraying Bermuda's underwater marvels. He brought his brother Neville to the island to help make the first costumes depicting the Island's three main nationalities – African, English, and Portuguese. The parade was one of the most integrated events the Island had ever seen, with hundreds of people from all walks of life and ethnic backgrounds joining together to take part. Today, it continues to be a celebration of the diversity of Bermuda's heritage. Outside of his entertainment pursuits, Mr. Aming left a legacy as a father to eight – six girls and two boys."
Comments
comments