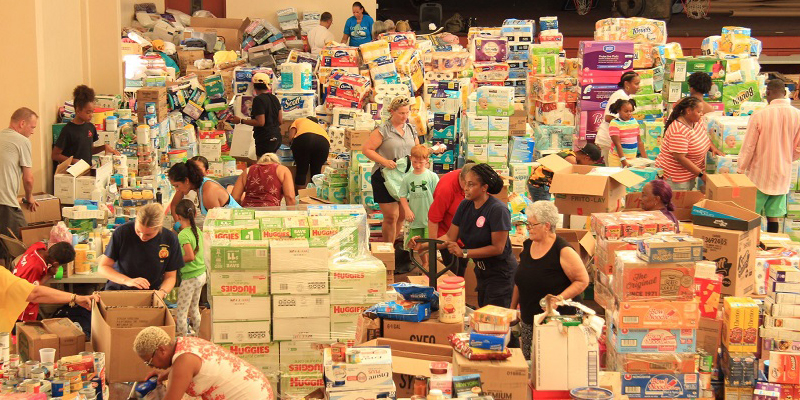 Within two days of launching an appeal for donations to assist the Bahamas, a Royal Navy ship was filled to capacity, as people showed an outpouring of support for the Bahamas, which has sustained catastrophic damage from a category 5 hurricane.
People from all walks of life rushed to make their donations, and the Seventh-Day Adventist Church on King Street was quickly filled to the brim with new items, with some 200 tonnes of goods donated, ranging from building supplies, cleaning supplies, to cases of water, food, diapers and much more.
The island went into 'all hands on deck' mode; the Church quickly opened their doors to receive donations, numerous people volunteered their time to pack the goods, children were seen helping their parents to deliver their donations, and local truckers volunteered their time to transport the goods to the ship on Front Street.
"The people of Bermuda have risen to the highest of standards," said Minister Wayne Caines.
"I am thankful, grateful, and humbled to be a part of our community," he added. "I want to thank everyone involved for this effort."
The goods will be transported on the Royal Navy's ship the HMS Protector, which set sail on Monday.
A representative of the HMS Protector said, "It has been inspiring to see the outpouring of help and aid that has been loaded on board my ship here in Bermuda.
"We sail tomorrow, and the spirit of this island in helping another island, is just amazing. So we are humbled to have been a part of this mission, and we look forward to sailing tomorrow on the high tide."
The HMS Protector crew have also assisted, and they tweeted the photo above saying, "We've been helping collect and sort the generous donations from Bermuda which we will carry onboard. Our crew members have been helping the huge team of volunteers to sort, pack and load aid for the Bahamas."
The International Red Cross estimated that more than 70,000 people had been forced to flee their homes and that 45% of homes in the devastated islands had been destroyed or severely damaged.
"In the midst of darkness, light persists," is a quote attributed to Mahatma Gandhi that encapsulates this weekend in Bermuda, when the island rallied hard to assist our fellow islanders, filling a ship to capacity within a weekend.
Simone Smith Bean, a Bahamian in Bermuda, extended her thanks all involved, saying "we are bubbling over with respect and gratitude to this island that came to our aid."
"These are people who have nothing," she said, adding that they will be doing their part to make sure the items get to people who really need them, to "those who are sleeping outside with nothing."
The HMS Protector will stop off in the Bahamas and among those on the ship will be RBR Colour Sergeant Sheldon Fox and Bermuda's National Disaster Coordinator Steve Cosham, who will assist in delivering the massive amount of donated items.
Comments
comments