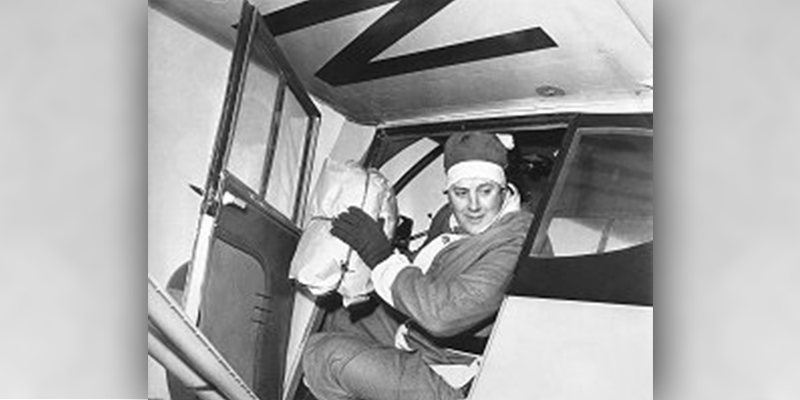 When Santa Claus delivered presents and Christmas cheer to the families of Bermuda's lighthouse keepers in the 1950s, he didn't arrive in a flying sleigh pulled across the heavens by reindeers – he came by aircraft.
The endearing tradition of the New England Flying Santas, started in 1929 by a Maine seaplane pilot as a gesture of appreciation to the lighthouse keepers, lifesaving crews and their families who stood vigil along the East Coast, is still being celebrated. On Christmas Day, Capt Bill Wincapaw would take to his plane and drop packages of holiday treats for the dedicated folks at these isolated outposts.
By the mid-1930s he covered as many as 91 lighthouses and Coast Guard stations throughout Massachusetts, Rhode Island and Connecticut — parachuting gifts to isolated lighthouse families. The tradition was carried on for many years after Capt. Wincapaw's death in 1947 by maritime author and historian Edward Rowe Snow [pictured], who expanded the programme and visited St. David's and Gibbs Hill lighthouses in Bermuda as well as stations off the US West Coast. "It was at these remotest of places that the Flying Santa's visits were most cherished," says a history of the Stoneham, Massachussetts-based charity. "Away from the trappings of the holiday's commercialism, these isolated families greeted their red-suited guest with an honest and open enthusiasm."
Using helicopters now, Friends of Flying Santa still stops at many of the same lights and stations visited by Capt. Wincapaw over 80 years ago although Bermuda with its now automated lighthouses is no longer on the route .
"The aerial Santas, as well as the modes of transport, have changed over the years, but the end results remain the same," says a spokesman for the group. "The people involved with Flying Santa are honoured to be a part of this tradition of appreciation for the Coast Guard personnel and their families. In return, these deserving recipients continue to show their heartfelt gratitude for the annual visits of the 'Santa of the lighthouses'."
Comments
comments